Five. It's a great number. There are five rings in the Olympic logo. Basketball is played with teams of five players. And the Audi? Well, it has five wonderful cylinders, all arranged neatly in a row.
WATCH FOR OUR UPCOMING REVIEW OF THE 2018 TT RS as featured in VICARIOUS!
Five cylinder cars, once hawked by brands ranging from Chevrolet to Volvo, are currently scarcer than hen's teeth. In fact, Audi's go-fast division – now known as Audi Sport, formerly Quattro GmbH – is the only manufacturer offering a performance car in a Five Alive configuration.
The RS 3 sedan and its naughty sister, the TT RS coupe, share a deliciously angry turbocharged 2.5-liter with an even 400 horsepower and 354 lb-ft of torque. Paired with Audi's dual-clutch automatic, the only transmission available, this diminutive sedan lets loose with just the right amount of raspy brrrapps between shifts. Buying advice? Order the optional $850 sport exhaust package without hesitation.
Audi has been roundly (and rightly) criticized in recent years for its different-lengths-of-sausage approach to styling its sedans, with only subtle of differences between the littlest A4 and the luxurious A8. Even its special editions, like this RS 3 slathered in $800 worth of Nardo Grey paint, have a restrained style to them, especially when compared to extroverted performance rides like the Civic Type R. In fact, this hot rod shares all its sheetmetal with its mundane brethren. All of the visual juju is simply addenda.
With those looks, and that engine, this car is a schoolmarm with a harlot's heart.
Officially, Audi says the RS 3 can sprint to 100km/h in 4.1 seconds but some magazines with professional testing equipment have turned that trick in well under four seconds. What I can tell you is repeated doses of the RS 3's launch control system introduced my spleen to my sternum.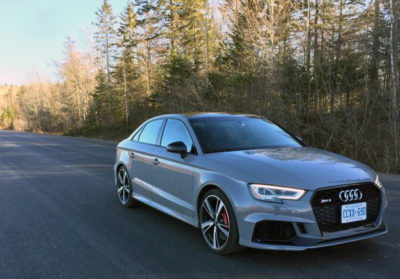 Deploying launch control in the RS 3 is easy: slip the Audi Sport shifter into 'S', press the Drive Mode button to select 'Dynamic', fully depress the brake with your left foot, and bury the throttle into the carpet with your right. If you've done it correctly, the fabulous inline-five will rev to 3500rpm – squarely in the meat of its torque peak – and remain there until the driver takes their left foot off the brake pedal. It is at this point my editor is furiously reminding me to mention that these tasks must only be undertaken on a closed course and not the open road.
Here's a fun fact: a DEFCON1 launch control start will neatly jettison two large double-double coffees right out of the RS 3's cupholders. At least the lids were tightly secured onto the coffee cups, saving me a trip to the detailer before returning the car to my long-suffering fleet manager.
The RS 3's redline is electronically limited to 5500rpm upon startup if the engine is cold, lest drivers try to shriek their way to seven grand the instant they bolt out of the driveway. This would be a decision that undoubtedly causes expensive noises to occur deep within the bowels of this fantastic five-pot motor.
Aiding the launch control in ejecting coffees from the cupholder is Audi's Quattro system, tuned here to work in concert with the 2.5L. It provides grip akin to that of a cat on sandpaper. Steering inputs are instant and precise, as if the RS 3's wheel is an extension of the driver's body. There are faster ways to issue commands to a car, but they involve telepathy.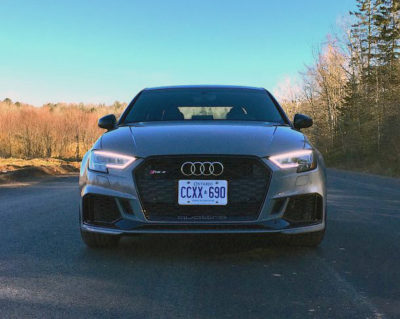 The RS 3's interior compares well to its supercar cousin, the R8. Quilted leather seats are aggressively bolstered, flaring out at the driver's shoulders like a cobra's hood when it's about to strike. Sticking with its performance ethos of weight saving, all seating adjustments are handled with manual controls.
Audi is renowned for crafting remarkable dashboards and I'm pleased to say the RS 3 upholds this standard without difficulty. In the RS 3, the infotainment screen motors silently out of sight when not needed, rather than standing atop the dash like an errant iPad. This leaves behind a flush surface and minimal distractions for the driver. Heating and ventilation controls are discreet, and the whole package looks very expensive.
At nearly $70,000, it is very expensive, my sole gripe with the entire car. Well, that and the miniscule back seat. One does exist, but it does so largely in the imagination of the RS 3's design team. School aged kiddos will fit but this is not a machine in which to take four fully grown adults on long journeys.
Nevertheless, it is a fine interior in which two front seat passengers can spend ample time. Whether that time is spent cruising the freeway or performing manic rips to 60mph is up to the driver. The RS 3 will happily do either all day.
Five cylinders have a long history at Audi, stretching all the way back to when the great Walter Röhrl and Stig Blomqvist (no, not that Stig) were earning air miles on rally stages and laying waste to their World Rally competition thirty years ago. Thanks to its mind-warping acceleration, rip-snorting exhaust, and stellar handling, the RS 3 captures that spirit superbly. It surely earns its place in the Audi Sport line.
Just try not to use the launch control with a couple of coffees on board.
2018 Audi RS 3
Trim Level: Technik
As Tested: $69,195.00
Freight: $2,095.00
Configuration: Front engine / all-wheel drive
Engine: 2.5-liter DOHC 20-valve turbocharged and intercooled inline-five
Power/torque: 400 hp, 354 lb-ft
Transmission: Seven-speed dual-clutch automatic
Competitors: BMW M2, Mercedes-Benz CLA43 AMG, a well-controlled roman candle.
Related links:
Audi Canada