The Super Sport Utility Vehicle has vanquished our once mighty kings. Sure, the Barchettas, Spyders and Berlinettas of concourse fame remain objects of lust but the compromises they demand, need no longer apply. Marvels of engineering, today's top-tier SUVs offer high horsepower, apex hunting abilities that defy both physics and logic. All while seating five, toting groceries, hauling toys. You can now have your cake, bring it and your friends with you, and eat it too. Damned near anywhere you want.
Porsche has just pulled the silk from their latest Cayenne, the Turbo S E-Hybrid; a vehicle that packs a hybridized 670 hp and 663 lb-ft of torque to haul it's 2,575 kg arse to 100 km/h in a mere 3.6 seconds. The mind should boggle. But this is becoming the norm.
Near every manufacturer has embraced this trend but there are currently three standouts. The Lamborghini Urus, Maserati Levante GTS and Jaguar F-PACE SVR present as three exceptional variations on this intoxicating theme. Total packages that provide exemplary form and function. Vehicles equipped to mean all things to all drivers. And passengers. The fact that they each achieve this goal in their own charismatic way and at different price points makes them worthy of praise.
2019 Lamborghini Urus
$302,825.00 (Price as tested)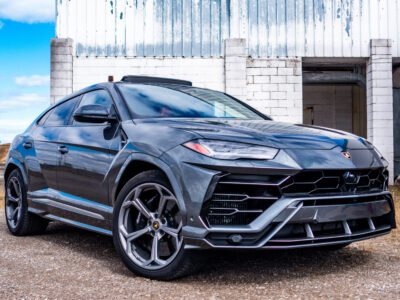 The Lamborghini Urus may not be the quickest SUV on the market but it is certainly no slouch. This 2.2 tonne uber-ute inhales the horizon with the slightest stab of the loud pedal. Launching under full load from a standstill feels like being hit by a Juggernaut. The One hundred-marker is swiped by the speedo needle in 3.6 seconds and you can be stopped dead from there in less than eight of its own lengths.
Torque vectoring, all-wheel-drive and all-wheel-steering keep the raging bull from bucking in corners and the trick air-bladder suspension ensures the Urus can rise to any occasion, or logging road to say the least. The fact that its tackles all of this while wrapping its guests in sumptuous finishes befitting its starter-home price tag is the crema on top.
2019 Maserati Levante GTS
$153,620.00 (Price as tested)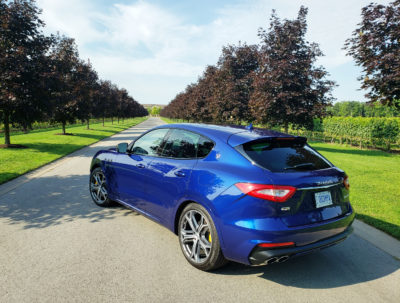 The Maserati Levante GTS surprises every time you grab the steering wheel and plant the gas pedal to the floor. A family-hauler with Italian machismo and a pheromone producing exhaust note with the fairer sex (science proves it) should not be this practical. Combine this with a gorgeous exterior Blu Emozione metallic paint scheme and black/grey leather seating and interior surfaces, this is the preeminent mode of transportation for the jet-setting crowd.
A 3.8-litre twin-turbo V8 with 550 hp, Q4 intelligent all-wheel drive with torque vectoring and rear limited-slip differential take the trident missile from 0-100 km/h in 4.2 seconds. Phat 21" wheels and all-season tires, plus powerful Brembo drilled brakes not only stop the Levante with ease, they provide the added assurance an offroad scamper won't turn ugly. A quick scrub to shine it up again and you'll be heading back to your private airport just in time for champagne and assorted nuts.
The Jaguar F-PACE SVR
$104,750.00 (Price as tested)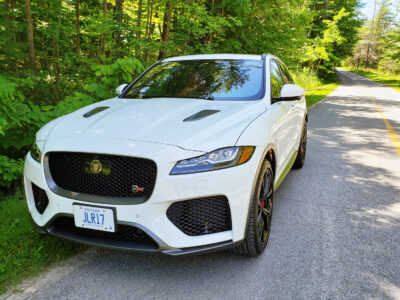 The Jaguar F-PACE SVR is a bargain compared to the Urus and Levante; not something you would expect to hear when discussing the most powerful Jaguar SUV on the planet. It also surprisingly owns the best exhaust note and requires little effort to get heads swiveling as you downshift the paddles to hear that lovely burble wake the neighbours through quad tailpipes. Don't try to hold back, its impossible, just enjoy the un-SUV sounds and exceptional leather interior surroundings. Then hang a right at the first dirt road and head for the hills.
A heavenly 5.0-litre V8 supercharged engine absolves pavement with 550 horsepower. Zero to legal flashes past in 4.3 seconds and top speed crests at 283 km/h. Wheel wells fill quickly with optional 22-inch rubber and gloss black alloys, the ride is supple and sedan-like. Inside, the dash is minimalist and doesn't distract with too much bright metal or shiny surfaces. Shapely leather performance seats with SVR embossing, Meridian sound and aluminum weave carbon fibre make short commutes to the office or longer backroad drives home an adventure worth taking.
The supercar is dead. Long live the super SUV.