It seems like it's not just the auto industry that's turning to the idea of full electrification, but the oil companies are doing the same. Yup, you read that correctly! Today, oil company Shell signed an agreement to buy electrical vehicle charging firm, NewMotion.
NewMotion is Europe's largest electric charging partner with approximately 55,000 charging locations (of which approximately 30,000 are privately owned at homes and businesses) across 22 countries. NewMotion designs, builds and supports smart charge services such as charge points, as well as a mobile app and charge card system that gives users access to tens of thousands of charge points across Europe.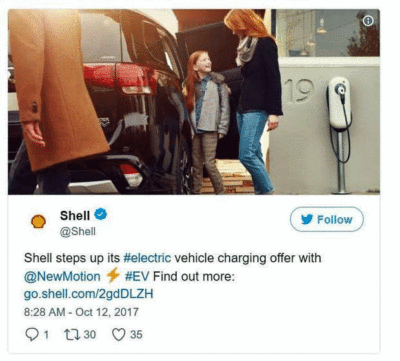 And now, Royal Dutch Shell has just bought them.
Matthew Tripper, Shell's VP of New Fuels says that this new deal with NewMotion will give their customers the "flexibility to charge their electric vehicles at home, work and on the go."
What's interesting to me is that this could totally change the dynamic of the petrol station/gas station/fuel station as we know it. So, where gassing up a car takes maybe 10 minutes, refueling an EV could take upwards of 30 min (at least in its infancy as the technology stands right now). So does that mean a complete overhaul of what the convenience portion of the gas station has to offer?
Of course, this is also Shell's way of combatting the obvious decline in the need for fuel as hybrid and electric vehicles start to increase in popularity the world over. And as that market changes, so too will the oil industry.
Is Shell jumping the gun here or just way ahead of its time and making the right move early on in preparation for the what the automotive future inevitably will become?