The 2023 Mercedes-Benz GLC 300 4MATIC underwent a refresh for this model year that includes a new design, enhanced technology, and a more luxurious cabin.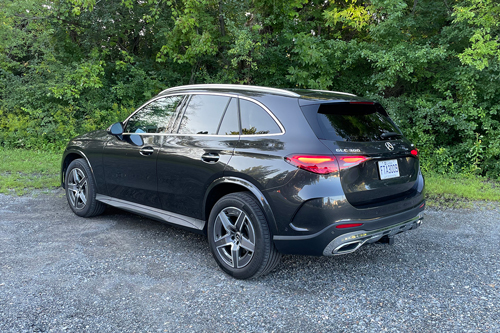 It is offered in only one trim, but can be customized quite a bit depending on your wants and desires as an owner.
Our tester had a base price of $58,900, with a host of optional items bringing the final cost to $70,185.
Those options include the Premium Package ($4,200) and AMG Line ($3,400), as well as $975 for the Graphite Grey colour and $500 for Flowing Lines Radiant Black Trim and $200 for the Metal Weave Centre Console. A few standalone options were $300 for a dashcam, $455 for an ARTICO dashboard and – somewhat puzzling to me – $455 for satellite radio. You would think that at this price you pay for the GLC, that would be standard like it is in so many other vehicles, alas you would be mistaken.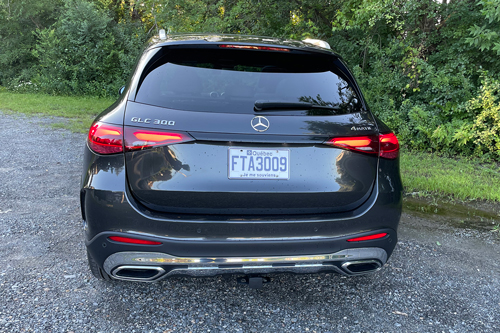 Powertrain: The GLC 300 4MATIC is powered by a standard 2.0-litre turbocharged four-cylinder engine that is paired with a 48-volt mild hybrid system.
It is a peppy powerplant that produces 255 horsepower and 295 lb-ft of torque, all moved through a smooth nine-speed automatic transmission.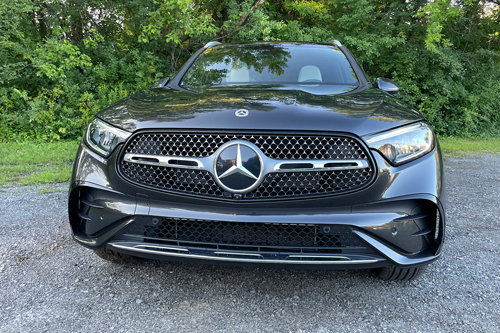 Power delivery from the engine is quite smooth and if you didn't know there was a hybrid system on board, you would never notice it.
I was impressed by my fuel economy numbers from the GLC 300 as I was able to beat out the estimated average fuel economy figure of 10.0 litres per 100 kilometres with my average of 9.9 L/100 km.
Exterior: The redesigned GLC 300 is quite fetching in my opinion.
That starts with the front-end design, with a wide grille connected to the headlights that is elegant and visually appealing.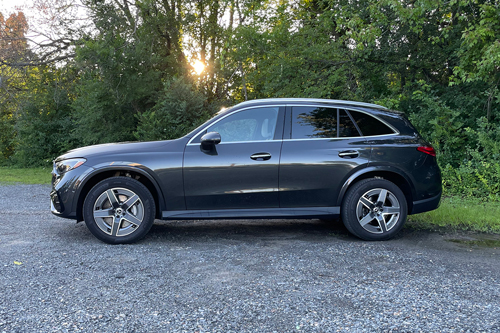 The rear features taillights with a three-dimensional look that also help give the vehicle a wider appearance.
There is a chrome underguard that includes embedded tailpipes.
As part of the optional packages added on to our tester, the GLC 300 was outfitted with 19-inch AMG Twin 5-Spoke Aero Wheels – and there are some 20-inch options available as well.
One thing I never considered seeing on the back of a Mercedes-Benz SUV was a trailer hitch, but there it is. With this $800 addition, the GLC 300 has a towing capacity of 1,487 kilograms. So that adds a lot of function to its beauty.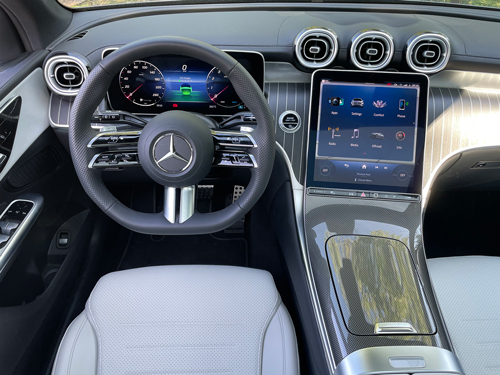 Interior: The cabin of the GLC 300 is luxurious and comfortable.
And while I really liked the shape and functionality of the air vents, the one thing I am not sold on is the pinstripes on the dashboard.
Other than that, you have an interior that uses quality materials, is well put together and laid out, and keeps out all the unwanted intrusions from the outside world.
I also appreciated the light-coloured materials in the cabin, which helped make it airy and appear larger than it is. Legroom in the back is good but not overly generous, but the seating front and back is very comfortable.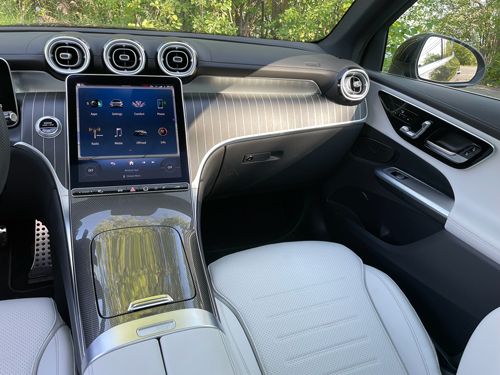 Soft-touch controls abound in the cabin, and they do take some getting used to, but they do ensure a clean look for the cabin.
That includes two screens – one for driver information in a digital gauge cluster and the second, large vertically-oriented central screen for infotainment and other controls.
Infotainment: The system on the GLC is powered by the latest generation of the MBUX (Mercedes-Benz User Experience) software.
Truth be told, I did not find it to be the most intuitive of systems to navigate through and operate.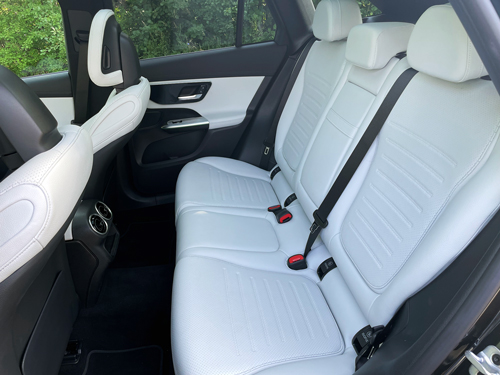 And you need to use the screen to control all the HVAC functionalities of the GLC, which is not the best of ideas, I find.
The system includes navigation, with a very cool and precise global map, as well as satellite radio and compatibility with Apple CarPlay and Android Auto.
I did like the fact that the 11.9-inch screen was turned ever so slightly toward the driver.
Drive: The GLC 300 4MATIC delivers a very smooth and enjoyable ride for both driver and passengers.
The suspension setup ensures that everyone is kept isolated from even the roughest of road imperfections.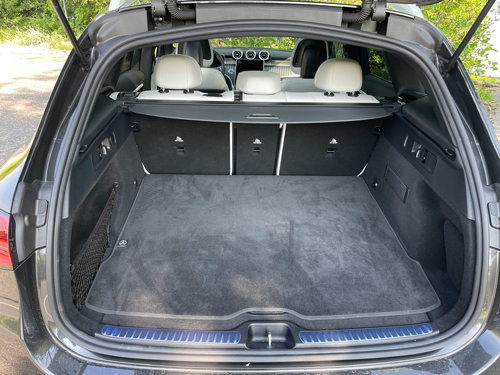 The steering feel is very light in your hands, but very responsive to input, making the GLC easy to maneuver around town.
As mentioned earlier, the cabin is whisper quiet even at highway speeds, ensuring the experience for occupants is very enjoyable.
Conclusion: The redesigned GLC 300 4MATIC is an elegant SUV that not only looks good, but also excellent performance. The 2023 model features upgrades in terms of technology and amenities, and that makes this model one to consider if you are in the market for a compact luxury crossover.
Add in the fact you get a mild hybrid system that returns excellent fuel efficiency, the GLC becomes an even more attractive option in my view.
2023 Mercedes-Benz GLC 300 4MATIC
Price as tested: $70,185.00
Configuration: Front engine/All-wheel drive
Engine/transmission: 2.0-litre inline four-cylinder turbo with mild hybrid drive/ 9-speed automatic
Power/torque: 255 horsepower/ 295 lb-ft of torque
Fuel (capacity): Premium (66 L)
Combined fuel economy ratings (L/100 km): 10.0 L/100 km
Observed fuel economy (L/100 km): 9.9 L/100 km
Warranties: 4-years/80,000 km (basic)
Competitors:  Audi Q5, BMW X3, Lincoln Corsair, Range Rover Evoque, Volvo XC60
Website: Mercedes-Benz Canada