If the vehicle you're looking at here looks similar to the GLB we know and many of us love, that's because it pretty much is a GLB. It still has the lines of a shrunken GLS SUV, still has seating for either five or seven, still has a 4Matic all-wheel-drive (AWD) system.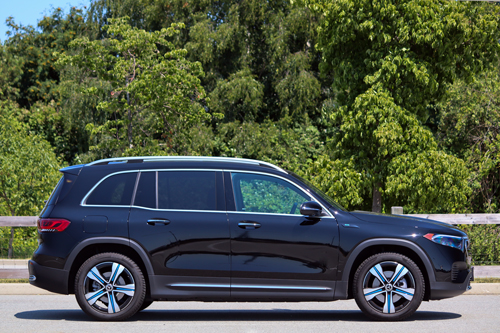 Exterior: There are differences, of course, some small and one major: that shiny black panel that sits where a radiator grille typically would? It's there because behind, there is no radiator because there is no engine for it to cool – this particular "GLB" sees its GL replaced with an EQ because it's a fully-electric "battery-electric vehicle" (BEV) with no internal combustion engine to speak of. There's just a battery in the floor and EV motors on the front and rear axles, hence its "4Matic" designation.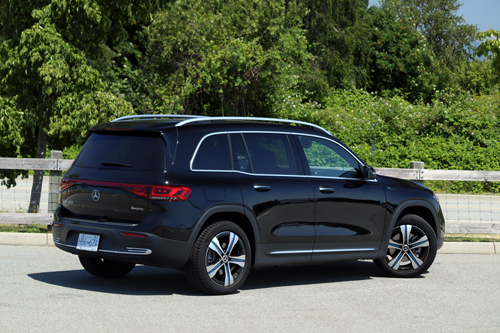 In addition to the grille, there are new headlights connected with a light bar, new taillights, also connected by a light bar, special wheels with blue spoke inserts…and that's pretty much it. Indeed, even as alternative-power cars become more and more prevalent, buyers often don't want to shout too loudly that they're driving one, so the trick is to make them more futuristic-looking without going over the edge into The Fifth Element territory.
What the new stylistic treatment for the front fascias has done, however, is make for a cleaner look overall as well as one that is more aerodynamic, so you get a quieter, more efficient ride. Those factors are often a big reason why a buyer might opt for one of these vehicles. Before they don't have a choice, of course.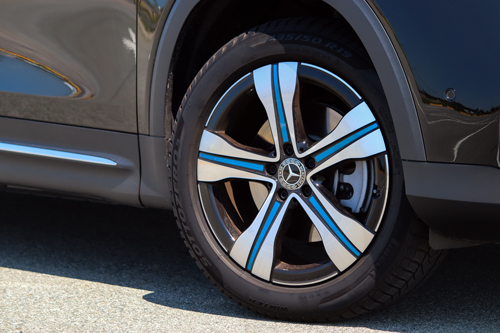 Interior: Inside, other than some digital-look stylistic flourishes on the dash, you won't find much different here than you would in the GLB.
What I was more curious about as a tall person was whether or not the EQB's interior – with all that EV running gear stuffed into the floor — was able to maintain one crucial aspect that made the GLB's interior so great: the sheer amount of headroom it had for such a small vehicle. You do lose a little to the GLB, but only to the tune of about 20 millimetres of headroom and some underfloor storage. Otherwise, the first- and second rows are plenty roomy for adults and while the bottom seat cushions are a little flat for my liking, they do make the seatback easier to fold.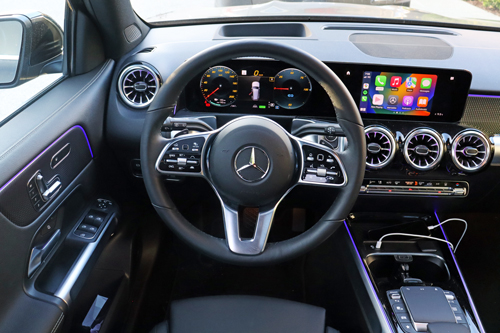 Speaking of the seating: we had the three-row option, which makes the EQB one of only two BEVs sold in Canada with three rows of seating. I was feeling somewhat cynical about the third row in the EQB being for anything more than a pair of car seats (which you can do; there are latches in the second and third rows), but sitting back there wasn't half as bad as I'd imagined it. The second row slides fore and aft, so those seated there can give the third row occupants a little more breathing room. I was able to take my seat without having my knees in my chest – there's a nice foot box under the second row – which is a win for a vehicle this size.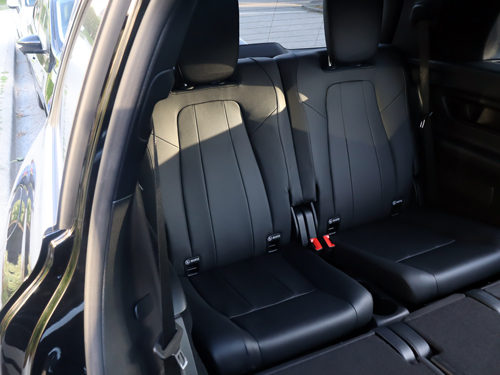 Powertrain: Power is rated at 288 horsepower and 383 pound-feet of torque, fed to all four wheels, and only all four wheels as the EQB 350 4Matic is our only choice for the time being, with an FWD model likely coming to some markets in the near future. Even with AWD, though, you're looking at 365 km of range, which is about average these days. It's equipped with a level III 100 kw DC fast charge system, allowing for 0 to 80 per cent of charge in 30 minutes and drivers can also try adding to the range by making use of the wheel-mounted paddles normally reserved for gear shifting duties.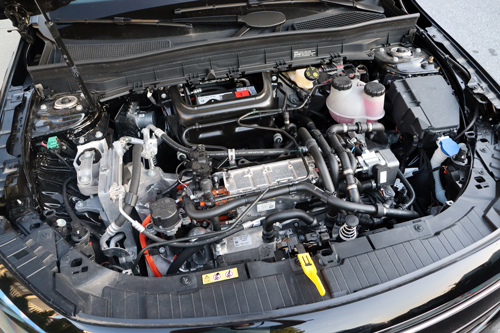 Here, they change how much power regen you get when you let off the throttle. You can choose from three predetermined levels, or opt for "auto", which reads the goings on around you and decides how much regen to offer. Why not always use auto? Well, sometimes you don't want any of the lurchiness when you let off the throttle, so you reduce regen as much as possible. Or, you're in stop-and-go traffic and just want to get the most bang for your buck in terms of regen.
Drive: Since this is an AWD vehicle with a direct-drive 1-speed auto, power delivery is incredibly swift, especially if you select sport mode. You'll want to hold on to your hat in that circumstance. Also, contrary to my belief, it can handle high-speed work as well as I found myself cruising comfortably at 110 km/h. Better yet was how when I first tested the EQB in Germany, I managed to hit 160 km/h on the derestricted autobahn quite comfortably. Not bad for a people-moving EV.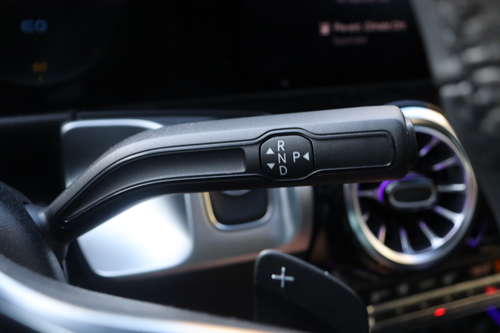 "Comfortably". Important word, that, when it comes to the EQB's drive experience. This is a vehicle that's been well-tuned to absorb the bumps and bruises public roads are always sending your way; I couldn't believe how solid it felt – from the door closure to the way it handles cracked concrete – for such a small car. You waft over the pavement, well-tuned adaptive dampers metering out most everything thrown under your tires. The shape is smooth enough to properly reduce wind noise and engine noise, well, there isn't any, really, save for the space-aged buzzes and whistles all EVs seem to emit. Then, with the battery doing its part to lower the centre of gravity and keep the EQB fairly level through turns (somewhat reducing the destabilizing effect of the flat seats), you've quite the package. Dang, "compact luxury" is right.
Conclusion: Having driven both the GLB 250 and GLB 35 AMG before this and liking them both, I was at the same time guarded and had high hopes for the EQB. It was never going to deliver the thrills of the AMG, but it sure isn't slow and it's more comfortable than both. I can't say that I'd definitely have it over the AMG (especially since it commands about a $15,000 premium over the AMG), but it even at that price, it presents a very compelling alternative to the gas-powered GLB 250.
2023 Mercedes-EQ EQB 350 4Matic
Price as tested: $85,500.00
Configuration: dual engine, AWD
Engine: dual permanent synchronous EV motors
Transmission: 1-speed automatic
Power: 288 horsepower/384 lb-ft of torque
Charge rate: up to 100 kW
Battery size: 70.5 kWh
Combined fuel economy ratings: 2.4 Le/100 km
Warranty: 4 years/80,000 km (basic), 8 years/160,000 km (battery)
Website: Mercedes-Benz Canada