On the face of it, a lengthened three-row version of the Land Rover Defender goes against the very mission statement of this most rugged, off-road capable of Landies. After all, all that junk in the trunk does nothing for the 130's departure angle, and a "snorkel", while passable on the Defender 90 or 110, would look ridiculous on this rig.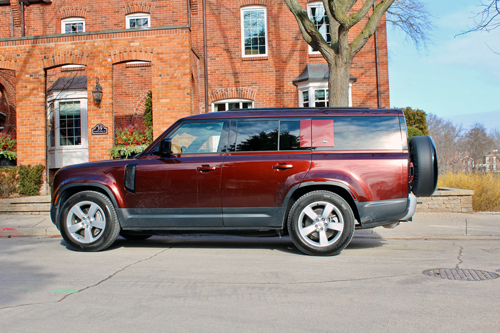 Oh wait. I have this all wrong. The Defender 130 is a luxurious people hauler for domestics with deep pockets who want to ferry their progeny around in Defender style. And style the Defender 130 has in spades, expertly riffing on iconic cues from the original while coming across as wholly modern. Granted, the extra 34 cm of rear overhang (over the 110 model with which it shares its wheelbase) looks a tad ungainly, but this First Edition tester dipped in rich Sedona Red drew nothing but admiring glances during my test week. And bonus, in the event one has to negotiate a mucky jungle or sere moonscape while delivering the kids to Montessori, the Defender 130 will happily oblige. As expected, it brags all the offroad bona fides as the Defender 90 and 110, having electronic air suspension, twin-speed transfer box, hill descent control and Terrain Response as standard kit.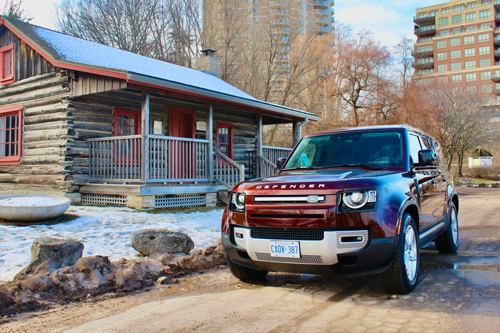 Powertrain: While other Defender models can be fitted with a turbo 2.0L four-cylinder or supercharged 5.0L V8, the stretched 130 only gets JLR's slick 3.0L turbocharged inline six-cylinder for now – hence the P400 designation. Straight sixes are back in vogue (BMW had it right all along) and this engine impresses with its smooth delivery of 395 horses and 406 pound-feet of torque from 2000 rpm. It gets an electric supercharger to mitigate turbo lag, plus a 48-volt mild-hybrid system with a motor/generator for the auto start/stop function. Restarts of the latter could be quicker and smoother. The engine is hooked to ZF's excellent 8-speed automatic transmission.
When considering the three-row Defender 130 checks in at nearly three tonnes (2,690 kg), the 3.0L six-pot moves it along quite smartly. When Hunter welly hits the floorboards the six emits a pleasingly meaningful snarl as well. As might be expected, the Defender 130 is not particularly parsimonious when it comes to fuel consumption. I was careful with the throttle, and my week of mainly highway driving netted 14.5 L/100 km. This will not be representative of daily urban/suburban domestic haulage or Rubicon-bashing.  Premium fuel is required.
Exterior: The Defender 130 has real presence and is immediately identifiable as the Land Rover with the most 'tude. This is what you pay for, and this is what you get. From its upright face and high-style bush-whacking lower fascia to the spare wheel hanging off the side-hinged rear door, the cubist Defender (with just the right amount of fender flare) firmly states, "I am not an Audi Q7, a BMW X7, a Lincoln Navigator or a Mercedes GL." The First Edition rides on standard 20-inch wheels which look just fine – 22s are optional. The classic square shoulder that runs the length of the Defender ends abruptly at the perfectly vertical rear – like the whole thing was sliced off with a giant Sawzall – a look that echoes the Land Rovers of yore. The interesting array of square LED taillights add a dash of style.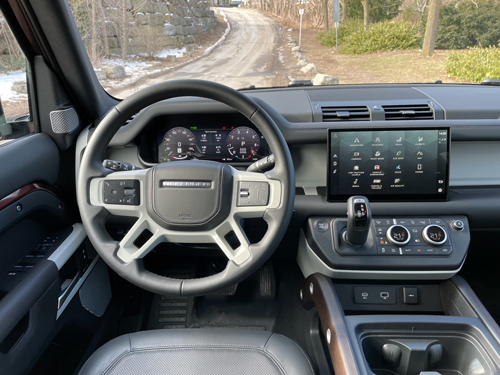 Interior: As with the exterior, the Defender's cabin rocks a rugged-chic aesthetic to great effect. It's built to an exceptionally high standard, showing fine leather, quality brightwork, and here, a swath of real wood trim flanking the centre console. The horizontal elements are chunky, as are the controls, and the exposed screw heads on the door panels advertise the fact that this ain't your ritzy Range Rover. That said, the Defender First Edition does serve up most of the lux amenities you'd hope for in this snack bracket – bum heaters for all three rows, ventilated front seats, an excellent Meridian sound system, panoramic roof, privacy glass, 4-zone climate control and comprehensive Driver Assist Package. The digital gauge cluster is sharp, and the Defender's high seating position and tall greenhouse make for excellent forward and side visibility. The ClearSight interior rearview mirror displays a rear-facing camera view which, while a bit strange to deal with at first, is better than the "analogue" view which is impeded by headrests, the spare wheel and any rear passengers.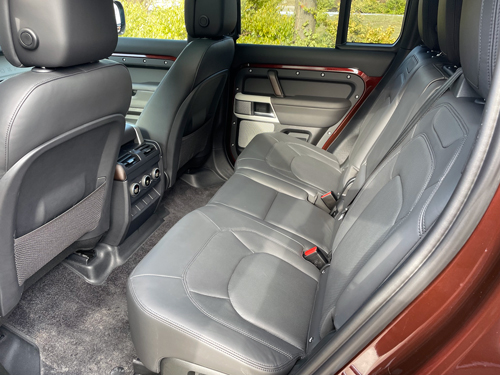 With the electronic shift wand jutting out from the lower dash, the centre console is freed up, getting dual cup holders, two covered cubbies and an open storage space below. There's also a useful tray that runs the full width of the dash. Centre stage is a 11.4 touchscreen.
The Defender 130 comes only as an 8-seater, meaning a bench seat for the second row. Scrambling into the heated third row requires squeezing through the narrow space after sliding the split second row forward, but once situated there's decent room for at least two adults. And here in the First Edition the third-row passengers enjoy their own sunroof. With a full load of passengers, there's a modest 290 litres of cargo space behind the third row, so they'd better pack light. Space behind the second row measures 1,015 L, opening up to 1,876 L with both rows folded. Unfortunately, the second row doesn't fold completely flat, creating a significant lip which impedes the smooth loading of longer items.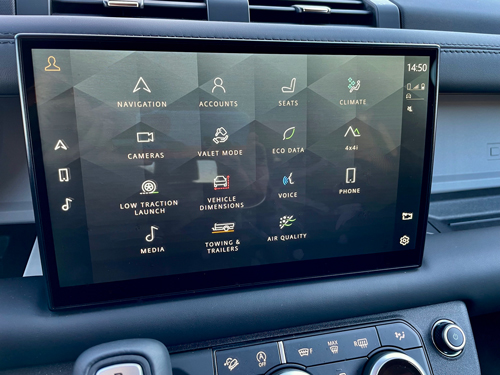 Infotainment: The Land Rover Defender 130 gets a standard 11.4-inch touchscreen and JLR's latest Pivi Pro infotainment system. It's a quick reacting system with good graphics, and overall is easy to negotiate, although voice commands were hit and miss – okay with radio requests but anything relating to navigation was a bust. Perhaps not what you'd expect in a vehicle with legendary go-anywhere capability.
With the multi-tab home screen, one can call up all kinds of cool stuff like interior and exterior air quality, towing and trailer info, trip computer, and of course the requisite off-road pallet showing axle articulation, differential lock info, wade sensing, altitude, compass heading, surface grade, etc. Pivi Pro supports Apple CarPlay and Android Auto.
Drive: On the highway, The Defender 130 glides down the road with imperious serenity of a premium luxury vehicle. Yes, there's a bit of wind noise, but for such a big block of metal cutting through the breeze, it's impressively quiet – all the better to enjoy the excellent Meridian sound system. The steering is nicely weighted, and as mentioned earlier the 130's 395-hp straight-six is up to the task. However, the driver-by-wire brakes feel uneven and can be difficult to modulate smoothly.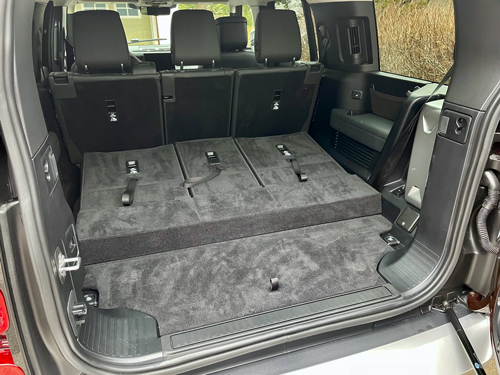 You'll be receiving no complaints from passengers with regards to ride quality. Land Rover's adaptive air suspension is tuned to handle surface imperfections, be they off-road or on-road, and as such delivers an unruffled, refined and well-controlled ride that puts to shame many rivals that lean more towards the sporty side of the equation. Granted, this Landie makes its considerable mass well known if you attack a corner with BMW-like vigour. So just back off a bit and enjoy the ride.
Conclusion: It's fitting that Land Rover would make a legitimate three-row version of the new Defender, opening it up to a broader slice of the market. The 2023 Defender 130 First Edition P400, starting at $100,850 ($105,430 as-tested) is an imminently desirable piece, unique in its capabilities and, of course, rich in marque history. Compromises? It's heavy, thirsty, the cumbersome side-hinged rear door is an awkward anomaly and for such a big vehicle it's not particularly capacious. If you're only listening to your right brain, you'll hear it yell, "Hey, a Kia Telluride has more room, more features, drinks way less (and cheaper grade) fuel, and costs half as much!". But your right brain counters, "So what. The Defender 130 is one-hundred and thirty times cooler; I can afford it and I want one." Case closed.
2023 Land Rover Defender 130 First Edition P400
Price as tested: $105,430.00
Freight: $1,950.00
Configuration: Front engine/All-wheel drive
Engine/transmission: 3.0-litre turbocharged inline six-cylinder/ 8-speed automatic
Power/torque: 395 horsepower/ 406 lb-ft of torque
Fuel (capacity): Premium (90 L)
Fuel economy ratings (L/100 km): 14.0 city, 11.0 highway, 12.6 combined
Observed fuel economy (L/100 km): 14.5
Warranties: 4-years/80,000 km
Competitors: Audi Q7, BMW X7, Jeep Grand Cherokee, Mercedes-Benz GL, Volvo XC90
Website: Land Rover Canada