Fresh off three model years of successfully luring buyers from other brands whilst retaining the Hyundai faithful after they outgrow a Santa Fe, the lantern-jawed Palisade receives several updates for the 2023 model year including spiffy new exterior design cues and updated technology. Aimed deep at the heart of the murderously competitive three-row SUV category, the Palisade has found success since its introduction in 2020, showing up in driveways of tony homes which would once have never been darkened by a Hyundai.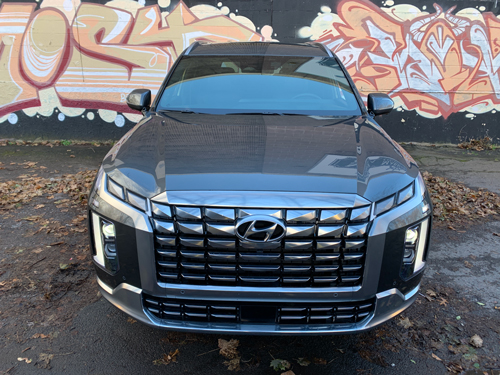 Powertrain: Tucked behind the towering new-for-'23 grille is a 3.8L V6 engine good for 291 horsepower and 262 pound-feet of torque. These numbers are perfectly acceptable for the Palisade's segment but aren't standout figures in any way. Still, this three-row rig never had any trouble getting up to highway speed or accelerating to grab that open spot in city traffic. There's something to be said for the easy and relaxed power delivery generated by a naturally-aspirated big displacement engine compared with high-strung turbocharged four-bangers when installed in large three-row SUVs (*ahem* Mazda CX-9). An eight-speed automatic shifts invisibly and all-wheel drive is standard on all 2023 Palisades sold in Canada.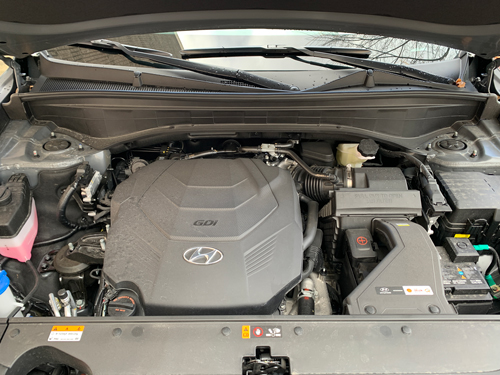 The old saw which states slowing down by a few km/h on the highway can save 10% or more on fuel costs is abundantly true in the Palisade. Whether it's down to the SUV's aerodynamics or engine load, this machine showed us the largest indicated fuel mileage difference we've ever seen between steady cruising at 100 km/h and steady cruising at 15 km/h beyond that measure. According to the in-car display, Palisade was returning approximately 11L/100km whilst running at the latter versus well under 9.0L/100km with the speedometer pegged at the century mark over equal terrain. Engine speed difference was just 300 rpm (1700 v 2000). In fact, a 300-kilometre highway slog showed an indicated 8.4L/100km, a figure backed up to within a tenth after refueling maths.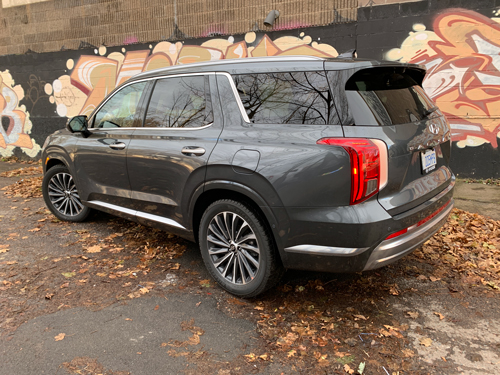 Exterior: Fresh for this model year is a new front-end styling treatment, dominated by a grille and bumper which contain precisely 62 rectangles. Seriously, we counted them. Headlights are found in the vertical lenses in the bumper jowls and those four seemingly black rectangles where slim headlamps would typically reside illuminate as amber turn signals. Add in some vertical LED signatures and you've got a face which won't be mistaken for anything else on the road.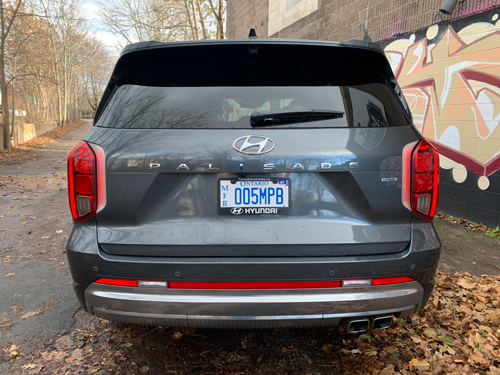 In fact, it's this attractive and squared-off styling which causes some customers to compare this Palisade to the mighty Chevy Tahoe and GMC Yukon, despite those twins competing in a completely different (and more expensive) segment. If Hyundai captures shoppers who aspire to those costly body-on-frame rigs for their appearance but are content with this unibody crossover, more power to them.
Interior: If the Palisade's exterior styling gets a few people in the showroom, it's the interior which will keep them there. Supple and expensive-feeling materials abound in this top-run Ultimate Calligraphy trim, including a wonderful microfibre suede headliner which extends to the sun visors. Getting these touchpoints right is important in a $50k SUV; Hyundai's choice to spend a few extra shekels in these areas where others cheap out pays dividends, making the Palisade feel a lot more expensive than its price tag suggests. Ditto the Mercedes-style pinstripe dashboard trim. This 6'6" driver does wish the front seats motored just a couple of inches further rearward to help with the upright nature of the floor-mounted accelerator pedal. Nitpicking to that level shows just how good this interior is, by the way.
Ankle biters will enjoy the second row of chairs, with ample space and their own USB ports smartly tucked into the backs of the front seats. Those same captain's chairs (standard on this trim, optional on others) easily flip forward with the touch of a button, slightly kneeling to produce a flat load floor back to the cargo area or to create easy access to the third-row seats. Speaking of cargo, this 196.7-inch SUV has 86.4/45.8/18.0 cubic feet of space behind the first, second, and third rows respectively – ample room for the occasion we transported enormous 22-inch winter tires to the shop plus a 6.2kW gasoline-powered generator in prep for the next time electricity is off at our home for nearly 300 hours as it was after Hurricane Fiona.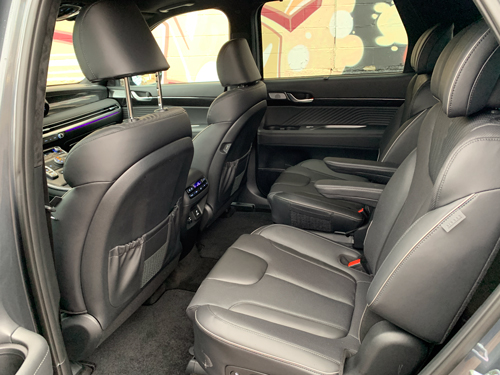 Infotainment: A 12.3-inch touchscreen serves as the major focal point for infotainment, packing navigation and all manner of smartphone integration. The screen can be split to display responsive audio and navigation info simultaneously, with the former continuing to use the neato 'nixie tube' theme. By default, it shows a calm screen with simply the time and a navi map which is real-time but slightly faded in appearance so as not to be intrusive. This year's Palisade swaps out most USB-A ports for USB-C, adds a camera-based rear-view mirror in our trim, and ups the wireless charging pad from 5 to 15 watts for faster juicing of yer device. Voice commands work well even with this writer's impenetrable Newfoundland accent.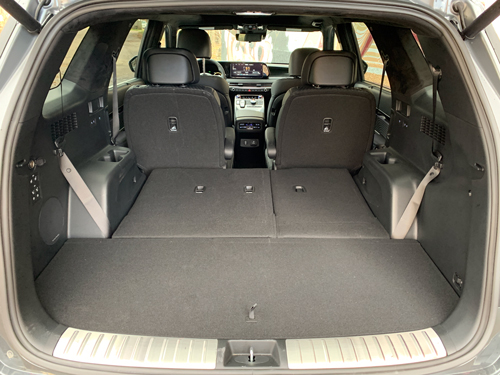 Directly ahead of the driver in this Ultimate Calligraphy trim (and next-down Urban) is another 12.3-inch screen serving up typical speed and navi data but doing so in several creative ways – should the driver desire originality in their daily commute. Our favourite setting is one which turns the speedometer and tachometer in a set of rotating cubes set upon a dot-matrix surface which dances and glimmers on command. Luddites can opt for a set of classic round gauges to go along with their choice of episodes from the Lawrence Welk Show.
Drive: As one might expect, this dreadnaught-class SUV simply eats up the highway miles, providing the type of cabin in which it is easy for the whole family to spend time. Hyundai's suite of active driving aids worked better than most on our east coast highway, easily finding lane markings and gently keeping the three-row people hauler on the straight and narrow. Part of the top trim is the Highway Driving Assist II package, a group of features which permit the driver to signal for a lane change but then let the Palisade handle safely slotting itself into an adjacent track.
 Conclusion: With an approachable (for its segment) price tag, impressive interior materials, and a powertrain which can be coaxed into returning frugal fuel economy numbers, there's a lot to like in the 2023 Hyundai Palisade. Shoppers who are content to skip the lane-changing helper and heads-up display plus a few other features on this Ultimate Calligraphy may find themselves well served by the Urban trim whose price tag is $5,000 less than our tester yet packs the same drivetrain and commodious interior.
In short, the Palisade is well-positioned for another three successful years of stealing customers and popping up in driveways of tony neighbourhoods across the nation.
2023 Hyundai Palisade Ultimate Calligraphy
Price (as tested): $58,284.00
Engine: 3.6L DOHC V6
Transmission: 8-speed automatic
Power: 291 hp @ 6,000 rpm, 262 lb-ft @ 5,200 rpm
Fuel Economy: 12.6 / 9.5 (hwy / city, L/100 km)
Competitors: Ford Explorer, Honda Pilot, Kia Telluride
Website: Hyundai Canada