The four-door coupe; Mercedes practically invented it, BMW, Porsche and others have kind of copied it…and we still don't really know what it means.
Especially when said four-door-coupe is lifted, given fatter tires and bigger bumpers and called a "four-door coupe-crossover" or something to that effect. It seems that once one mold was bashed to pieces – that of the traditional two-door coupe — why not keep going?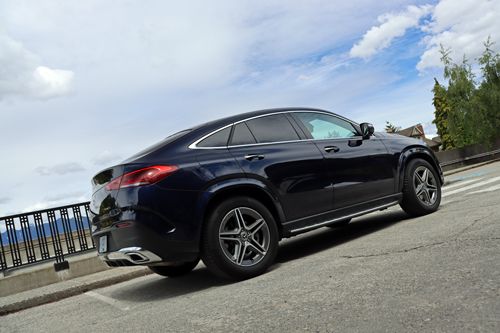 Which brings us to this: The Mercedes-Benz GLE 450 Coupe, a swoopy-roofed, high-riding curio of a car-cum-crossover that, well, we just had to try.
Powertrain: Power comes courtesy of a 3.0-litre turbo inline-6 with a mild hybrid system, good for 362 horsepower and 369 pound-feet of torque. That all gets transmitted to the wheels – two or four, depending on conditions – via a nine-speed torque-converter auto with paddle shifters.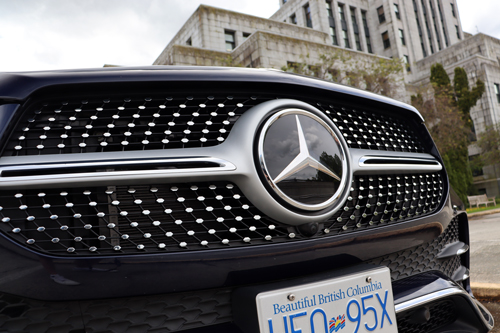 Indeed, it is a very, very good powertrain. The basic power is one thing, but the way the mild hybrid system steps in to help you off the line and to improve power delivery as you move through the gears is really the highlight. Even without a dual-clutch transmission, power interruption between shifts is pleasingly low and it allows for acceleration no matter the speed you're at or the gear you're in. Then, when it comes time to slow things down, it takes pressure off the gas engine, saving fuel in the process. There's even an authoritative growl (with a touch of old-school six-banger metallic yowl) as it goes about its business, taking lessons from the two more performance-oriented versions that are also available.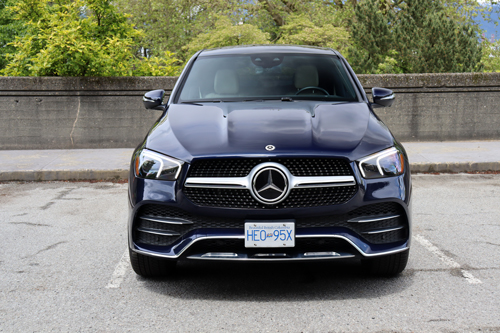 Exterior: Well, this here is very much a question of two vehicles – ever heard the phrase "business in the front, party in the back" to describe a certain hairstyle? Of course you have and this GLE Coupe is very much the embodiment of a Wayne Campbell 'do; from the front, there's almost nothing to differentiate it from its SUV sibling, although even above the front seats, the roofline is higher on the GLE SUV than it is on the GLE Coupe. You've still got a 3D-effect grille bisected by a single chrome bar with a massive Three-Pointed Star logo at its center, the slightly small headlamp lenses and handsome front splitter with skidplate. It looks mean enough, that's for sure, even in non-AMG spec.
Swing around to the side and back, however, and things take a bit of a turn. From side-on, there's little question that the aggressive coupe-like roofline is a refreshing take on what's seen from your typical luxury SUV. Only complaint I really have from this angle is that even at 20 inches, the wheels just don't look big enough and appear to be swallowed up by both the tires' large profile (I was on winter rubber, however) and broad panels surrounding them. They can be upgraded to 21" for a cool $1,000, which is probably something I would have to consider.
'Round back is where things get a little wonky.
You see, the rear deck is quite steeply raked and it's as if the window angle was so flat, they couldn't get it to reach the rear fascia. So they had to pull the leading edge of the trunklid up, then the bumper up in turn in order to meet that. The end result looks like an SUV that's hiked its pants up just a little too high and also leaves too much of the fat rear tires exposed. The subtle spoiler back there and slim taillamp lenses help, but overall, it's an odd look that is eclipsed by the likes of the Porsche Cayenne Coupé and Audi Q8. I'd have the styling over that of the BMW X6, however.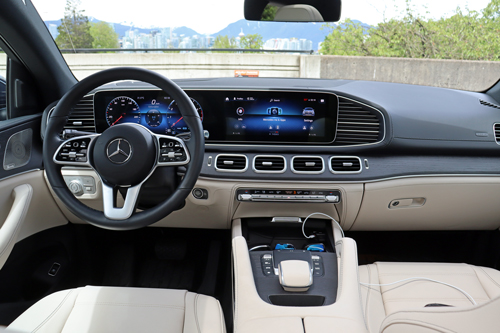 Interior: Here, we once again see a "tale of two cities" situation.
On the tech front, there is no question that it looks ultra-slick in here what with its twin digital displays for your gauges/infotainment, jeweled Burmester audio speakers (a Mercedes-Benz staple I very much appreciate), metallicized climate and audio controls and high-quality leather seats and door inserts. You also have the patented door-mounted seat controls which make sense as they are easier to access and allow for the fitment of wider seats. How more manufacturers haven't got on to this trend is beyond me.
Speaking of the tech: you can customize and modify the gauge cluster with a touchpad mounted to the left steering wheel spoke, which is fine – this is also how you toggle the heads-up display although you do have to remember to swipe up from the main menu in order to get there.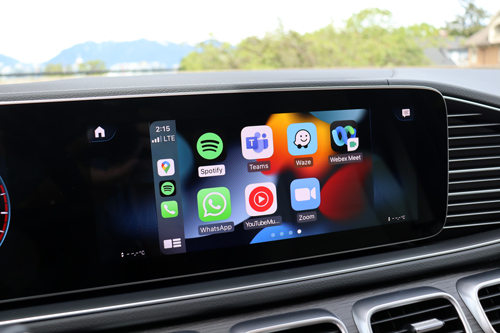 Infotainment: The infotainment display can be controlled either by a thumbpad on the right wheel spoke, via touchscreen or by a touchpad mounted atop the transmission tunnel. There's also "hey Mercedes" voice control.
That's all good, but the sheer amount of data available both on the infotainment display and within the gauge cluster can be overwhelming and it makes certain versions of the gauges – there are three to choose from – look a little busy. That's no big deal; it's more the fact that even with all this info available to me, and all these different ways of accessing it, I had to spend twelve minutes trying to find certain basic menus, like that of the equalizer, for example. That shouldn't be the case and there are vehicles out there – not necessarily from luxury manufacturers — that provide infotainment systems that are also slick-looking and powerful, but easier to operate.
Space-wise, the front seats tick all the right boxes. From seat comfort and features to driver's seating position, to accessibility, this is all right on. It really is a great place to sit.
In back, however, it comes as little surprise that headroom is compromised thanks to that swoopy roofline, to the point where adults and taller children may have a difficult time. That rear deck angle also affects storage capacity by lowering the overall height; taller items may have to be flipped on their sides and stored lengthwise (perhaps with the rear seatbacks folded) in order to be accommodated.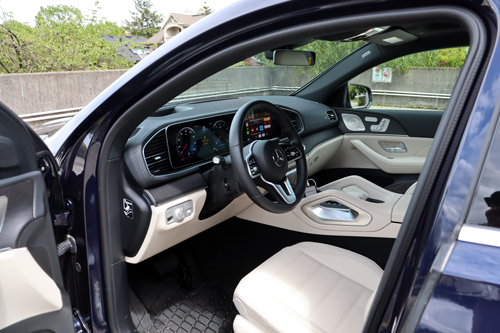 Drive: Even with the less-grippy-in-the-dry snowies I had on, the GLE proved to be a fine handler. At over 2,300 kilos, it's no lightweight and you will feel it as the turns get more repetitive and the body starts moving around more, but it takes quite a lot to really get it unsettled when it comes to handling. Sure; a little more feel through the steering wheel would be welcome, but the rack is nevertheless a responsive one and you can get it to weigh up a little by manipulating the drive modes, one of which is an "Individual" mode that lets you call up specific settings for the powertrain and chassis.
Personally, I stuck with heavier steering and a more relaxed powertrain – this is not the line's hi-po model so I found myself wanting to cruise serenely along rather than to tear strips out of it. It does the former with panache, providing great wheel control over bumps (helped, indeed, by the smaller wheels and cushier tires) and keeping the body nice and level through longer sweepers. This, all without having any form if air-ride suspension to speak of. Hard to complain about that and aside from a few cowl shudders over angled road imperfections (those tend to twist the chassis, just a little), this is a ride as luxurious as a Benz SUV costing 90 grand should have.
Conclusion: The thing is, you can get that same ride from the SUV version, plus all the practicality that accompanies it. And, with a $73,600 basic price in Canada, the GLE 450 SUV undercuts the Coupe by about 7 grand and can be had as a GLE 350 (the Coupe starts at the 450 level), with an even lower cost of entry.
This isn't to say there's no place for the Coupe; when it comes to the higher-performance AMG GLE 53 and GLE 63 models, I don't mind the idea of a coupe-crossover thingy because that body style is a good fit for the image presented by a more meaty powertrain. At the entry level, though, it's the GLE SUV for me.
2022 Mercedes-Benz GLE 450 Coupe
Price as tested: $96,700.00
Configuration: Front engine/all-wheel drive
Engine/transmission: 3.0L Turbo inline-6/48V mild-hybrid system
Transmission: 9-speed automatic
Power/torque: 362 horsepower/ 369 lb-ft of torque
Fuel: Premium
Combined fuel economy ratings: 10.5 L/100 km
Warranty: 4 years/80,000 km (comprehensive)
Competitors: Audi Q8, BMW X6, Land Rover Range Rover Velar, Porsche Cayenne Coupé
Link: Mercedes-Benz Canada