It's hard to keep a good icon down. Particularly when the faithful are clamouring for a storied career to take flight once again. In the case of the new Ford Bronco, an SUV that is seemingly so right in its execution, the shouts for revival couldn't go unanswered. If you haven't spent the last 57 years living under a rock, actually even in that scenario you have probably heard the name Bronco, you knew like everyone else the day was coming when a new version of this hallowed truck would come to life. Here it is and it was worth the wait.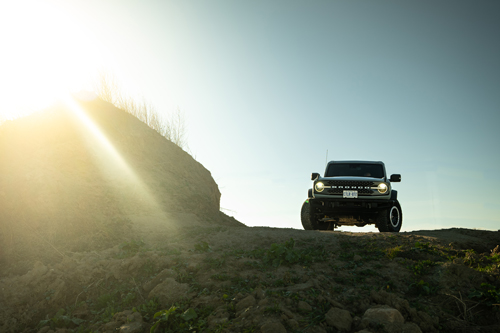 The second launch in the Bronco series, the first being the Ford Bronco Sport which is in essence a somewhat rugged version of your more typical sport utility vehicle, the 2022 Ford Bronco Badlands is anything but conventional. It will literally "climb every mountain, Ford every stream" without even breaking a sweat. And do it all in complete comfort while looking totally badass and turning many heads in the process. Yes folks, it does look as good in real life as it does in photos and not all icons can say that with a straight face, assuming they still have one.
Powertrain: Power for this Badlands comes in the form of a 2.7L EcoBoost 6-cylinder engine that delivers 330 horsepower and 415 pound-feet of torque. Matched to a smooth 10-speed automatic transmission, it delivers enough torque to power through almost any situation you might find yourself in. And, dare I say, a relaxed driving experience that means spending several hours travelling at highway speeds is comfortable.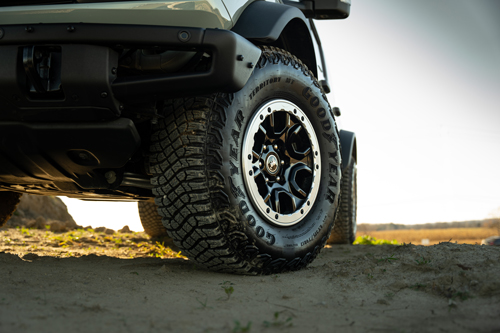 That is not to suggest all is quiet as the 315/70R 17" Goodyear Territory M/T tires are designed first for off-roading, mudding, rock climbing and dirt driving, not maintaining a steady 110 km/h on flat asphalt. But surprisingly, other than a few times when the tires would choose to follow their own path rather than the one I preferred, a simple correction was all that was needed to stay on course and road chatter never drowned out the audio.
Of course, one of the main reasons for driving a Bronco is to take it offroad and in this area the newest iteration of the icon exceeds all expectations with GOAT (Goes Over Any Terrain) mode and additional suspension adjustments available with the flip of a switch or turn of a knob.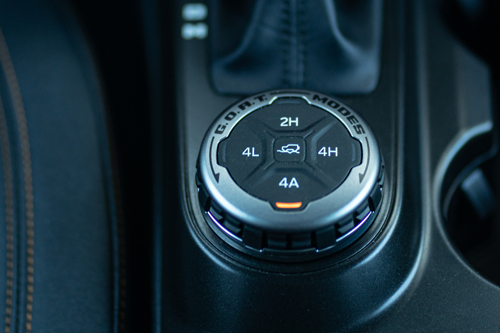 Front and rear differential lock, stay in your vehicle and hit the switch. Disconnecting the front sway bar to increase suspension travel, just press a button and enjoy the ride. Find yourself in a tight corner with no where to go but a hard left or right, Ford has you covered with Trail Turn Assist. The new Bronco is truly a hardcore offroader that isn't afraid to tackle the toughest trail, craggiest rock or deepest water hole (up to 850 mm with 33"-35" tires) and keep you coming back for more.
Exterior: Classic Ford Bronco styling cues abound from the round headlights, exorbitant ride height, rugged wheel flares and a front grille that no one could possibly miss. But Ford didn't leave the new Bronco Badlands stuck in the past as new technology is just as prevalent as paying homage to its glorious history.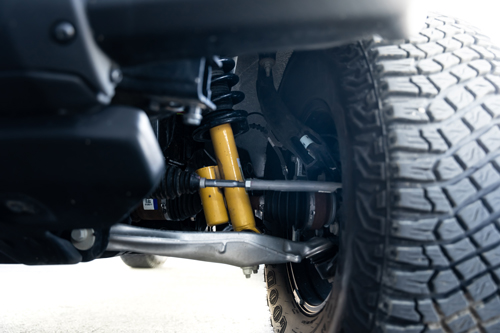 Our test vehicle is equipped with the Sasquatch package that includes Hoss 2.0 suspension with Bilstein PSDs and high clearance ride height, Trail Control, Trail Turn Assist and Trail One-Pedal driving, just to name a few. There is even a front stabilizer bar disconnect and available electronic-locking front and rear axle, for those times when more control is required.
Doors are solid, but not overly heavy as they can be removed for those especially adventurous off-roading excursions. Handles are thick and feel good in your hand. The rear tailgate handle is extra large and the door swings left to right and not up or down for easy access. A spare tire is affixed to the rear where it is equally easy to grab in case you get a flat or split a tire while out in the wild where no one has gone before.
Interior: Step inside and you are immediately impressed with what Ford has achieved with the new Bronco Badlands. The look is equal parts rugged and elegant. A thick-rimmed leather-wrapped steering wheel offers proper thumb grips and ours included the optional dark leather seats highlight contrasting bright stitching.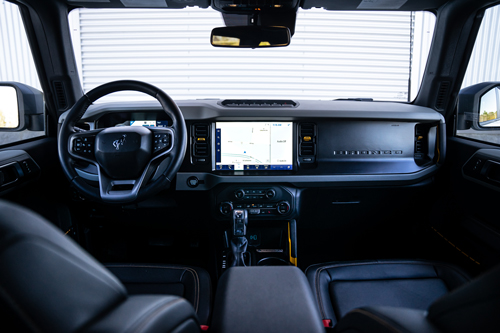 Infotainment: SYNC 4 is offered on the new Bronco and it makes connectivity easy with wireless Apple Carplay and Android Auto. Our test vehicle is equipped with a 12" LCD touchscreen with swipe capability and crystal clear graphic interface. For those times when the sweet sounds of flying mud and rock crawling aren't enough to soothe the soul, the optional 10 speaker Bang & Olufsen audio system with subwoofer is an excellent choice. Voice-activated navigation is included with a 90-day trial and it worked well, but connecting your smartphone is the solution most owners are likely to choose.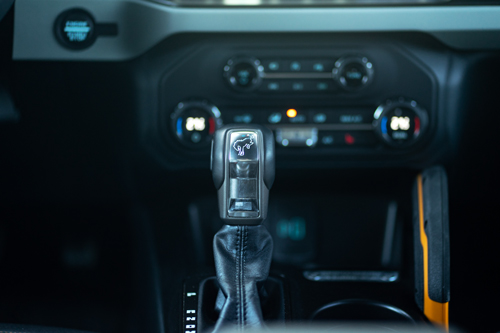 Drive: The mere understanding that there is almost no road or trail that you can't conquer in the Bronco Badlands is the gateway to unlimited adventure and offroad nirvana.
I am very impressed with how Ford takes most of the pain out of jostling and bouncing across rough terrain and makes what should be uncomfortable as relaxed as possible. There are a few too many roof squeaks and rattles for my liking, but given the majority of the panels and doors can be removed for that ultimate offroad experience, you learn to accept it as part of what it means to have this level of dirt, mud and rock-climbing capability. Suspension travel is excellent, braking is solid and there is enough power for getting in and out of trouble, or cruising at highway speeds and above for long periods of time.
Conclusion: The 2022 Ford Bronco Badlands is as capable and worthy of your consideration as any Jeep or Land Rover vehicle currently in the market. It looks the part and delivers the goods in a package that is well built and thoroughly enjoyable to drive. How far off the beaten path you go is completely up to you and that might be the very best part of bringing an old icon into a new age. The world needs a little more fun these days and Bronco delivers.
2022 Ford Bronco Badlands
Price as tested: $72,800.00
Freight: $2,195.00
Configuration: Front engine/four-wheel drive
Engine/transmission: 2.7-litre V6/ 10-speed automatic
Power/torque: 330 horsepower/ 415 lb-ft of torque
Fuel (capacity): Regular (79 L)
Combined fuel economy ratings (L/100 km): 14.1 L/100 km
Warranties: 3-years/60,000 km (basic)
Competitors: Jeep Wrangler, Land Rover Defender, Nissan Pathfinder, Toyota 4RUNNER
Link: Ford Canada