BMW names traditionally were simple and jargon-free, employing orderly numbers like a batch of Bach preludes. These days, the company tries to remain faithful to that lean naming ethic but there's so much more choice everywhere.
Take the X3 M Competition mid-size luxury (of course) SUV. For fifty years, the M addition has simply stood for Motorsport, promising and delivering track-ready tuning. And that Competition tag signals an upgrade package though, given its tuning and power, you'd be forgiven for taking it as an invitation.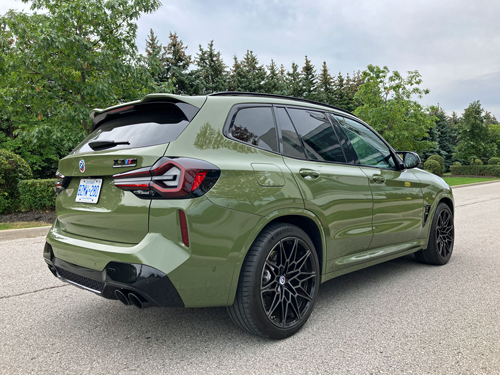 Why linger on these seeming trivialities? Without the M or Competition qualifying its name, the X3 starts at $52,990. This muscular tester comes in over $100,000.
Put them all together and you get rolling members-only lounge that you can transport the kids to granny's house by way of the racetrack. This may be where we leave any hope of simplicity behind in this review. This lounge-cum-rocket is complex.
Exterior
At first this X3 M's unassuming if hulking in a big-cat sort of way. But as the iconic German designer Mies Van der Rohe would have said about the outside of the X3 M Competition, God is in the details.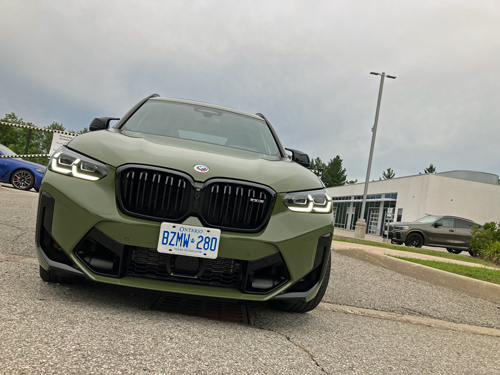 So look closer. Start at the front. See how the staggered headlights angle diagonally up like alert lynx ears flanking a pair of jazz-cool sunglasses the grille suggests.
Now walk around. Note the tri-colour M badging dabbed tastefully here and there. Four fat exhaust pipes tell your eyes to prepare the ears for the upcoming cannonade when you press the appropriately red Start button inside. And four fat 21" wheels are ready to grip the corners like a drowning man on a skinny lifeguard.
The names of colours offered get somewhat colourful in their description. Auto marketers can't help themselves these days; it's not just BMW. Some of the X3 M's choices include Carbon Black, Black Sapphire and Dark Graphite.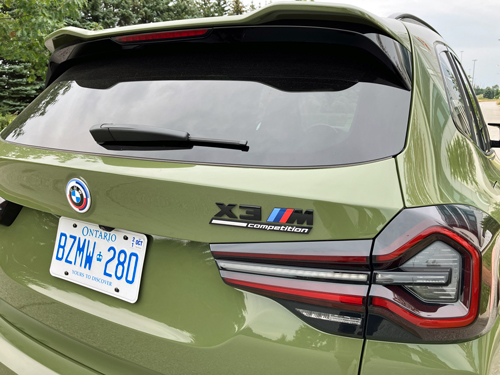 Which are all, y' know, black.
The list also features — no lie — a Toronto Red, which you can only assume gets its inspiration from the traffic I faced during the first week of September when BMW loaned this tester. Its colour? "Urban Green". Green would've sufficed but at least it wasn't even more fanciful like Verdant Forest Mist or Putter's Emerald Skin Condition.
Mind, perhaps some fanciful labeling is appropriate because, new this year, the X3 M's uni/metallic paint choices cost $3,900 more while Frozen paints are $4,900.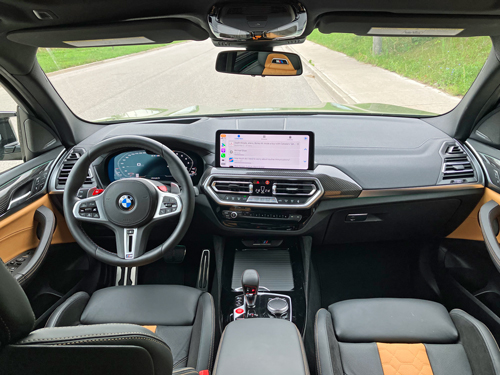 Interior:
Seeing as we already agreed on the divinity of the details, let's just look at some of the bling this tester's price includes. Ahem: two-tone leather interior; panoramic sunroof to further illuminate a 12.3" display screen; Harmon/Kardon Surround Sound system for concert-hall-perfect acoustics, listenable at any level thanks to clever dampening, despite the beastly engine described next section; the Premium Package with, among other goodies, ventilated front seats (sport with memory), heated back seats, side sunshades, and the BMW Drive Recorder which — get this — films up to 40 seconds of your surroundings. So you can record idiots performing idiocy on the road then report them to the police or, let's face it, post it on Angstagram to garner likes and comments from people you haven't seen since high school.
Again, that's just a taste. This vehicle's complex, not a bad thing if you're a curious learner and want your money's worth.
Powertrain:
The X3 M Competition is a thug with Merino leather nunchuks. Prepare for sturm und drang, when you hit the start button. The +$100k you're spending wasn't invested in new muffling technology.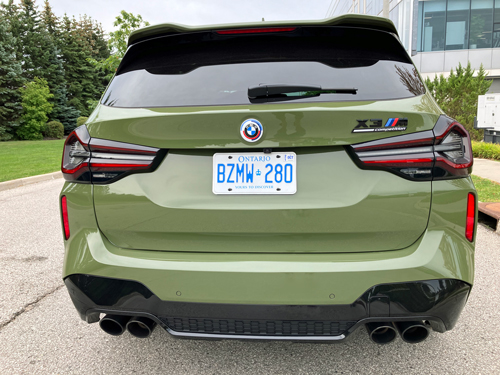 But what power when you find a chance to employ it!
The twin turbo-charged 6-cylinder engine with an 8-speed automatic transmission achieves a neck-snapping 503 hp and g-force-challenging 479 pound-feet of torque (up 37 from last year).
So you can launch from 0 to 100 km/h in a stupefyingly fast 3.8 seconds (down .3 from last year) during which time your double-chin briefly disappears.
Drive:
Be warned. This is a complicated vehicle for the serious speed- and control-mad driver, built for the Autobahn or your local racetrack. Adjust headrests before taking it out of park.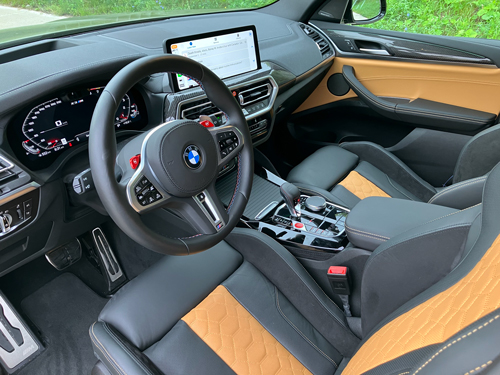 Even in simple drive mode, you have enormous power. But put it in M sport modes and you'll have the most fun ever alienating the neighbours. It's a marvel to drive: firm, even in deadly slow traffic, and it takes no prisoners at speed.
But picture the worst traffic you've seen in Toronto since before the pandemic, then give all those drivers stuck there a mood like with a cheap red-wine hangover. You've got the week I was lucky enough to drive X3 M Competition. On the Friday, it took 1 ½ hours to cover 16km in perfect weather. So there was plenty of opportunity to test the superb brakes.
Conclusion:
The few times I got some open tarmac, the X3 M Competition blasted past all comers like a thirsty wildebeest charging for an evaporating waterhole. Or a teen influencer on a grab-bag line. That is, it drives like it's desperate to win — hence the simple name Competition, one supposes.
See above re complexity. This is a lot of car to operate and understand. It's unapologetically expensive but offers the deeply keen and curious unlimited thrills. If you are power-mad and don't mind doing some homework to make the most of so much, put it on your tester list.
Price as tested: $106,700.00 (CAD)
Configuration: All-wheel drive with a plethora of option
Powertrain: 3.0L twin-turbo 6-cylinder engine with 8-speed automatic transmission
Power/torque: 503 horsepower/ 479 lb-ft of torque
Combined fuel economy ratings: 13.9/100km
Competitors: Alfa Romeo Stelvio, Mercedes-Benz GLC, Porsche Macan, Range Rover Evoque
Link: BMW Canada