If we're honest, Acura pretty much lives and dies by their SUV and CUV sales these days. If we continue to be honest, that's not all that different from many manufacturers – both luxury and non, just look at Ford – but the gulf between what the RDX and MDX sell and what the ILX/RLX/TLX sell is especially large (we'll see if the upcoming Integra can buck the trend), so it's a pretty safe bet that the latest RDX is going to be good.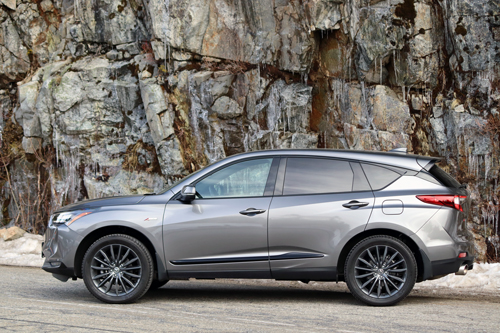 But with a new engine, transmission and some altogether striking new looks, how good is it?
Exterior: My neighbour is great. She's got two wonderful kids, drives a CR-V – I know this, because I park beside her – can be heard laughing from a mile away and I honestly can't think of a conversation we've had where she hasn't been smiling pretty much the whole time. Obviously, I park many different cars in the stall beside her – part of the job, you see – and until the RDX, she hasn't really commented on them. Until the RDX showed up.
"That thing is aggressive," she said, completely without my prompting her. "What's with that grille?"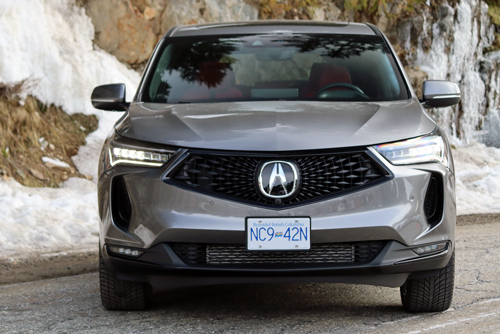 Well, that's a fair question, isn't it? The grille on the RDX is massive and the way the A-Spec's blacked-out spindly version appears to be moving toward you even while sitting still is quite a neat eye trick played by the designers. Then again, it's somewhat less crazy than what's offered by the Lexus RX F-Sport – but not by much – and the buyers at which the RDX is aimed are pretty much in line with those of the Lexus, so there you go.
It doesn't stop with the grille, either; the contrast-colour door inserts, slashes that run along the entirety of the side – whoa – and quasi fender flares are all as far away from the last RDX as you can get. Rare is it that you see such divergent paths when a new model replaces an older one, but Acura went all-out here. I can see it appealing to the younger buyer for sure, but young buyers don't buy that many cars. It's more the 45-65 year-old age group I wonder about with this styling; of course, those that are on the lower end of that buying group age-wise now may still have a foot in the early-to-mid-'90s and early 2000s, when car styling left a little to be desired. They may want to shirk those memories, and this could be the way to do it. I know that when I catch a glimpse of those honkin' A-Spec twin tailpipes, I do get a bit of a fizz going. Could do with a slightly more exciting colour, though, and luckily it's available in red and blue hues that shine a little more brightly.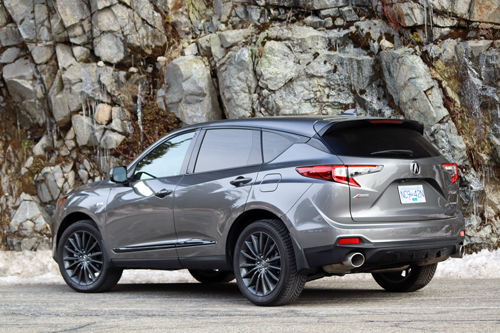 Interior: I'm also a big fan of the interior, especially that oh-so-cool silvery gauge cluster and yes, even the red seats. It looks much sportier than anything in a luxury crossover should, providing a tempting look into the RDX's dynamics while it's at it. The TFT screen between the two main gauges is an added bonus, but the real stars of the show are the main gauges. The Dynamic Mode select wheel, meanwhile, is elegant and pleasing to the touch.
The infotainment system's touchpad controller, though? Oh dear.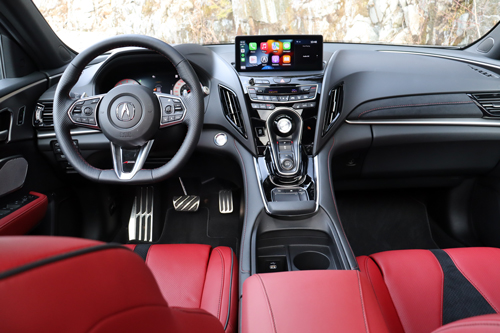 The way you have to literally drag your finger across it – as opposed to tapping certain sectors on it – just isn't that intuitive; it is, in fact, incredibly clumsy and there's no touchscreen backup. So you have to learn the touchpad's awkward ins and outs, or you're toast.
Powertrain: Through all the changes Acura and parent company Honda have gone through over the years, one thing always remains a constant: they manage to make vehicles that are almost impossibly fun to drive, and way more fun than anything at any given price level should be.
So, coupled with that styling, I had high hopes for the RDX.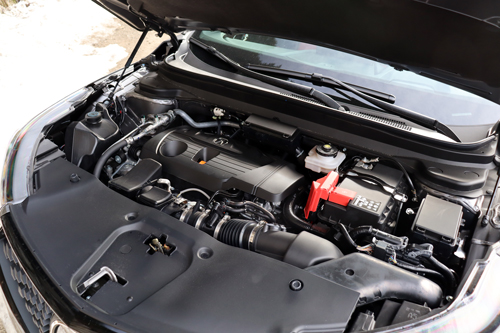 I, for one, love that Acura decided to go back to turbo power when it redesigned the RDX for '19; the original RDX had this, and while the naturally-aspirated V6 that replaced the original turbo had the power, it wasn't especially frugal fuel-wise.
Now, while the turbo makes a few less hp than does the old V6, it makes almost 30 lb-ft more torque and you get the better fuel economy to go with it. I had no problem with the power on offer, as I knew all the everyday tasks I'd ever need to perform would be easily handled by the power I did have. It sounds great, too, which I like, but be warned: it doesn't isolate the occupants quite as much as some of its competition in the form of the Infiniti QX50 or Mercedes GLC 300.
Drive: If an athletic drive is on your list, the RDX in general is a good choice because changes from non-A-Spec to A-Spec revolve pretty much around the availability of some larger wheels. Suspension tuning is otherwise the same, and the Super-Handling AWD is tuned to be able to send up to 70% of power to the rear wheels, meaning you get a proper sport car-lite feel if you select some of the sportier drive modes. Needless to say, I had it in Sport mode most of the time, because that's kind of what this particular crossover purports to be all about. I'm also very glad that we're not stuck with a fun-sapping CVT with the RDX; instead, a 10-speed automatic with great sickle-shaped paddle shifters is standard.
Conclusion: So, in an answer to my intro question: the RDX is very, very good in almost every way. It's a fantastic handler, I like the looks and that turbo-4 is a gem. The interior is a nice, modern place to be and I could stare at that gauge cluster all day. Thing is, it gets let down by its infotainment and while that may seem trivial amongst all this other goodness I'm spreading, it isn't. In fact, there are many buyers at this level that have infotainment in the top five of their checklists, and I can't help but think that's going to hurt Acura here. The drive and powertrain sure won't, though, and this really is a CUV that has to be driven to be believed.
2022 Acura RDX A-Spec
Price as tested: $52,600.00
Configuration: Front engine/all-wheel drive
Engine/transmission: 2.0L Turbo inline-4
Transmission: 10-speed automatic
Power/torque: 272 horsepower/ 280 lb-ft of torque
Fuel: Premium
Combined fuel economy ratings: 10.3 L/100 km
Warranty: 4 years/80,000 km (basic)
Competitors: Audi SQ5, BMW X3 M40i, Cadillac XT5, Genesis GV70, Infiniti QX50, Jaguar E-Pace, Lexus NX/RX, Lincoln Corsair
Link: Acura Canada