With this year shaping up to be another we'd like to forget, it's perhaps little surprise that the latest generation of Acura's flagship skips right over 2021 and lands as the 2022 Acura MDX.
Or, is Acura positioning its large crossover as ahead of its time?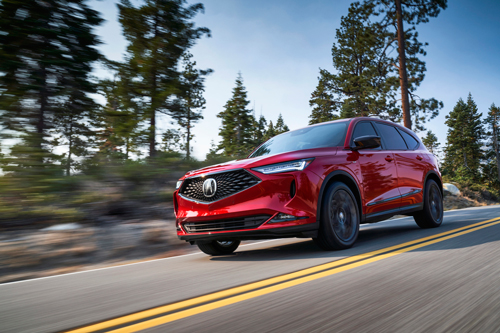 Either explanation is possible, since there's as much to love about the MDX as there is to hate about 2021. Either is possible, but neither is the real reason: Honda Canada spokesman John Bordignon said with the 2020 model on sale up till December of 2020 and the fourth-generation MDX launching in 2021, "it made sense to launch it as a 2022 model."
It's powerful, luxurious, loaded with technology and turns heads wherever it goes. It is, perhaps, the closest Acura has come to instilling Honda's racing DNA into a crossover.
It carves corners in ways that belie its girth, weighing in at more than 2,000 kilograms, yet with its Dynamic Mode Control can also be set to tame that shrew, with a Comfort mode that softens the suspension just enough. The control also offers normal, snow and sport modes: each adjusts the engine, transmission, suspension and all-wheel-drive parameters to suit the chosen mode.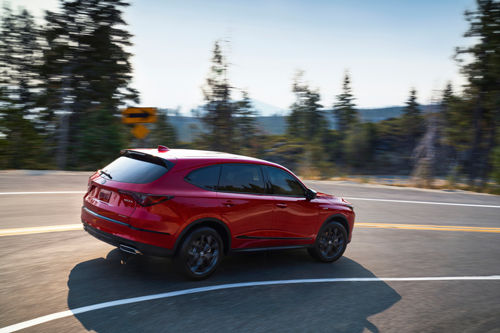 Honda's venerable 3.5-litre single overhead cam V-6 makes yet another appearance; it's a don't-fix-what-ain't-broke mill that's been around, and well-regarded, for generations of Honda and Acura products. In this configuration, it delivers 290 horsepower and 267 lb-ft of torque. A Type S variant, coming this summer, ups the power to 355 horsepower out of a 3.0-litre turbocharged V-6.
The current engine is mated to a 10-speed automatic transmission and the fourth generation of Super-Handling All-Wheel Drive, which is now able to transfer as much as 70 per cent of available torque to the rear and as much as all of that to one side or the other at the rear.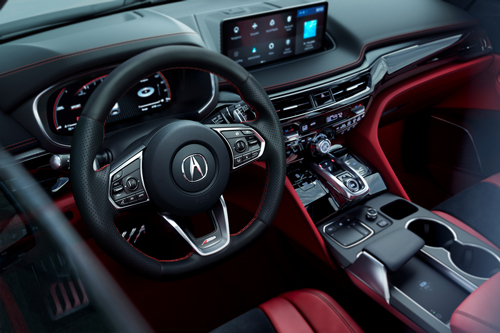 Other changes for 2022 include an electric booster for the brakes, replacing the traditional hydraulic booster that since time began was powered by engine vacuum. Acura says the change means the brake assist, in a panic stop, activates 230 milliseconds faster, which the company says stops the vehicle 3.6 meters shorter at 48 km/h.
A word about brake assist: speak to advanced-driving instructors, and to a person, all will cite as the most common mistake average drivers make when taking their classes is not braking hard enough in a panic stop. So brake assist detects a likely panic stop based on the speed at which a driver's foot moves from gas to brake, and then applies full pressure, often up to and beyond ABS intervention. For the MDX to stop 3.6 meters (that's almost a full vehicle length) sooner is huge.
Steering also gets a change in thinking, with a belt-driven electric power assist system that delivers more steering boost when needed, especially considering the variable-ratio steering on the MDX. Variable ratio steering offers more steering at low speeds to aid agility, while delivering considerably less steering at high speeds, aiding directional stability.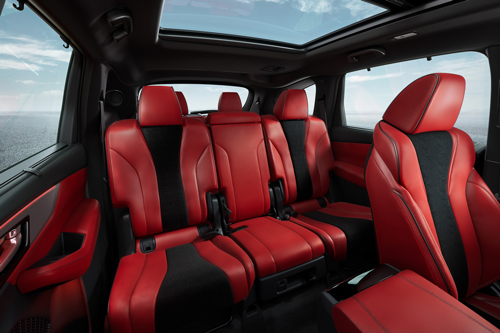 Acura has refined the interior, as well. Gone is the pair of screens for the centre console, replaced by a 12.5-inch high-definition display rising from the top of the dash, comprising such functions as navigation, audio entertainment and a variety of vehicle settings. Gone, too, is the multifunction controller knob, replaced by what Acura calls a True Touchpad interface just to the right of the driver's upper thigh.
This is not my favourite part of this crossover. The touchpad, like a touchpad on a laptop, projects a pointer on the 12.5-inch screen. When you land on the desired function, you press on the touchpad to confirm. It's intuitive, since it operates much like a laptop, but it's distracting, since — just like a touchscreen — you have to pay close attention to the display to ensure you're on the correct function.
Plus, if you have to raise your hand, maybe for steering or whatever, you have to start all over. One thing Acura did do right, at least relative to other Acuras or competitors' vehicles using the same technology, is the addition of a padded, L-shaped brace just behind the touchpad that serves as a brace for your wrist. Makes smooth operation of the touchpad easier. I don't think the touchpad is necessarily a deal-breaker, but a better system would be appreciated.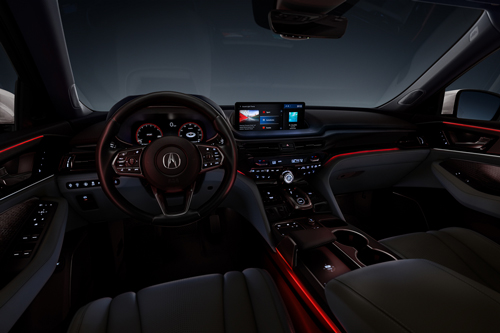 Another nod to practicality with the touchpad is the use of a rocker switch to either change to the next or previous tune or change to the next or previous pre-set radio station, as well as a real volume control. As well, Acura was wise to keep many of the most used functions — climate, heated or cooled seats, driver assist features and cancellation of auto stop-start — out of the touchpad system. Each has its own, physical control.
The auto stop-start, long a bugaboo for automotive journalists struck by how jarring the restart can be, is one of the smoothest on the market. What does constant use of the starter mean for its reliability? You can draw your own conclusions.
The second row comes with three seats, the centre of which can be removed to transform the three-across bench into a pair of captain's chairs. Both outboard seats also have buttons to fold the seatback, release the seat bottom and slide forward for third-row access. That third row can be a challenge for adults to access, but is more comfortable than most once you're seated.
As noted, the MDX drives exceptionally well, but I did notice that during low-speed manoeuvres, such as pulling into a parking space, it can be a little on the lurchy side, particularly in Normal or Sport modes. It's better in Comfort mode.
If you're looking for a classy, sporty large crossover that — despite a few foibles — plays at or near the top of three-row crossovers, the MDX should be on your list.
2022 Acura MDX
Price as tested: $$69,980.00
Configuration: Front engine/All-wheel drive
Engine/transmission: 3.5-litre single overhead cam V-6/ 10-speed automatic Transmission
Power/torque: 290 horsepower/ 267 ft-lb of torque
Fuel (capacity): Regular (70L)
Combined fuel economy ratings (L/100 km): 11.2 L/100 km
Warranties: 3-years/60,000 km (basic)
Competitors: Audi Q7, BMW X5, GMC Yukon, Hyundai Palisade, Lincoln Aviator, Land Rover Discovery, Volvo XC90
Link: Acura Canada