When it comes to entry level luxury sedans, most consumers may tend to overlook the 2021 Volvo S60 T5 AWD R-Design in favour of some of its competitors. In doing so, however, they would be depriving themselves of a solid option in the segment.
The smaller of the two Volvo sedan models is a very handsome package and while perhaps not as sporty as some of the others in this category, it can hold its own. Plus, as with all Volvos, it is packed with features that many safety-conscious buyers will appreciate.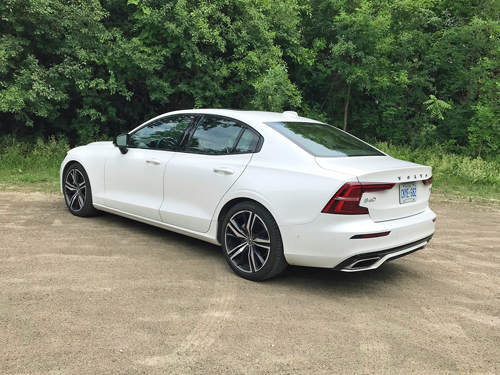 The S60 T5 AWD R-Design has a base price of $52,350, but our tester was outfitted with a significant number of options that resulted in the final bill coming to $64,815.
That includes items like the Climate Package ($1,000) with heated rear seats, steering wheel, and windshield washers; the Advanced Package ($2,450) adding a heads-up display, semi-autonomous Pilot Assist, wireless cellphone charger and more.
Some standalone options worth highlighting – and considering for your purchase – is the sweet-sounding Bowers & Wilkins Premium Sound System ($3,750), as well as the 19-inch 5-Triple Spoke Matt black Diamond-cut Alloy wheel ($1,000).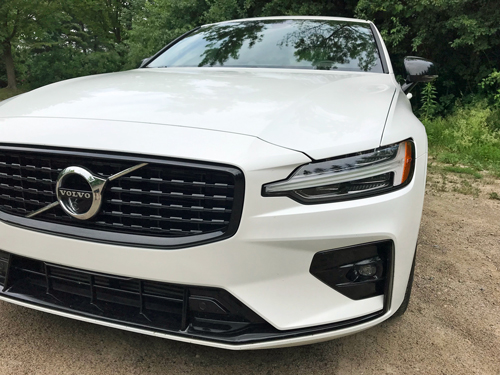 For 2021, the S60 gets a few small additions, including active bending LED headlights, blind-spot monitoring, rear cross-traffic alert, keyless entry with an automatic trunk release, and auto-dimming and power-folding exterior mirrors.
Another new feature for 2021 is the Care Key, a bright orange key fob that allows the owner – in this case Volvo Canada – to set a speed limit that cannot be exceeded when lending out the vehicle. I can see how this would be especially handy for owners who might let their kids borrow the car at times.
Powertrain: While not having Volvo's vaunted Polestar power, the S60 T5 AWD R-Design is no slouch.
It comes with a 2.0-litre Supercharged and Turbocharged 4-cylinder engine, paired to an 8-Speed Geartronic Automatic.
With 250 horsepower and 258 ft-lb of torque, it delivers solid performance for the S60, never once leaving the driver with the feeling that he or she is lacking power, and there is no real turbo lag to speak of.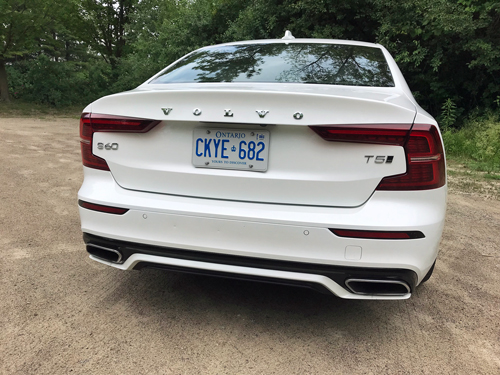 The transmission is also very good, with smooth shifting and quick downshifts when you need power to complete a passing manoeuvre on the highway.
Volvo says the S60 T5 has an estimated combined fuel economy average of 9.2 litres of premium fuel per 100 kilometres, but I did no better than 11.9 L/100 km, although a lot of that was in city driving.
For even better fuel economy, the S60 is also offered in a plug-in hybrid version, called the S60 Recharge.
Exterior: It's not the flashiest design in the segment, but what the S60 has is an air of elegance to it.
It is very much in line with other Volvo models, featuring the "Thor's Hammer" design for the LED headlights, a feature I have come to appreciate from the automaker.
It also has the company's new grille design, in this case the R Design version, as well as the word Volvo spelled out across the lip of the trunk.
The optional alloy wheels and black mirrors and other accents also really stand out against the white metallic paint.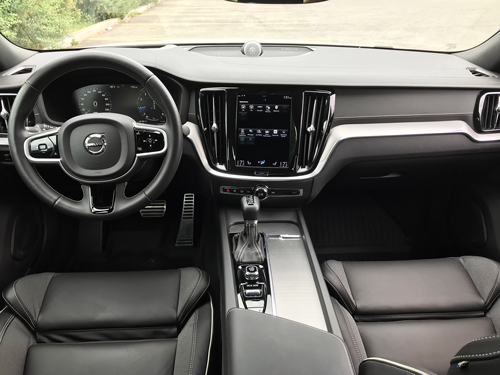 Interior: On the inside, the S60 features a well designed and laid out cabin that is welcoming and luxurious.
The materials, such as metal mesh inlays and Nappa leather sport seats, are of a high quality.
Other features I appreciated include the 12.3-inch digital gauge cluster and the head-up display.
The front seats are very comfortable and rear passengers benefit from a generous amount of leg room.
The S60 also has some nice tricks up its sleeve, such as the power folding rear headrests, dropping them at the touch of a button to clear the view out the rear window. When up in place, they do tend to block rearward visibility a bit.
Infotainment: The S60 features a tablet-style screen for its infotainment system, a trend more automakers are leaning toward.
It is a very clear and nice screen, but operating it remains a challenge despite a few tries with other Volvos.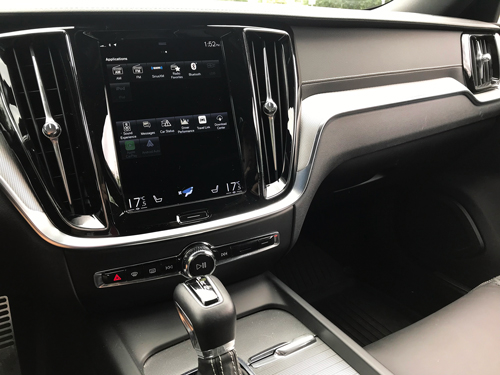 The way some menu functions, such as climate control, are set up render them difficult to operate while the vehicle is moving.
The system does offer Apple CarPlay and Android Auto, and the Bowers & Wilkins premium sound system replaces the Harmon Kardon setup that is standard.
That pretty much makes up for any issues with controls as the audio is fantastic, while also paired with satellite radio.
Drive: There's very little to dislike about the S60's on-road performance and presence.
The engine is plenty powerful, and the steering and handling are both very well set up on this sedan. It was a very pleasant week in the S60, especially given the quietness of the cabin, even when on the highway.
The S60 features a Drive mode selector to allow you to adapt the vehicle's characteristics to best match your driving style or how you happen to feel on any given day. I spent most of my week in Comfort mode, but don't let the name fool you; it still delivers enough driving enjoyment to keep most satisfied.
Conclusion: While it may be under – or totally off – the radar for some in the market for a luxury sedan, the S60 is really not to be overlooked.
It offers an excellent combination of stylish looks, creature comforts, passenger enjoyment and performance for the driver that can definitely rival some of the other models in its segment.
2021 Volvo S60 T5 AWD R-Design
Price as tested: $64,815.00
Freight: $2,015.00
Configuration: Front engine/All-wheel drive
Engine/transmission: 2.0-litre Supercharged and Turbocharged 4-cylinder/ 8-Speed Geartronic Automatic
Power/torque: 250 horsepower/ 258 ft-lb of torque
Fuel (capacity): Premium (60 L)
Combined fuel economy ratings (L/100 km): 9.2 L/100 km
Observed fuel economy (L/100 km): 11.9 L/100 km
Warranties: 4-years/80,000 km (basic)
Competitors: Audi A4, BMW 3-Series, Mercedes-Benz C Class
Links: Volvo Canada