If variety truly is the spice of life, then the Toyota Camry may be the spiciest of all.
A quick look through some press material for the 2021 version of the popular sedan reveals there are no fewer than 20 (!) different variants of the Camry, which offers four different powertrains – including a hybrid version.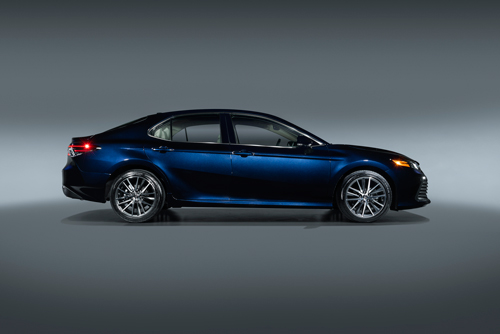 For 2021, the Camry – already a stylish design after the last refresh – gets some further styling enhancements, while also receiving interior upgrades that includes a new infotainment touchscreen. It also now comes standard with a host of new safety features thanks to the Toyota Safety Sense 2.5+ technology which includes an enhancement to the system's ability to recognize pedestrians and cyclists.
For our week with the Camry, I drove the XLE AWD trim, with an MSRP of $38,650 (a front-wheel drive LE starts at $27,250). The XLE comes with 18-inch alloy wheels, heated steering wheel, panoramic moonroof, leather seating, LED headlamps, dynamic cruise control and more.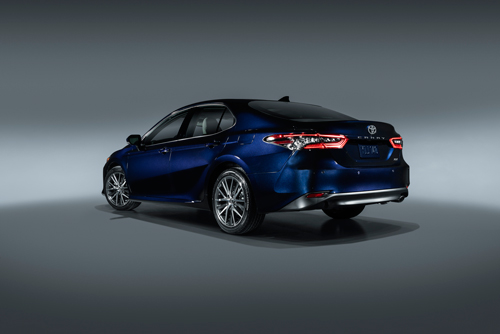 Powertrain: The Camry has a hybrid offering for those seeking to be better to the planet and a V6 option for those who still want to have some fun behind the wheel.
Between those two lies our tester, which is equipped with a 2.5-litre four-cylinder engine with 203 horsepower and 186 lb-ft of torque, and is paired to an eight-speed automatic transmission.
Having previously experienced the V6 Camry, this one felt a little underwhelming but, on its own merits, is actually a decent engine that should satisfy most buyers.
The power numbers won't overwhelm you and even in "sport" mode, it's a pretty tame engine, but as an everyday driver, this engine hits the right notes.
As an AWD model, it featured Toyota's Dynamic Torque Control All Wheel Drive system. It delivers full power to the front wheels under normal conditions but can shift up to half of that to rear wheels when the system detects a loss of traction.
During my week with the Camry, I returned an average of 9.8 litres per 100 kilometres, a bit higher than the estimated 8.4 L/100 km claimed by the automaker.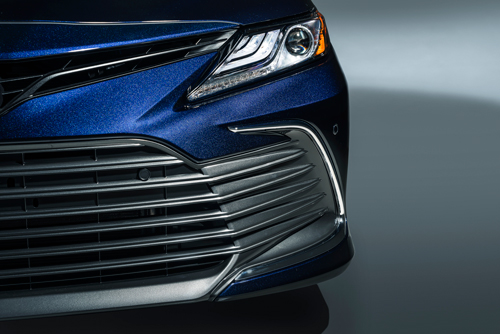 Exterior: For the 2021 model year, Toyota has given the Camry a revised front fascia and grille, but you would be excused if you couldn't tell much of a difference.
The change is subtle, with the removal of a little lip from under the Toyota logo that covered a portion of the lower grille the only real change I could see in a side-by-side comparison.
The front end was already a nice look, so this change does nothing to affect that.
The Galactic Aqua Mica, a very dark blue, does tend to make certain elements stand out a bit less in my view, but the 18-inch alloy wheels are the exception to that rule.
Interior: The passenger cabin gets a more noticeable upgrade, with a new dashboard that features a 9-inch tablet style infotainment screen that protrudes from the dash.
All the necessary controls are easily within reach of the driver, with buttons and dials kept to a functional minimum.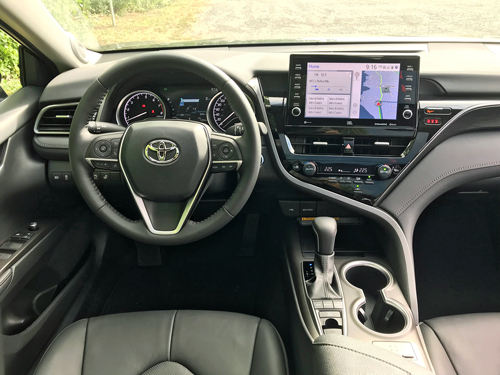 The seats, heated up front, in the XLE AWD are leather and quite comfortable, offering good support. At the rear, there's a fold-down armrest and the back bench features a 60/40 split that allows owners to increase the Camry's cargo capacity when needed.
Overall, the cabin is well designed, the materials are good, and the environment is quiet, all combining to deliver a good experience for passengers.
The trunk space on the Camry is also very good, with a wide opening and deep compartment, further augmented by that folding seatback.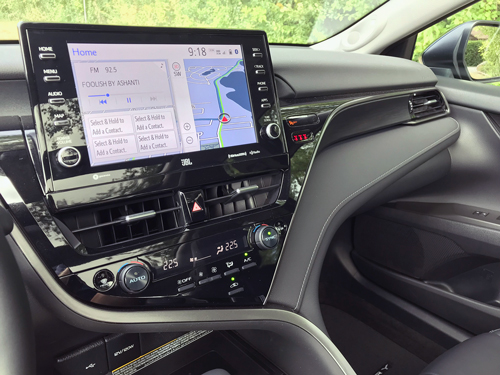 Infotainment: The Camry comes with the Toyota Entune 3.0 infotainment system, one that is easy to understand and operate, with physical buttons (phone, audio, map, etc.) on either side of the screen that bring up the appropriate menus without having to scroll through page after page of other items.
In our tester, it was paired to a nice-sounding JBL Clari-Fi Audio System featuring nine speakers, and the Camry comes standard with Apple CarPlay and Android Auto. It also features navigation, satellite radio and Toyota connected services such as Destination Assist, Remote Connect, Safety Connect and Service Connect.
Drive: The Camry, with a long history of excellence and the Toyota pedigree, delivers a solid driving experience.
It's a remarkably unremarkable drive, but that's a good thing in my view. There's nothing to complain about in how this Camry drives and rides, delivering a smooth environment for passengers and a good steering feel. It's not the sportiest sedan or the most dynamic, but it is a very capable vehicle that will serve a family well whether it be in the city or for longer trips to visit family in other parts of the country.
While we didn't get a chance to check out the AWD system during a summer test, it's comforting knowing that it is there for when the time comes.
Conclusion: While the days of the sedan may be numbered, Toyota continue to put its best foot forward with the Camry. It's a good-looking model that has a variety of options available – 4-cylinder, hybrid, V6 – which certainly helps it appeal to as many consumers as possible.
While many obituaries have been written about the future of the family sedan as more and more automakers abandon the segment, the Camry gives hope to those who like sedans that maybe, just maybe, words of its demise have been grossly exaggerated.
2021 Toyota Camry XLE AWD
Price as tested: $40,550.70
Freight: $1,770.00
Configuration: Front engine/All-wheel drive
Engine/transmission: 2.5-litre four-cylinder/ 8-speed automatic
Power/torque: 203 horsepower/ 186 lb-ft of torque
Fuel (capacity): Regular (55 L)
Combined fuel economy ratings (L/100 km): 8.4 L/100 km
Observed fuel economy (L/100 km): 9.8 L/100 km
Warranties: 3-years/60,000 km (basic)
Competitors: Honda Accord, Kia K5, Nissan Altima, Subaru Legacy
Links: Toyota Canada