There is a sensible side to driving the 2021 Porsche Macan GTS that belies the true nature of its sports car underpinnings.
At the very least it is a practical 5-person utility vehicle with power and style that set it apart from the crowd. At best, it is completely capable of giving its elder sibling the Porsche 911 Carrera S a run for its money while hauling a full battery of luggage, sports gear or anything else you can think to throw in the rear storage compartment. Either way, it's insanely pragmatic, fast, handles curves with ease and turns a surprising number of heads in the process, especially in Carmine Red ($3,560).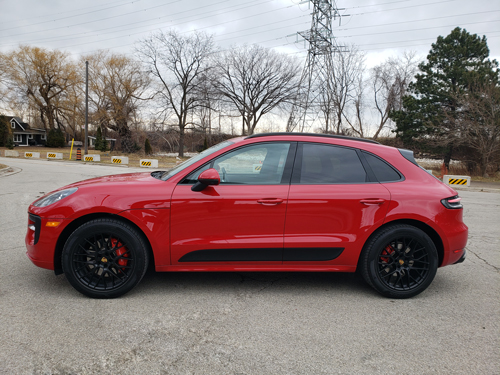 The Porsche Macan was recently named to the 2021 Car And Driver 10Best list and that in itself should tell you there is something unique about this SUV. It goes without saying Porsche is best known for developing classic, race-proven, high-performance sports cars. It is their iconic heritage.
But it is also true that without it's dedication to sport utility vehicles, the Stuttgart-based automobile manufacturer wouldn't exist today. And now, with electric vehicles taking centerstage as we move beyond petrol-based automobiles and embrace a new future of EV's, happily or not, it is only a matter of time before the Macan family grows again to include the next big thing; a midsize electric SUV, from the German automaker.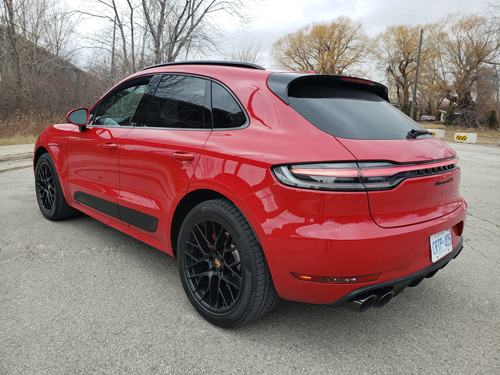 But let's not get too far ahead of ourselves. The 2021 Porsche Macan GTS is here today and it is exceptional.
Powertrain: Power comes in the form of a 2.9L twin-turbo V6 gasoline-powered engine matched to a PDK transmission. It produces a stout 375 horsepower at 5,200-6,700 rpm and 383 lb-ft of torque at 1,750-5,000 rpm. Open the hood and your friends should be suitably impressed as Porsche has taken their time to ensure a proper looking sporty engine resides inside a vehicle that touches $100K CDN with options.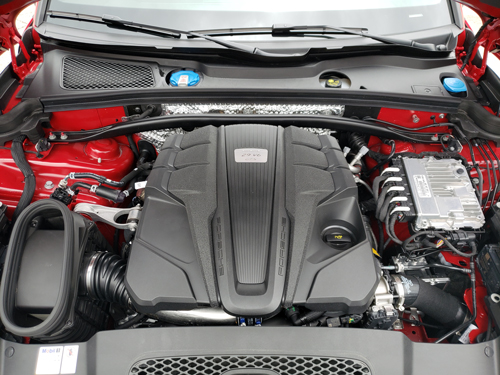 Zero to 100 km/h takes 4.9 seconds and top speed reaches 261 km/h. Our test vehicle is equipped with the optional Sport Chrono Package ($1,560) which reduces the amount of time required to hit highway speeds to 4.7 seconds and 11.6 seconds to 160 km/h. Given how fast the options list grows when ordering a new Porsche, this seems like a worthwhile investment for a 0.2 second reduction.
Exterior: There is no mistaking the outward visage of the Macan GTS for anything other than a Porsche. It features the familiar front headlight design; our test vehicle offers the tinted LED Porsche Dynamic Light S for optimum night driving performance. Lift the hood and you experience the unusual feature of headlight holes as part of the design. It can catch you off guard at first, but adds a coolness factor to the hood that is unusual and certain to be a talking point.
High-gloss black accents are used to good effect on the GTS. This includes the rear roof spoiler, window trim and side blades with GTS logo. Matte black compliments the aggressive design theme with a blacked out grille, mid-section diffuser and lower rear ground effects.
All black 20"multi-spoke alloy wheels are shod with 265/45 R20 Pirelli Scorpion winter tires make this an exceptional winter driving vehicle. Red brake calipers controlling 4-wheel disc brakes not only standout in contrast to the black foreground colour of the wheels, but they also act quickly to bring it to a swift and composed stop.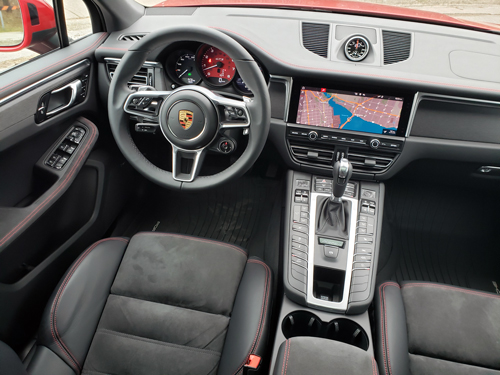 Interior: The Macan GTS offers a driver-focused interior with an emphasis on performance and comfort. The effect of the optional GTS leather interior package in Carmine Red ($5,470) is both stunning and practical. Red stitching on the seats and matching seat belts is enough to solicit a positive comment from the Starbucks drive-through barista.
Gauges feature the traditional Porsche arrangement of a tachometer centered between a speedometer on the left and information screen on the right. It is clean and straightforward and it looks sporty with the tachometer in matching Carmine Red and the other gauges in black with white lettering.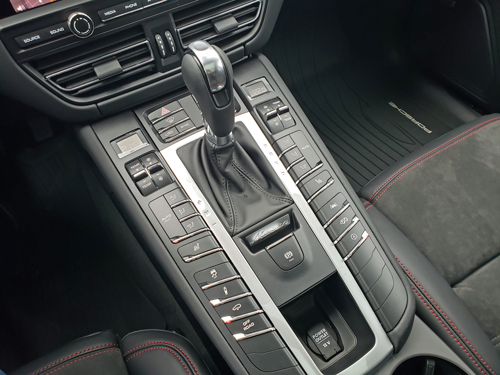 Not quite so straightforward is the center console as it provides a cornucopia of readouts, toggles and switches. Everything from interior temperature adjustment and fan speed, to heated seats, suspension and exhaust adjustment is available in one space. It is a lot to take in at first, but with time spent driving the vehicle, it soon becomes second nature.
Back seat occupants will encounter reasonable legroom and plenty of comfort. Rear storage is what you expect from a midsize extra-sporty SUV with an available 481L with the seat up or 1,472L with the rear folded.
Infotainment: A 10.9" TFT screen houses the navigation and audio system, phone and car settings. It is bright, clear and easy to read even with light shining in from the side or through the optional Panoramic Roof.  Our test vehicle is equipped with the optional Bose Surround System ($1,130). Sounds quality is excellent, I have no reason to complain for those times when music or talk radio is preferred over the sounds of the exhaust and squealing tires.
Drive: Competence is a trait you notice not only while accelerating or enjoying the twisting backroads of Niagara, Canada where I live, but also when quickly scrubbing off speed in a straight line or midturn. Potholes and ruts on the road are barely perceptible, it really is a remarkable accomplishment when you consider its utilitarian characteristics.
Close your eyes (as a passenger, of course) and it is easy to imagine you are riding shotgun in a Porsche 911 Carrera S. The feel is similar, the sounds relatable, but the advantage of carrying five people and a full load are three solid reasons to consider the Macan GTS.
Most SUV's are a compromise, this one is not. And while it may not be the least expensive option on the potential list of add-ons, Carmine Red completes the visual experience with stellar good looks and an aggressive, Carrera-esk demeanour. The 2021 Macan GTS is a match of utility and sportiness worthy of the name Porsche.
2021 Porsche Macan GTS
Price: $80,700 base price CDN / $72,100 USD
Price as tested: $$102,590 CDN
Configuration: front engine, all-wheel drive
Engine: 2.9L 6-cylinder twin-turbo
Transmission: 8-spd PDK
Power/torque: 375 hp/383 lb-ft
Fuel economy ratings: 12.2 L/100 km combined
Warranties: 5 years/100,000 km (comprehensive)
Competitors: Audi SQ5, BMW X3M, Jaguar F-PACE S
Link: Porsche Canada