The letters AMG stir up a whole host of feelings for driving enthusiasts – including this one.
One of the newest models from Mercedes to get the AMG treatment is the GLB SUV with the 2021 GLB 35 AMG 4MATIC I tested recently.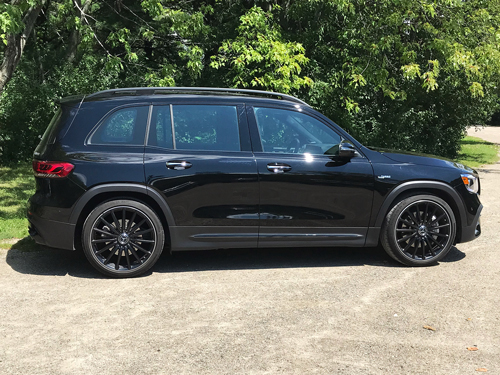 That's a lot of letters and numbers, but what they add up to is an SUV that is not only good looking, but also ensures that driving the family around is as much fun as possible.
Available as a five- or seven-seater, the GLB 35 AMG 4MATIC also brings some versatility to the table.
And be ready to shell out some serious coin if this is your vehicle of choice.
The starting price for the GLB 35 AMG is $57,500, with several thousand dollars of extras added to our tester pushing the final price to a steep $68,190. The additions included $890 for the Cosmos Black metallic paint, 12-inch AMG wheels ($1,250), AMG Night Package ($1,000), the Premium Package ($3,900), navigation ($1,000), AMG Driver's Package ($2,000) and $650 for a 360-degree camera.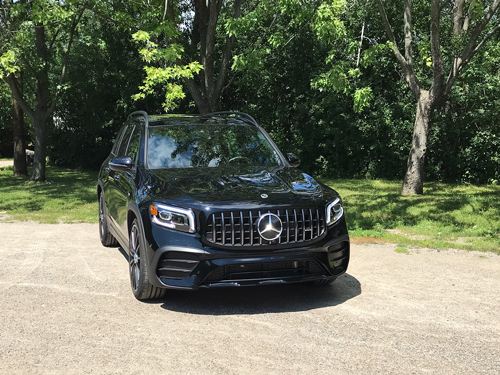 Powertrain: Delivering the fun while behind the AMG performance steering wheel is a potent little engine under the hood.
It's a twin scroll turbocharged 2.0-litre 4-cylinder engine that delivers 302 horsepower and 295 ft-lb of torque at a moment's notice, propelling the GLB off the line from 0 to 100 kilometres per hour in 5.2 seconds, according to Mercedes.
And thanks to the MBUX display screens, you even have the option of seeing in real time exactly how much power the engine is producing as you drive along.
The engine is paired to an AMG Speedshift 8-speed dual clutch automatic transmission which does a great job handling all the power from the engine. I did find it a bit slow to kick down into first gear when stopping and starting at stop signs, however, leading to some jerky starts.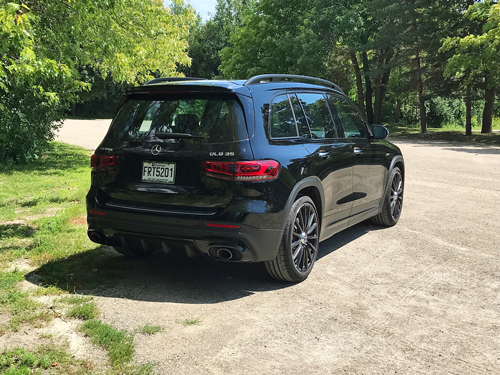 The GLB 35 AMG has an estimated combined fuel economy average of 10.1 litres per 100 kilometres, while I was able to only achieve 11.3 L/100 during a week that was evenly split between city and highway driving.
Exterior: To make it stand out from the normal GLB, the AMG version gets some unique styling attributes.
That includes the AMG-specific front grille, front splitter, two round exhaust pipes and an AMG roof spoiler are also added on.
Our tester was taken up a notch further thanks to the Night Package, which adds gloss black finishes to the front air-dam splitter, air-intake fins, side mirrors, side-window surrounds, and the rear diffuser trim. The roof rails are finished in matte black as part of the kit.
To complete the black-on-black look, the optional 21-inch AMG multispoke, matte wheels are a thing of beauty. And they also make the silver AMG brake calipers stand out nicely.
I am not sure if it's because we are so accustomed to seeing these sleek raked rear ends on SUVs these days, but the rather vertical back end of the GLB took some getting used to.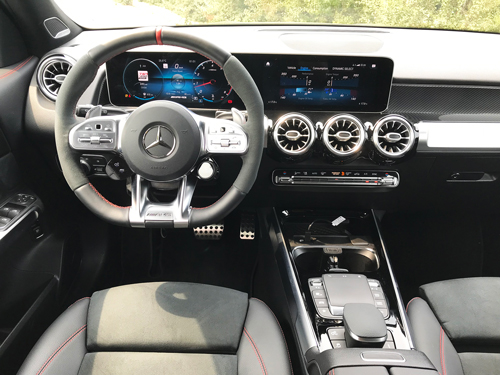 Interior: When you slip inside the GLB 35 AMG, you are instantly struck by the styling and design of the driver's cockpit.
Featuring two widescreen 10.25-inch displays placed side by side to look like one, all your information is clearly displayed in a customizable fashion.
It's one of the nicest setups I have experienced.
The rest of the cabin isn't too shabby either, with circular air vents, comfortable black Artico/Dinamica seating with red contrast stitching and that AMG steering wheel giving the cabin a sporty yet stylish appearance. And I loved the setup of the steering-wheel mounted controls, which feature little mini track pads and, in this case, additional controls to change the vehicle's drive settings right in the palm of your hand.
While this is a five-seater, there is an optional third row for the GLB, but I can't even imagine how tight the legroom would be back there given the size of this SUV.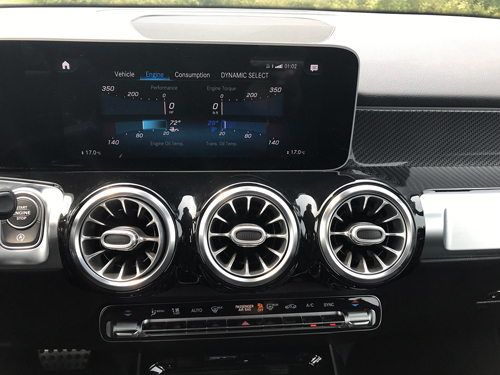 Infotainment: Through the vivid screens, the GLB 35 AMG also features the latest version of the brand's infotainment system. There are a lot of options to scroll through, whether it be through the touchscreen capability, touchpad, Touch Control buttons on the steering wheel, or even by voice or gesture control.
And the look of the interface is customizable with three AMG-specific looks: Classic, Sporty and Supersport.
The tester came fitted with a Burmester surround sound system with 12 speakers and the ability to adjust the volume to compensate for ambient noise.
The infotainment system features satellite radio, and is compatible with Apple CarPlay and Android Auto, as well as featuring navigation.
And that Navi system has a pretty cool trick up its sleeve. When approaching your next turn, the forward-looking camera will show your position on the centre screen and superimpose information such as street names and guiding arrows to make sure you are on the right path. Loved this feature.
Drive: There's definitely a lot of fun to be had from behind the wheel of this SUV. It offers a lot of power and sporty performance, and gives the driver control of vehicle dynamics through the AMG Dynamic Select programs. You have five options: Slippery, Comfort, Sport, Sport+ and Individual, each one of which changes the engine response and transmission timing.
I was especially interested in the slippery mode, which is something that could prove beneficial for Canadian drivers. It reduces power and flattens the torque curve, and smooths out the transmission function to ensure safe driving on slippery pavement.
Comfort mode is the most fuel efficient one, so my higher consumption could be because I spent too much time in Sport mode.
The one thing I noticed when on the highway is that the cabin can get especially loud thanks to road noise, especially on concrete sections of highway. So thankfully that Burmester system compensates for that!
Overall, the GLB 35 AMG is a fun and sporty SUV to boot around in even if it you are jostled around a bit on rougher pavement.
Conclusion: Is the GLB 35 AMG a sporty, stylish, and fun to drive SUV? The answer is unquestionably yes. However, with a price point closing in on $70,000 (before tax), that is a hefty price to pay for all those things. It will undoubtedly find takers, though, as this segment of the market continues to expand in popularity.
2021 Mercedes-AMG GLB 35 4MATIC
Price as tested: $68,190.00
Freight: $2,000.00
Configuration: Front engine/All-wheel drive
Engine/transmission: 2.0-litre turbocharged 4-cylinder/ AMG Speedshift 8-speed dual clutch automatic
Power/torque: 302 horsepower/ 295 lb-ft of torque
Fuel (capacity): Premium (49.2 L)
Combined fuel economy ratings (L/100 km): 10.1L/100 km
Observed fuel economy (L/100 km): 11.3 L/100 km
Warranties: 4-years/80,000 km (basic)
Competitors: Acura RDX, Lexus NX, Infiniti QX50, Volvo XC60
Links: Mercedes-AMG Canada