The midsize SUV segment is crowded with capable offerings. If a carmaker wants to compete, it must dish out a vehicle that does it all, but also one that somehow distinguishes itself. Kia understood this with the Telluride; a three-row SUV that entered the game late, but somehow arrived with virtually no faults. But that's because Kia, along with the entire Hyundai industrial group, has the resources to develop a class-competitive machine.
But Mazda isn't a manufacturing juggernaut like Hyundai. In the large spectrum that is the corporate automotive kingdom, it Mazda remains a small player. It needs to think outside the box if it wants to take on the goliaths.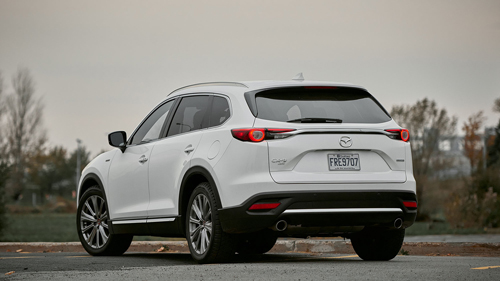 And that's precisely what the CX-9 tries to do. It takes a different path by taking a stab at the luxury brands without necessarily inflating its price. Can this gutsy strategy help the Mazda CX-9 separate itself from its rivals? We took it out for a spin, in its rather 100th Anniversary limited edition, to find out.
One Hundred Years, Already?
In 2020 Mazda celebrated its 100 years of existence on Earth. That's right, the Hiroshima-based builder of the Miata, and long-time believer of rotary power, is a full century old. So, for the 2021 model year, it adds a limited production 100th anniversary to most of its models.
The package, which towers the CX-9 lineup at $55,415 (or about $2,000 more than the Signature trim) is mostly aesthetic. For starters, it's only available in the Snowflake White Pearl exterior color with contrasting Garnet red Nappa leather interior, which looks rather dashing for a press unit like our tester. Although I'm not sure this would be a good fit for the daily grind.
The 100th anniversary CX-9 also gets model-specific color and material combinations for the cabin, red carpets, a 100th anniversary logo inscribed on front headrests, key fob and wheel center caps. Two subtle, but noticeable "1920-2020" plaques were also installed on the car's front fenders.
Nothing changes mechanically, meaning the CX-9 is still powered by a tried and proven turbocharged 2.5-liter four-cylinder. The interesting thing about this engine is that its power and torque figures change depending on the type of fuel you use. For instance, when it's running on 93 octane gas, it'll churn out 250 horsepower and 320 lb-ft, but if you decide to run it on regular gas instead – which won't damage the engine -, these numbers drop to 227 horsepower and 310 lb-ft of torque.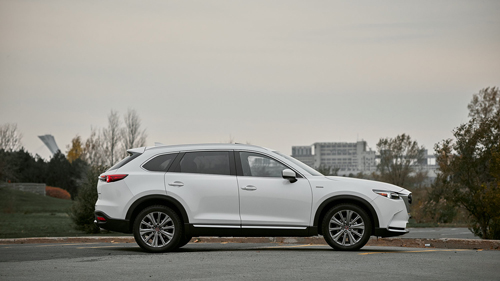 It's a wise choice, and one that allows the CX-9 to once again set itself apart, but the lack of a V6 option remains its Achilles heal, especially if towing is on your list of priorities. For instance, the standard in this segment is a 5,000-pound rating, while Mazda limits the CX-9 to 3,500 pounds. This is further perplexing given that both the Subaru Ascent and Ford Explorer, which are also powered by a turbocharged four-cylinder engine, will haul up to 5,000 pounds.
There's also no electrified variant here like what you'll find from a Ford Explorer or Toyota Highlander hybrid.
The CX-9's engine is paired to a six-speed automatic transmission and standard all-wheel drive. While most of the industry now offers eight or even ten gears, Mazda is lagging with six. However, to its defense, it works flawlessly, and still does a bang-up job of exploiting the turbo engine's powerband, all while returning a class-competitive 10.7L/100 km (as tested) fuel rating. That said, imagine what this drivetrain could do if the transmission had more gears?
Treat the CX-9 as a lifted family hauler with all-wheel drive instead of an actual truck, and you should do fine. What it lacks in all out brawn, it makes up for it by impeccable road manners and an ability to shrink underneath its driver, feeling a lot lighter on its feet than its size suggests. The CX-9 has a spirited, engaging driving feel. The turbo engine, while never a performance monster, delivers good low-end punch and surprisingly linear acceleration, while the entire car's chassis feels solid, composed, and well-mannered during spirited driving.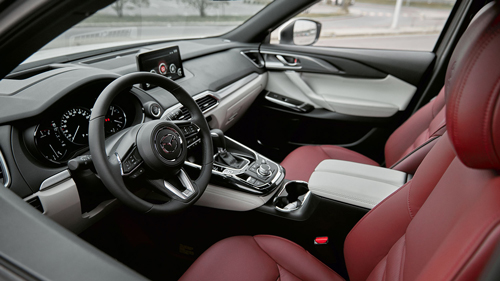 There's also a fanatical attention to detail here, and one of the best executed cabin designs this side of an Audi. Mazda aims at offering premium quality at a non-premium price, and it's rather convincing. Remove the Mazda logo from that perfectly sized steering wheel, and you'd swear the CX-9 was a much more expensive German SUV.
Ergonomics are also on point here, with easily accessible controls and a simple, yet functional gauge pod that cleverly combines both analog and digital displays. Mazda's infotainment interface (called Mazda Connect) is also brilliant in the sense that it's straight forward and easy to get used to. You manipulate it from a central knob dial like you do in a BMW. But while it never does anything wrong per se, this system is nevertheless showing age compared to the more polished and function-intensive interfaces of competing Korean and American competitors.
As for general cabin space in the CX-9, everything is pretty much class-competitive in there, except for a third row of seats which we recommend you reserve for the kids. Accessing those seats will require a bit of a contortionist act, especially if you're tall. And once back there, an adult might find kissing their knees a bit annoying, especially for long trips.
It's the same story for total cargo space. While practical and spacious, the CX-9's numbers reveal a midsize SUV that significantly trails behind the segment. For reference, this will engulf up to 2,016 liters of your gear while the segment leaders all hang over the 2,200-liter mark.
So, yes, the Mazda CX-9 does things differently, and in many ways, succeeds at offering consumers something the competition does not. While missing out on creature comforts like a panoramic roof or even a WIFI hotspot – options that are now expected in this category of vehicles -, the CX-9 comes through as the more polished midsize SUV of the pack, with a downright elegant exterior design, impeccable build quality and a solid reliability track record. If you're willing to sacrifice a bit of towing and cargo space, then there's no doubt that this is an excellent choice.
2021 Mazda CX-9 100th Anniversary
Price as tested: $55,415.00
Freight: $1,950.00
Configuration: Front engine/ all-wheel drive
Engine/transmission: Turbocharged 2.5-liter four-cylinder / 6-speed automatic
Power/torque: 250 horsepower/ 320 lb-ft of torque (on premium gas) – 227 horsepower / 310 lb-ft of torque (on regular gas)
Fuel (capacity): Premium/Regular (74 L)
Combined fuel economy ratings: 12L city/9.1L highway/11L/100 km combined.
Observed fuel economy 10,7 L/100 km
Warranties: 5-years/Unlimited km (basic)
Competitors: Chevrolet Traverse, Dodge Durango, Ford Explorer, Honda Pilot, Hyundai Palisade, Kia Telluride, Nissan Pathfinder, Toyota Highlander, Volkswagen Atlas
Links: Mazda Canada