When I strapped myself behind the wheel of the 2021 Kia Stinger GT press unit for the fourth time in my career, it felt like revisiting an old friend. I was pleased to grab the wheel of a true sport sedan that, ironically, didn't wear a German badge. As a matter of fact, the entire time I had the Stinger GT I realized that it will one day become a future classic.
Because in the future, when all automobiles will be electric and SUVs will rule the Earth, we'll look back at the Kia Stinger GT the same way we currently look back at the first BMW M cars. Like Bavaria's ultimate driving machines that defined the entire BMW brand, the Stinger GT will go down in history as the first cool, quick and performance-minded Kia.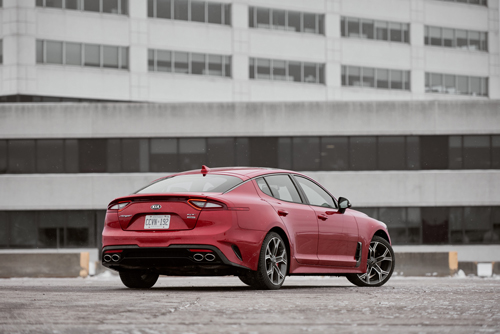 The reason I'm already being nostalgic about an automobile that's only been on the market for three years is because Kia could soon kill it off. After all, the Stinger's original mission was always about being a statement. Kia never actually planned on making money with it. This car's purpose was to tell the entire world that that the Koreans could manufacture German-spanking levels of performance at a more attainable price. And although it does offer consumers tremendous performance for their hard-earned dollar, the Stinger isn't exactly a sales success.
For reference, only about 48,000 units have been shipped in the US and Canada since its launch. Meanwhile, Kia sold twice as many Sorentos in 2019 alone.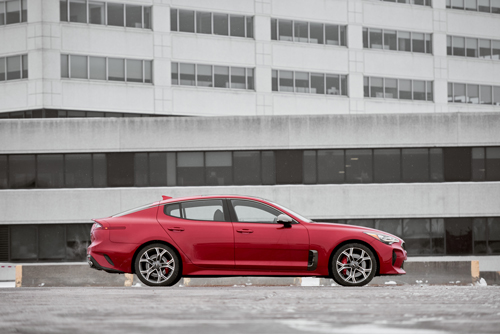 Sales statistics shenanigans aside, there's no denying how brilliant the Stinger GT is from a driving standpoint. Although it rides on a shared platform with the Genesis G70, it looks and feels like an entirely different machine. That's because the Stinger is longer, heavier and softer than its corporate cousin. This was done on purpose to give it a grand tourer vibe.
In other words, while I would have enjoyed a bit more precision from its steering and chassis, the Stinger's suspension setup pleasingly leans towards compliance and comfort, making it come through as a powerful daily driver rather than a canyon carving tool.
But that's not to say it's boring to drive, because it isn't. Set it to Sport mode and its eight-speed automatic transmission shuffles through gears in utmost precision. And while the synthesized engine sounds are tremendously irritating, they at least add a layer of character to an otherwise docile machine.
That said, remove traction control and firmly hold down the brake pedal while slamming the throttle, and the Stinger automatically engages its launch control sequence. Release the brake, and you'll hit 100 km/h in roughly 4.5 seconds. Quick car!
But once you're done hooning it around – and trust me, if you aren't careful, it'll kick out the rear even if it's all-wheel drive (standard in Canada) -, the Stinger calms down and provides a smooth, refined and delightfully grown-up ride around town. The twin-turbocharged 3.3-liter V6, good for a healthy 365 horsepower and 376 lb-ft of torque, provides steady forward thrust, with ample low-end twist for overtaking. What's more, everything operates in the same sense of harmony and balance as an old BMW. That's because the man in charge of approving this car's driving dynamics is a dude called Albert Biermann. And Albert, well, he used to calibrate the suspension setups on BMW M cars.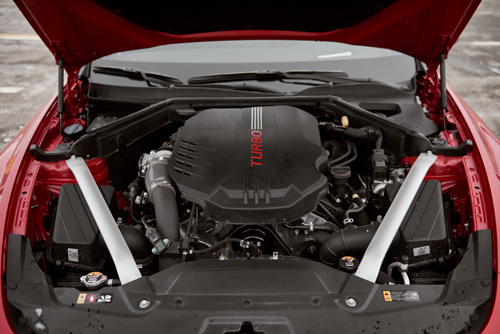 With a starting price of $46,905 loaded with standard equipment, and never exceeding $55,000 with all the bells and whistled grafted on, the Stinger GT makes a compelling case for not buying an Audi S5 Sportback or a BMW 440i Gran Coupé. Fine, it lacks the brand recognition of those cars, and to be fair, the Stinger doesn't offer the same level of luxury and sophistication. But it does mimic those cars rather well.
Instead, the Stinger sits on the fence between a Dodge Charger and a German luxury sport sedan. The cabin is nonetheless well appointed, with impeccable build quality and a spartan yet pleasing triple air vent design that somewhat imitates the first-generation Audi TT. That's because the Stinger was designed by Peter Schreyer, the man who was also behind the original TT design.
Speaking of design, the Stinger remains a beautifully sculpted automobile, one that's already ageing with grace. This is one of those rare "concept car for the road" events that don't happen often in the automotive industry. From every angle, the Stinger looks fast, modern, and ready to pounce. Furthermore, its hatchback configuration allows it to be rather practical too, giving way to a massive 1,158 liters of space when the rear seats are folded flat. I mean, some crossovers have similarly sized trunks.
In typical Kia fashion, general ergonomics are bang on, with a simple switchgear layout and a common-sense attitude to everything you touch. This is particularly noticeable when using the infotainment system which, while showing age next to Kia's more modern interfaces, remains easy to comprehend, quick to respond and loaded with the latest connectivity features.
So, no, the 2021 Kia Stinger GT isn't as polished as similar cars from Audi or BMW, but it does a bang-up job of carving its own niche. See it as another arrow in Kia's quiver. If you can get past the badge, you'll be enjoying one of the most accomplished sport sedans currently on sale.
2021 Kia Stinger GT
Price as tested: $50,495.00
Freight: 1,795.00
Configuration: Front engine/ all-wheel drive
Engine/transmission: Twin-turbocharged 3.3-liter V6 / 8-speed automatic
Power/torque: 365 horsepower/ 376 lb-ft of torque
Fuel (capacity): Premium (60 L)
Combined fuel economy ratings: 13.8L city/9.4L highway/11.8L/100 km combined.
Observed fuel economy 12,1 L/100 km
Warranties: 5-years/100,000 km (basic)
Competitors: Dodge Charger, Audi S5 Sportback, BMW 440i Gran Coupé
Links: Kia Canada