Not everyone who buys a pickup truck these days uses their new purchase to its full potential, but it's good to know that there are models out there in the midsize category that are ready to handle being more than an everyday city driver.
Case in point is the 2021 Ford Ranger Tremor, a new off-road package from Ford the automaker claims makes this the most off-road-ready Ranger ever offered.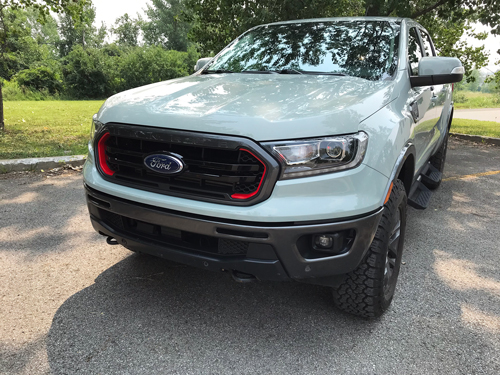 The Tremor package, which costs $5,250, takes the Ranger and lifts the suspension to offer more ground clearance (9.5 inches) and more travel for the shocks, comes with massive all-terrain tires that give the Tremor a wider appearance, includes a frame-mounted steel front bash plate and underbody skid plates, and also adds two additional recovery hooks in the back.
As tested, the Tremor costs $54,428, a significant increase over the SuperCrew 4×4 it is based on. That is because on top of the Tremor Package, you also have to add the Lariat Series package ($3,115) which also adds items like adaptive cruise control, remote starter, and an upgraded sound system.
A few other standalone options on our Cactus Grey tester include the trailer tow package ($600) and securicode keyless keypad ($125).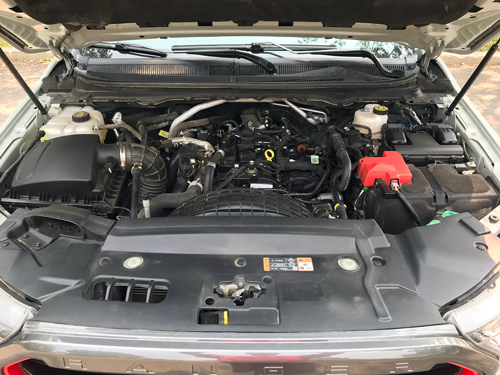 Powertrain: The 4X4 Ranger Tremor is powered by a 2.3-litre 4-cylinder EcoBoost engine which has power ratings of 270 horsepower and 310 lb-ft of torque. It is paired to a 10-speed automatic transmission that does have some sluggishness to it at times, but it does a good job overall. Those are some pretty good numbers for this pickup truck.
The powertrain allows the Ranger Tremor to carry a payload of up to 650 kg (1,430 lbs) in its bed, which was lined in our tester with the spray-on protection ($600). It also has a maximum towing capacity of 3,400 kg (7,500 lbs) making this a versatile midsize truck that can haul boats or campers for your family's adventures.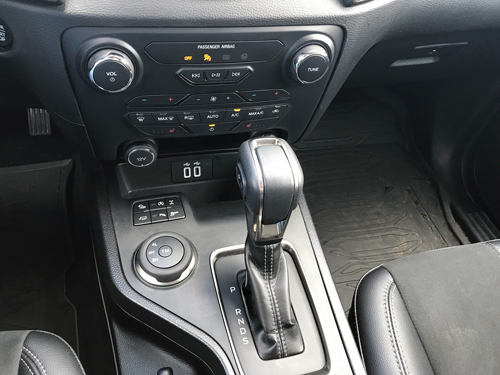 The Ranger Tremor also offers a range of drive modes (Normal, Grass, Gravel/Snow, Mud/Ruts or Sand) and Trail Control which is useful if you are in especially rough terrain. The system will manage throttle and braking at each wheel to allow you to crawl over obstacles at constant speeds.
Some other key figures for the Ranger Tremor include a 30.9-degree approach angle, a 25.5-degree departure angle, and a 24.2-degree breakover angle.
The Ranger Tremor is estimated to consume fuel at a combined rate of 10.9 litres per 100 kilometres, while I returned an average of 12.6 L/100 km.
Exterior: On top of all the changes under the Ranger Tremor, it also receives some modifications to the exterior styling that is unique to the trim.
This includes a front grille that features a painted surround with black bars across the middle and red accents in the corners. It's those accents that I like the most and which give the front end a little attitude, and I especially liked the contrast against the exterior colour.
The exterior also features wider wheel lip moldings and new hoop steps for access to the cabin. While those steps are helpful, I did kill my shin a few times when leaning into the cabin to get bags out of the back seat. The look is capped off by some special Tremor badging on the side of the cargo box.
While the wheels on the Ranger may only be 17-inches, the General Grabber tires are a whopping 32 inches and look like they can handle any terrain around.
Interior: The inside of the Tremor isn't the flashiest of cabins, but it gets the job done. A few additions do make it stand out compared to the usual Ranger cabin, including Miko suede inserts in the seats, as well as the word Tremor stitched into the front seats.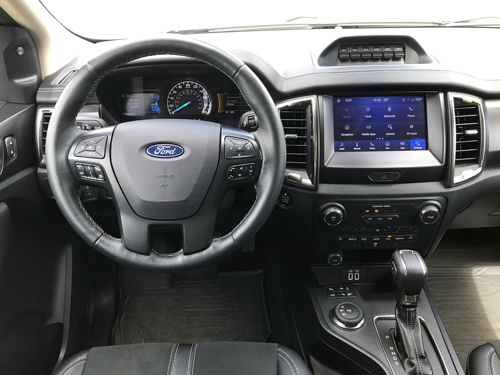 The overall layout is functional, with large dials for the audio controls. I do think that the HVAC controls, especially for the temperature and fan speed, could benefit from a redesign to make them more functional.
If you are wondering what that row of six AUX switches on the dash are for, well they allow you to control accessories like winches, lights, and air compressors (loads are rated at 25 amps, 15 amps 10 amps, as well as three switches for 5 amps).
In the back, the rear bench flips up to reveal some hidden storage compartments, although it would be nice if you could split the bench to flip up half at a time.
Infotainment: The 8-inch infotainment screen is a typical Ford setup and while not the most sophisticated in terms of appearance, it is practical and straightforward to operate.
Powered by Sync 3, it has a good response time and clear menus that are easy to navigate.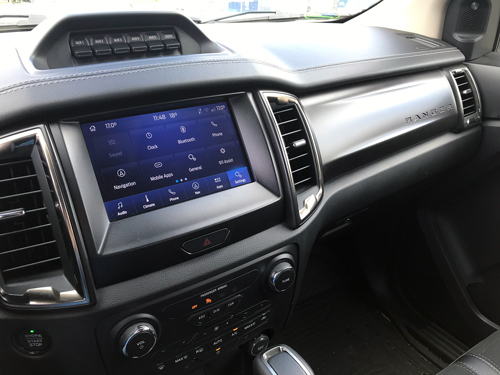 It comes with satellite radio, and is compatible with Apple CarPlay and Android Auto. On our tester, I experienced the Bang & Olufsen premium sound system with seven speakers and a subwoofer, as well as the onboard navigation system.
Drive: The changes brought on by the Tremor package not only make this a more capable off-road vehicle, but they also have the added benefit of making the ride more comfortable.
That is achieved with the help of Fox dampers which are tuned to allow for a more comfortable on-pavement drive while also giving the best possible control on rough terrain.
That means occupants aren't jostled too badly in the cabin, no matter the state of the ground under those massive wheels.
The cabin is a bit on the noisy side however, especially during acceleration with engine noise. But this being a pickup truck, it's not that much of a surprise or distraction.
Conclusion: You will have to fork out a bit of extra cash for the Tremor option on your Ranger, but what you get with that makes this midsize pickup truck truly more versatile, especially if you spend a lot of time in cottage country.
While the interior could use a little modernization, the Ranger Tremor definitely makes a good impression from the outside with that unique grille and more aggressive appearance.
It also offers better payload and towing capabilities than the Chevrolet Colorado ZR2, which is one its main rivals in this segment.
2021 Ford Ranger Tremor
Price as tested: $54,428.00
Freight: $1,950.00
Configuration: Front engine/All-wheel drive
Engine/transmission: 2.3-litre EcoBoost 4-cylinder/ 10-speed automatic
Power/torque: 270 horsepower/ 310 lb-ft of torque
Fuel (capacity): Regular (68 L)
Combined fuel economy ratings (L/100 km): 10.9 L/100 km
Observed fuel economy (L/100 km): 12.6 L/100 km
Warranties: 3-years/60,000 km (basic)
Competitors: Chevrolet Colorado, Toyota Tacoma
Links: Ford Canada