In an era where every automaker is looking at ways to be greener and more efficient, getting behind the wheel of a monstrous V8 Hemi engine seems a little counterintuitive. But that's exactly the engine in the 2021 Dodge Durango R/T AWD we tested recently, a powerful 5.7-litre V8 that emits a throaty rumble and delivers power in spades (the Durango also features an even larger engine in the form of a 6.4L Hemi SRT V8 that is in a whole other league). With a starting price of $62,170, our Durango R/T was also packed with nearly $20,000 in options, including Tow 'N Go Group ($5,495) featuring the Quadra−Trac active−on−demand 4×4 system, a rear DVD entertainment centre ($2,150), SRT Interior Appearance Group ($2,250) featuring premium instrument panel and a suede headliner, a power sunroof ($1,425) and an impressive 19-speaker harman/kardon system with subwoofer ($1,995). All tricked out, the six-seat SUV (can seat up to seven though) will run you a cool $82,155, but it certainly makes a statement, especially in the F8 Green Metallic paint colour.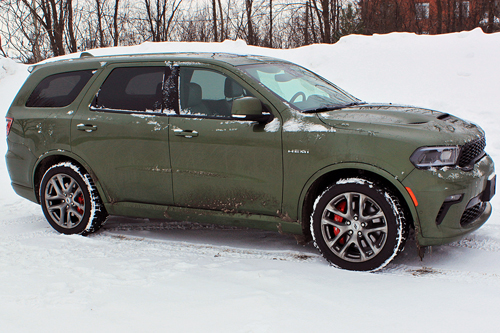 Powertrain: Here are some additional details about that V8 Hemi in the R/T. It delivers 360 horsepower and 390 lb-ft of torque, driving power effectively through the 8-speed TorqueFlite automatic transmission.
Performance on this all-wheel drive SUV is further enhanced through additional features of the Tow 'N go package such as a high-performance exhaust, performance-tuned steering and suspension, and adaptive damping.
And the package also allows the driver to set the Durango's driving features through selectable modes: Sport, Track, Tow or Snow.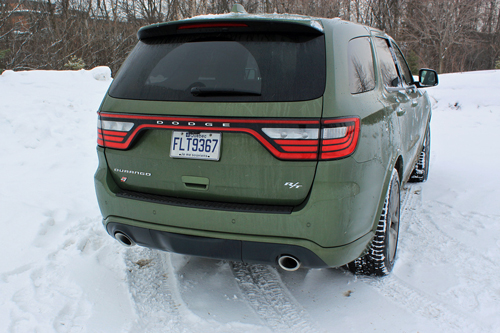 As you can imagine, the V8 is quite thirsty, with a combined fuel consumption average of 14.1 L/100 kilometres, a figure I came nowhere near thanks to more city driving than highway cruising – 24.4 L/100 km.
Exterior: It's hard to miss this Durango R/T for a number of reasons: Not only can you hear it coming, but the green exterior is also an eye-catching hue.
Then of course there is the revamped exterior styling that takes some cues from the brand's muscle cars. For 2021, the Durango R/T receives a new front fascia, LED low/high projector headlamps, LED signature daytime running lamps, a new front bi-level grille and rear spoiler.
It all works together to give the Durango a more aggressive and appealing exterior look.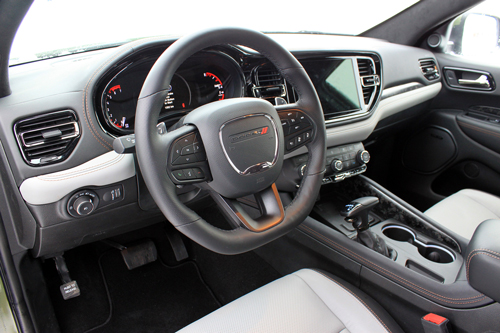 Interior: Not to be outdone, the Durango's interior has also been upgraded for 2021 to include a new instrument panel and centre console, as well as updated door panels.
The cabin feels spacious, and the look and feel of the materials used is of a very good quality.
The seating is comfortable in the first two rows, while third row comfort is limited by a lack of legroom.
Cargo space is still good even with the third row in use, but becomes cavernous if you drop the seats down.
And that optional rear entertainment system is definitely a worthwhile addition if longer trips are planned.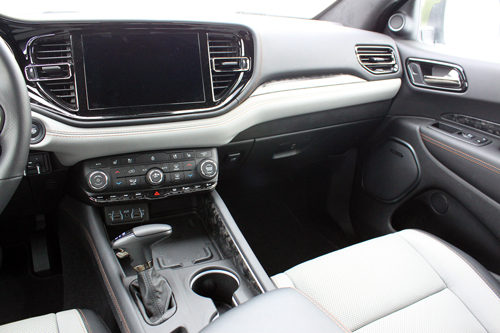 Infotainment: Also new for this year is the Uconnect5 infotainment system with a 10.1-inch screen (up from the 8.4 inch that is standard on the Durango). Featuring navigation and satellite radio, the system is responsive and has a nice interface. It also offers wireless device charging, and Android Auto and Apple CarPlay systems can now be used wirelessly.
Drive: With all that power, there's no lack of reasons to enjoy the Durango R/T, although admittedly it was more fun to open it up on the highway if for no other reason than to feel and hear the engine sound.
The suspension setup ensures that the SUV's ride is comfortable yet agile, with excellent steering response.
I also found the transmission was very smooth and never missed a beat under hard acceleration.
The passenger cabin can get a little noisy at times during said acceleration, but isn't too much of an issue at cruising speeds.
Conclusion: If you wanted an SUV that delivers muscle car performance and looks, well the Durango R/T is just what the doctor ordered. You get the best of two worlds here with room for seven and lots of cargo, while also having a ton power at your disposable to make the drive fun. It also allows you to tow up to 8,700 lbs, upping the vehicle's versatility – perhaps to bring some of your other wheeled toys with you wherever you are going.
2021 Dodge Durango R/T AWD
Price: $62,170.00 CDN/$45,345.00 USD (RWD)
Price as tested: $82,155.00 CDN
Freight: $1,895.00
Configuration: Front engine/All-wheel drive
Engine/transmission: 5.7-litre HEMI V8/ 8-speed TorqueFlite automatic
Power/torque: 360 horsepower/ 390 ft-lb of torque
Fuel (capacity): Regular (93 L)
Combined fuel economy ratings (L/100 km): 14.1 L/100 km
Observed fuel economy (L/100 km): 24.5 L/100 km
Warranties: 3-years/60,000 km (basic)
Competitors: Ford Explorer, GMC Yukon, Hyundai Palisade, Jeep Grand Cherokee, Kia Telluride, Mazda CX-9, Toyota Highlander
Links: Dodge Canada