The Dodge Charger Hellcat needs no introduction. Ever since it was released back in 2015, it quickly became one of the most talked about vehicles on the internet due to its astronomical 707 horsepower figure. While it may have seemed ridiculous to cram that much power in an American sports sedan, there's no denying how cool and intriguing this machine is.
Dodge understands its appeal, which is why it isn't done with the Hellcat just yet. As a matter of fact, the brand now offers this engine in four other models, the two-door Challenger (which was actually the first model to receive it), the Jeep Grand Cherokee Trackhawk, the Ram TRX and the upcoming Dodge Durango Hellcat.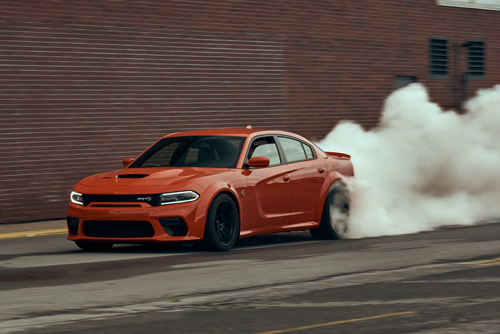 And with over 100,000 Dodge Chargers sold – in all its variants – in the US and Canada combined last year, it's fair to say this is a successful model for FCA. So what's next when you've already wowed all of YouTube and Instagram with massive burnouts and Tesla-destroying drag races? You add fender flares, bigger tires, a bit more content, and you call it a day.
Old School Wide
The Charger Hellcat Widebody is therefore precisely that: a wider, more aggressive version of an already outrageous midsize sedan. Thanks to plastic fender flares on all four corners, the Widebody treatment widens the charger some 3.3 inches (or 8.3 cm) to accommodate beefier and squared 305 mm-wide tires at all four corners. Yes, you read that right; this car has 305-wide tires in the front as well.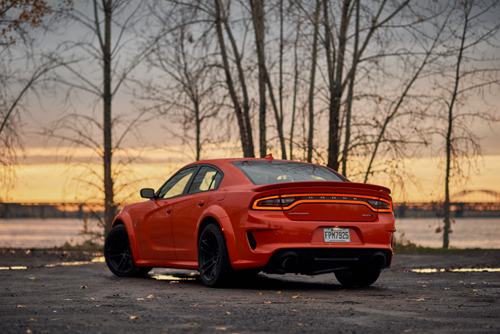 The goal, of course, is to improve cornering grip at high speeds. It's a very rudimentary, yet effective way of improving an overpowered car's ability to keep its driver in one piece when entering a corner. It also hearkens back to the good old days of vintage Trans Am racing where a set of super wide slicks would help Dodge Challengers and Plymouth Barracudas "corner" better on the track.
The Widebody treatment, which is now offered as standard equipment for all Charger Hellcats, slightly massages the car's front end so it better adapts to its new fenders, all while giving the car a properly badass presence. A subtle NASCAR-inspired rear decklid spoiler reveals a more performance-focused sedan, while the adaptive Bilstein suspension, as well as the car's camber and toe settings, were all returned to improve the car's dynamic performance.
Does it all work? From where I was sitting, only perhaps. One would really need to push this beast to the peak of its potential on a racetrack to fully appreciate the modifications. I will say this however: this is one of the most entertaining automobiles I have ever driven in my career.
Entertaining, because of the overabundance of power, of course, which will quickly turn your rear-view mirror into a gigantic cloud of smoke if you're not paying attention. Forget trying to "launch" it like you would in a fancy German sports sedan. Attempting this will only result in big fat smelly burnouts. The good news is that the smile on your face will undoubtedly be just as large as the burnout itself.
Approachable Performance
Perhaps where the Charger Hellcat impresses the most is how approachable its performance is. Thanks to the availability of two keys – one black, one red – which vary the car's horsepower between 500 and 707, as well as a wide range of traction control settings, one can really tailor the car to their liking before tapping its full potential.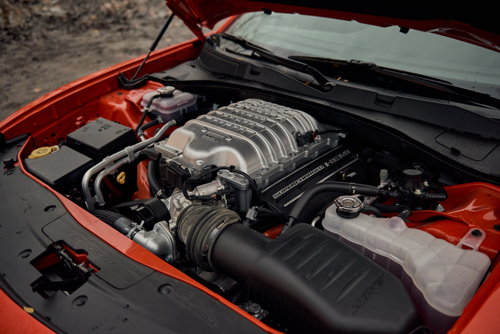 In its default comfort setting, the Hellcat Widebody carries with it all the qualities and flaws of a traditional Charger. While showing age and displaying a very rudimentary dashboard design, as well as build quality that feels like it's from two decades ago, there's no denying how comfortable and spacious a Charger's cabin is. The large sports bucket seats hold you firmly in place for performance driving, but also serve as lazy boys for when you need to cruise away on a long highway journey. Rear head and leg clearance is also more than ample for tall people.
And the trunk is massive, too, capable of engulfing up to 467 liters of cargo, which allows this Canadian-built American sedan to be more practical than the only rivals it has left, the Toyota Avalon (455 liters) and the Nissan Maxima (404 liters). However, with this much performance on tap, the Charger Hellcat more-or-less competes against the German trio of super sedans, like the Audi RS7, the BMW M5 and the Mercedes-AMG E63 S.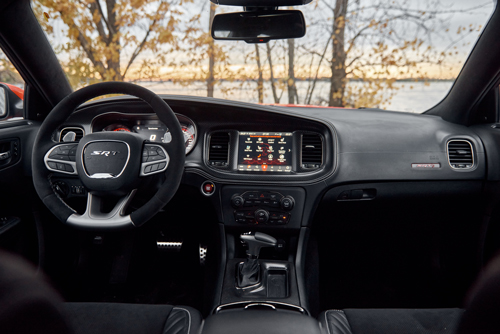 Of course, this Dodge can only follow its European opposition in a straight line, because in the  bends, it remains a lumbering muscle car, even with FCA's efforts of improving its handling. Yes, the amount of grip those big tires give you is massive, but the chassis itself is way too flexible and the entire car's heft is immediately felt if you dare throw it too hard in an apex. The large, slow-reacting steering doesn't help either. And don't get me starting on its ridiculous fuel consumption.
But then, none of that really matters, because the Charger Hellcat Widebody's mission was never to set lap times on some fancy European racetrack, but rather deliver its driver, and its passengers, an unparalleled rush of adrenaline and a bit of a scare along the way.
Because as the old saying goes, there's no replacement for displacement, and as ridiculous as a 707-horsepower gasoline-fed sports sedan may seem in today's world, this tried-and-true performance recipe still manages to stir emotions the way no other automobile can. I call this first-class marketing.
2021 Dodge Charger Hellcat Widebody
Price as tested: $92,825.00
Freight: $2,595.00
Configuration: Front engine/ rear-wheel drive
Engine/transmission: Supercharged 6.2-liter V8 / 8-speed automatic
Power/torque: 707 horsepower/ 650 lb-ft of torque
Fuel (capacity): Premium/Regular (70 L)
Combined fuel economy ratings: 19.0/100 km city/11.5L/100 km highway/15.6L/100 km combined.
Observed fuel economy 17.2 L/100 km
Warranties: 5-years/100,000 km (basic)
Competitors: Audi RS7, BMW M5, Mercedes-AMG E63 S
Links: Dodge Canada