The BMW M8 Competition Grand Coupe is the latest in an increasingly lengthy line of Bimmers that are doing there best to walk the line between four-door sedan and two-door coupe. Of course, by definition "coupe" means two doors, but some could argue that it also means style and class and in BMW's eyes, it seems if your four-door has a nice, long wheelbase, sharply-raked roof and a couple of bucket-style seats in back, you've got the right aspects covered.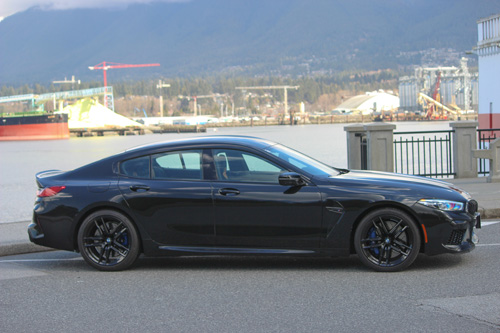 Not to mention that in M8 Competition form seen here, it has oodles and oodles of power as well – 617 horsepower and 553 pound-feet of torque, to be specific – so if someone in a "traditional" coupe like a Mustang or Porsche 911 decides they want to challenge you and your four-door grand tourer pretending to be a coupe, the M8 will show them what's what. Especially in Competition spec, which adds extra hp, wider tires, firmer suspension settings, stiffer engine mounts and stronger metal joints instead of rubber bushings. Oh, and a louder exhaust as well. As you do.
Not to mention that even in the shape-hiding black paint seen here (with Competition spec black grille surround – very little bling on this car), it's a very graceful, powerful-looking thing. It has a great stance thanks to that long wheelbase, chopped-roof and wide track and tires, the former of which are wrapped 'round awesome 20" wheels with an M design. Then you swing open the door, see that great frameless window and you know this is something special.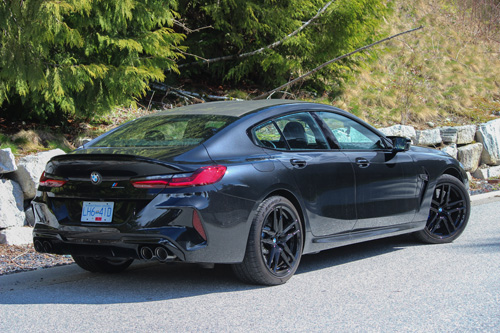 The feeling continues inside with great, deep buckets front and back that provide a perfect driver's seating position – as is the BMW way – with all the controls angled nicely towards the driver and big, thick-rimmed steering wheel falling just so in your hands. You really do get the sense that you're in a cockpit with the M8, and that is just about right for a car like this.
Not to mention that like an airplane cockpit – you remember them, from back when you used to be able to check it out with your kid (or as a kid) on commercial flights? – there are lights and newfangled controllers everywhere. The 8 Series gets BMW's latest iDrive infotainment system – the seventh generation – which means a massive widescreen display as your central screen that gets a tiled alignment that can be customized with a number of different widgets. It's activated either via touch or central control knob (but doesn't get the steering wheel controls that the 8 Series' Mercedes-Benz CLS-Class competition does) and is compatible with Apple CarPlay and Android Auto, although the former cab can only be connected to wirelessly. You can plug in to charge, though, or make use of the wireless charge pad.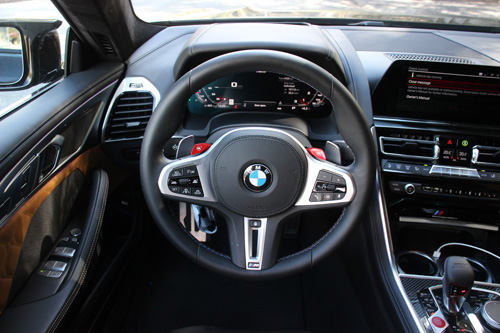 The gauge cluster is also a digital affair, although it can't be modified as much as some of the competition, including the aforementioned Benz. You'll get some subtle differences depending on which drive mode you're in, but that's about it. The gauges don't change, nor does the colour all that much.
Of course, "drive mode" in the BMW M world is a different animal than it is pretty much anywhere else.
A look at the steering wheel reveals two red buttons marked "M1" and "M2", and they are essential hotkeys to automatically activate any custom drive modes you may have selected. Some drivers will want one button to activate a more relaxed experience – softer suspension, maybe easier steering – for 'round town, while the other will be for a more focused drive. Or, you can go the other way and just leave the baked-in drive mode to handle your 'round town work, and the M buttons provide one set of settings for the mountain road, and one for the track. Or, each button can load specific driver profiles if there happen to be two drivers regularly using the M8.
More than just sitting inside a cockpit, once you fire the engine – oh, that's a nice rumble right there – and slowly push off, not only are you sitting just so, but you really do get the feeling that you're gliding across the concrete below, which is sitting just below that great M-specific seat. You know there's a lot of car behind you; not in a bad way, mind – you don't feel like it's too big to hack a good b-road or track to ribbons – but enough substance to know that this is a vehicle that will take most of what you're willing to lob its way.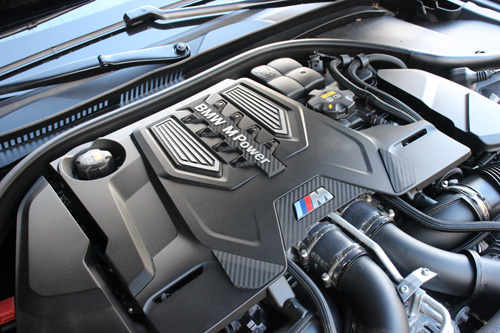 Of course, how much you're "gliding" across the pavement as opposed to hammering it into submission with that 553 lb-ft depends heavily on those drive modes (and your right foot, of course) because they really do change how the M8 drives. A big, heavy car it may be, but how it so deftly can throw on a Superman suit when you want it to is a pretty rare thing in the business, even today. One minute, you're wafting along on comfort dampers and steering response levels, the next everything is tightened up and ultra-responsive in Sport mode. I guess a little more steering feel would be nice but otherwise, don't let anybody tell you that big cars can't cut a rug on the twisty stuff. Heck, for a time, the Grand Coupe's proper Coupe sibling formed the basis for BMW's entry into a number of global sports car racing championships. Now; one might say that's nothing more than a marketing ploy , but take a drive in one of these, and you'll think otherwise. Remember: BMW practically invented the big performance sedan segment with the original M5 all those decades ago.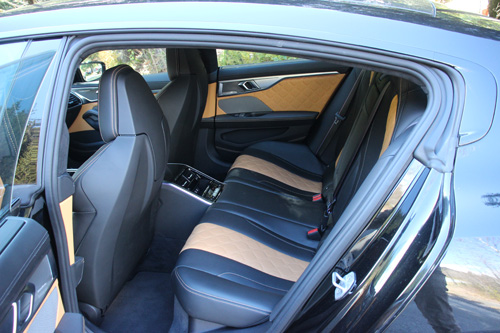 More than just tweaking the suspension, steering, throttle response and transmission, the M8 also allows you to essentially lock-out the front axle for a veritable rear-wheel-drive experience. That also automatically turns off the traction control so you may want to save it for the track, but I did spend some time with this switched on just to see what it was all about and such is the grip provided that you're able to keep things pretty copasetic, especially on dry tarmac.
Of course, we shouldn't let all this talk of the chassis get too much in the way of the powertrain, which is another star of the M8 experience.
Under the hood, we find a twin-turbo V8 with a "hot vee" set-up, meaning the two turbochargers are nestled within between the two cylinder banks so the exhaust gasses can reach the turbines faster and get the power down more immediately. And immediately its does so, propelling you down the road to the tune of a 3.2-second 0-100 km/h time and on to a top speed of 324 km/h. Of course there's no manual transmission option but the eight-speed auto that we do get is a who-cracker of a 'box, and one that I spent plenty of time shuffling with the wheel-mounted paddles. Indeed, with a transmission this fast, the paddles make sense because you want the quick shift action they provide. It suits the rest of the powertrain just perfectly.
Speaking of "just perfectly"; the M8 Competition Grand Coupe is the car for me when it comes to BMW M's "big engine" models such as the M5 and M8 Coupe. It's just such a great mix of those two platforms; the styling of the coupe, with (some) of the practicality of the M5 sedan, which does have more seat room. The M8 GC, though, gets those deep buckets back there so even your rear seat passengers get some of the taste of what's being felt up front, and that's a great bonus for them. A car that can munch miles and the track with just the press of a few buttons? Yep, sign us up.
2021 BMW M8 Gran Coupe Competition
Price as tested: $158,000.00
Configuration: Front engine/AWD
Engine/transmission: 4.0-litre twin-turbo V8, eight-speed automatic
Power/torque: 617 hp/553 lb-ft of torque
Fuel economy ratings (L/100 km) combined: 13.8 L/100 km
Competitors: Audi RS7, Mercedes-Benz AMG CLS 63