There comes a time in every car buyer's life when the head defeats the heart. Sensibility reasons away the fires of emotion and two doors become five. Pedal counts shrink from three to two and cargo space edges handling and power to become the elephant in the garage. Nowadays, that seems to mean an SUV finds its way into your life, but it doesn't have to.
For decades now, Volvo has proven that sensible decisions need not be so compromised, dull or generic looking. That's because Volvo is one of the few manufacturers still designing and importing station wagons to our shores. And those wagons are a thing of beauty.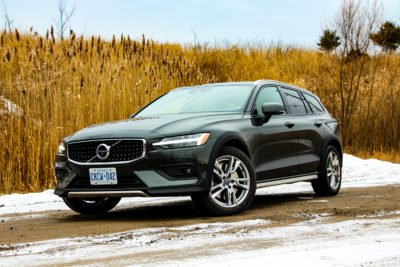 The 2020 Volvo V60 Cross Country is the slightly stilted variant of the V60 wagon, offering increased ground clearance (21cm) and some requisite yet tasteful "go-anywhere" body cladding. The front end wears its corporate countenance with confidence, just a hint of squint and, thankfully, avoids the "gaping maw" trend of oversized grills. The sculpted two-box form tapers towards the rear to deliver an aggressive and purposeful silhouette. There's just enough flame surfacing to maintain visual interest between the sills and the greenhouse, without feeling fussy or busy and the stretched dash-to-axle ratio exudes proportions of speed. The tailgate is also one of the tidiest in the business, full stop. It's a winning design that looks damned good from any angle and is certainly sharper than any amorphous SUV.
That trend continues throughout the interior too. While I prefer the airiness proffered by Volvo's chic blonde City Weave trim, my amber leather wrapped tester was far from claustrophobic. Plenty of natural light filters into the greenhouse and with the sunroof screening retracted, there is a Zen feel about things. Fit and finish is second to none.
The binnacle is clear and easy to read and, thanks to the pronounced brushed aluminum divide, the 8" touchscreen doesn't dominate the dash. There are a few buttons and dials for controlling media and defrosters both fore and aft but everything else is accessed through that screen. I'd prefer additional haptic options but once familiar with navigating sub-menus, making changes becomes fairly efficient.
Sound from the optional 600-watt, Harman Kardon Hi-Fi is exemplary. With fourteen speakers and tuneable sound tailoring, the Cross Country doubles as quite the concert hall. In terms of clarity, crispness and warmth it rivals any premium marque I've experienced yet. And should you want more, there is an even higher-end Bowers and Wilkins set-up, although I don't know whether it'd be worth the extra dosh ($2,550).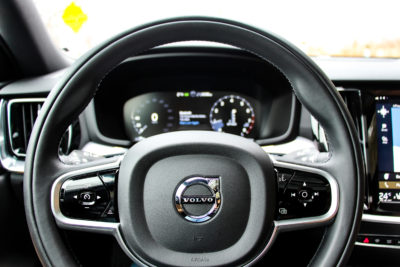 From behind the heated steering wheel (with 3 levels of warmth) the V60 Cross Country offers a smooth, predictable and surprisingly dynamic ride. Credit Volvo's engineers for that last bit as the Cross-Country's chassis has been tweaked to provide a wider track than its standard V60 wagon stablemate. That means cornering feels fairly flat despite the increased ride height and softer, more supple suspension. I wouldn't go so far as to call it sporty but it's certainly more confident than most stilted whips out there.
And the same can be said for the engine, too. The turbocharged, two-litre, T5 inline four-cylinder is good for 250 horsepower and 258 lb-ft of torque. Mated to the 8-speed, automatic transmission the Cross Country will easily get out of its own way and that of others without any drama. Sadly, there's little exhilaration either. Even with the Polestar Engineered option selected, the Cross Country will never be coined a "sleeper" — that branding is saved for the range topping V60 T8 — but it offers all of the shove any of us need for a daily driver that's also suited for weekend adventures.
And you will want to go adventuring with this car. The seats alone beg for extended trips as they're incredibly plush and supportive. Even the rear 60/40 bench hugs in all the right ways. Cargo space in the Cross Country (with the rear seats upright) rings in at a healthy 650L. That's actually more than what you get in the V90 and puts it on par with most midsize SUVs. With the seats folded, that increases to around 1,500L, so whether you're looking to vamoose into the wilds, car-glamp or load up on antiques, the Cross Country should handle all you can throw in it. If you're like me and need to tow the occasional toy, the V60 Cross Country can haul 2,000lbs when equipped with a hitch.
In a world where SUVs unnecessarily blight our roads and parking lots, the Volvo V60 Cross Country is a breath of fresh Scandinavian air — a confident, competent utility vehicle built by a company that clearly regards style as highly as it does substance. This is elevated sensibility.
Price as tested: $63,065.00
Engine: 2.0 L intercooled Turbo Premium Unleaded I-4
Horsepower: 250 hp @ 5500 rpm
Torque: 258 ft-lb @ 1500 rpm
Drivetrain: All Wheel Drive
Transmission: 8-speed Geartronic automatic -inc: start/stop and adaptive shift
Fuel Consumption: City/HWY Combined: 7.7 – 10.8 L/100 km
Fuel Capacity: 60.0 L
Links:
Volvo Canada