The 2020 Range Rover HSE is a true anomaly in the automotive marketplace. For one thing, it has a base price of $123,000, putting it over that magical number of $100K that many of us can only dream of. Combine that with the fact if offers a supercharged engine with more than 500 horsepower and you only add fuel to fire of desirability.
As if that wasn't enough, it is a full-size SUV that delivers world-class offroad capability and a plush interior fit for royalty, making this a truly unique driving experience few other vehicles on the road today can match.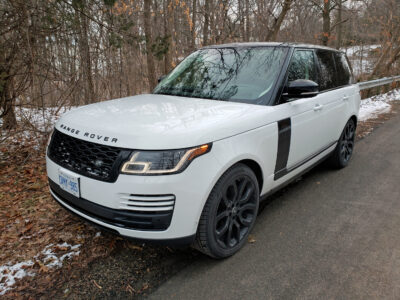 So how do you evaluate a vehicle with such a storied pedigree, a stratospheric price and exotic sports car power? With a very big smile on my face and firm hold on my wallet. Automotive journalism has its perks and one of my favourite is that we get to drive amazing vehicles for a week or more and then return them before service or a lease payment is due. Time to climb in and take this down the road for a spin; offroad too, of course!
Power comes in the form of a 5.0L supercharged V8 gasoline-powered engine, matched to an 8-speed automatic transmission. It delivers a glamorous 518 horsepower at 6,000-6,500 rpm and 461 lb-ft of torque at 2,500-5,500 rpm.
Top speed reaches 209 km/h and 0-100 km/h takes a mere 5.4 seconds. When you consider the 2020 Range Rover HSE has a gross vehicle weight of 3,160 kg (6,966 lbs), the acceleration numbers sound even more impressive.
But as much as the power numbers are inspiring on a spec sheet, they are even more so when taking the wheel of the 2020 Range Rover HSE and driving it down your favourite country road or highway. The Driver Assist Pack ($4,030) offers a full suite of complimentary driving features that include adaptive cruise control, steering assist and 360° surround camera and more.
Plant your foot to floor and it takes off with such ferocity, you would think it weighed half as much and was built mainly for speed. Combine this with the ability to wade through water up to 900 mm (halfway up the doors), or climb a rock face with a maximum ground clearance of 295 mm and an approach angle of 34.7° and it quickly dawns on you just how unique it really is.
Exterior styling remains familiar, you won't mistake the Range Rover HSE for anything else. It doesn't look like a Porsche Cayenne Turbo, Aston Martin DBX, BMW X7 or any of the other super SUV's in the market. People know what it is and they assume when you step out of the vehicle, they may be addressing someone of royal heritage. Nothing breaks the spell more than a Roots plaid shirt and jeans. Unless your Prince Harry, of course, as a newly minted Canadian, but that's a story for another day.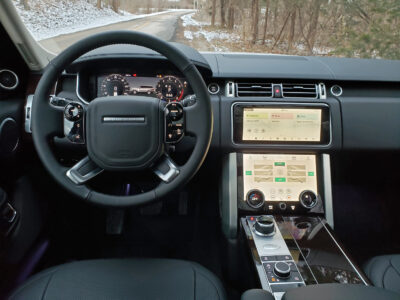 Our tester is finished in Fuji White with black accents. It looks both rugged and refined, the perfect mix. Gloss black 22-inch five split-spoke gloss black wheels ($2,860) and the optional Black Pack ($2,400) finish off the look. The roof highlights Black Contrast ($660), a gloss black grill and rear tailgate accent and even the optional Towing Pack ($950) is covered in black. No detail is too small for a vehicle of this stature.
Inside, the extravagance continues with Ebony leather seating and a contrasting Ivory Morzine headliner. Center console and the outer dash vents are covered with Shadow Walnut Veneer. The look is classic British aristocracy. Front seats are super supportive and this case extra comfy with the optional 22-way adjustment plus climate control and massage. Arriving in the driveway at home, I struggle with going in to relax after a long day, or stay in the Range Rover for an evening of massage therapy. Life can be so hard sometimes!
Brushed metal and piano black accents round out the interior. The thick 4-spoke leather-wrapped steering wheel feels good in my hands and it offers a host of easily accessible features including cruise control, audio and more. Paddle-shifters are well placed to make quick changes when sport shifting is advantageous, but mostly I just leave it in drive and let the computer work its magic.
Legroom is exceptional throughout the cabin, as is headroom; perfect for when only an NBA-caliber interior will do. Rear storage space is exceptional, the rear tailgate drops down in two stages for those times when you need quick access or to load in something larger than groceries or polo sticks.
If there is a downside to all of this power and authority, it is the cost to refuel a full-size SUV with over 500 horsepower. The hard part is not putting your foot into it with every opportunity. Fuel economy is rated at 12.9 L/100 km combined, which I did come close to, but with a 104 litre tank, be prepared to shell out a considerable sum at the pump. Typically, buyers in this segment aren't that concerned, but it is something to consider.
The 2020 Range Rover HSE is a shining example of luxury meets utility at the highest level of refinement and capability. I am chuffed to have spent a week testing it. Now, its back to reality. Royalty is such a fleeting concept.
2020 Range Rover HSE
Price: $141,570.00
Freight: $1,700.00
Configuration: front engine, all-wheel drive
Engine: 5.0L supercharged V8 gasoline
Transmission: 8-speed automatic
Power/torque: 518 hp/461 lb-ft
Fuel economy ratings: 12.9 L/100 km
Warranties: 4 years/80,000 km
Competitors: Aston Martin DBX, BMW X7, Maserati Levante, Porsche Cayenne Turbo
Links:
Land Rover Canada