The Mercedes-AMG GT's original mission was always about offering consumers a different kind of Porsche 911. But unlike Stuttgart's iconic rear-engine sports car, Mercedes-Benz's flagship machine makes do with a more conventional front-engine, rear-wheel drive configuration. Its engine is placed behind the front axle, as far back towards the car's cockpit as possible. So it's a mid-engine layout.
Furthermore, the seven-speed AMG SPEEDSHIFT dual-clutch transmission has been fitted onto the car's rear transaxle, like old Ferraris, to ensure optimal weight distribution. It's a technically different car than a Porsche 911, but its mission is very much the same.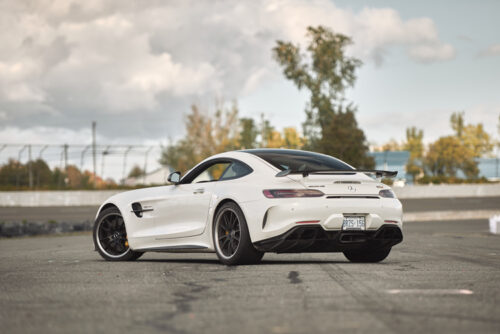 A Careful Gestation Process
When it was first unveiled to the world at the 2014 Paris Auto Show, the AMG GT's twin-turbocharged 4.0-liter V8 promised two different outputs. Base cars pumped out 469 horsepower and 465 lb-ft of torque, while the sportier AMG GT S cranked things up to a stouter 515 horsepower and 495 pound-feet.
But chasing the Porsche 911 forced the AMG GT to also evolve with its main rival, meaning more variants were added to the lineup over time. In 2017, the car received a mid-cycle refresh, incorporating new onboard technology derived from the GT3 race car, slightly revised styling as well as the introduction of the AMG GT C, an even more focused convertible version of an already capable sports coupe.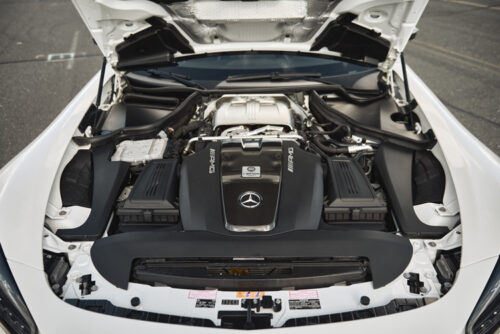 This careful gestation process brings us to the car featured today: the 2020 Mercedes-AMG GT R, or what is perhaps considered to be the most track-focused version yet, if not considering the limited production Black Series. Unsurprisingly, the GT R's main mission is to take on the Porsche 911 GT3 RS head on.
To get there, the 4.0-liter V8 engine's output was bumped up to 577 horsepower and 516 lb-ft. The GT R features rear-wheel steering technology, manually adjustable springs, active underbody fairing, a manually adjustable carbon fibre rear wing, a nine-mode, manually adjustable traction control system, an optional carbon fibre roof for increased weight reduction as well as active aero technology. The car you see here is also fitted with an optional carbon ceramic brake package.
These features allowed the Mercedes-AMG GT R to lap the famed Nürburgring circuit in only 7:10.92, making it the seventh fastest road-legal production car in the world in 2019.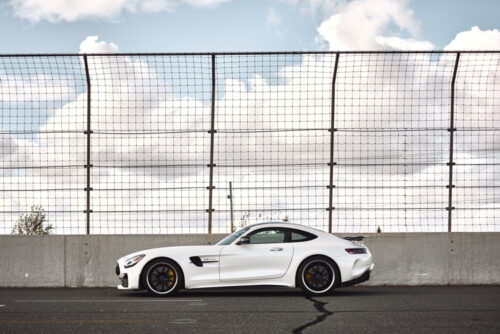 The More Intimate AMG
With an engine shared with some of AMG's overpowered sedans and SUVs, one would assume that the AMG GT R is essentially those cars but enveloped in a sexier, supercar shape. That assumption is only half right, as the savants over at Mercedes' performance division went through great lengths to infuse the AMG GT R with a proper supercar experience.
For starters, yes, it's true that the snug curvaceous cockpit allows it to feel more intimate than anything else AMG sells. But crank over the overfed hand-built V8, and the AMG GT R's long hood shakes slightly to the right as the triple titanium exhaust blurts out a Messerschmitt-like growl. The car downright feels meaner, purpose-built, and special.
The AMG GT R's cabin may be a tight fit for some, but it's a rather comfortable place to spend some time in. The Alcantara-wrapped steering wheel not only feels great to the touch, but it's just the right size. It incorporates a new drive mode rotary dial that makes switching from Comfort, Sport, Sport + and Track settings a breeze, but also a much more intuitive affair than the console-mounted redundant buttons.
Like in all modern Mercedes vehicles, the AMG GT R has been fitted with the brand's latest MBUX infotainment interface, which makes leaps and bounds in terms of ergonomics and user experience. While it doesn't yet integrate the "Hey Mercedes" voice commands, the rotary dial is significantly easier to use than the defunct trackpad layout. Menus are clear and well presented, but the interface itself is thick in features, adding a layer of complexity to its operation.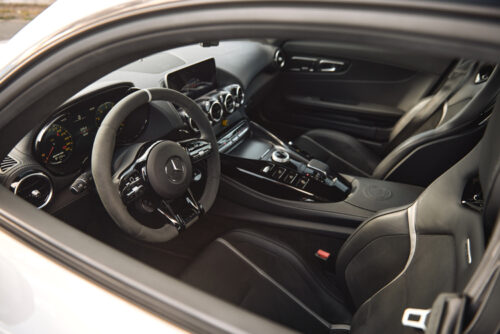 While its mission is to be a track tool, the AMG GT R's impeccably docile composure on public roads are where it impressed me the most. In Comfort mode, this high-velocity road rocket proved rather smooth and compliant over rough surfaces. Except for a rear hatch that constantly kept cracking when driving over the slightest bumps and cracks, and the considerably loud 325-mm rear, 275-mm front Michelin Pilot Sport Cup 2 performance tires at high speeds, the compromises for driving a race car on the road weren't all that hard to live with.
But it was really out there on the track that I was able to exploit the car's visceral character. Set the GT R up for launch control by fiddling with the tiny Lego-inspired traction control knob, and it'll catapult itself from 0 to 100km/h in 3.6 seconds, given that the conditions allow it.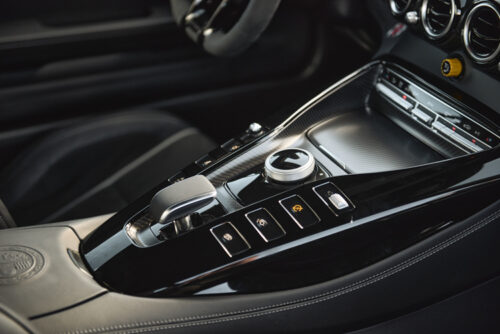 It's a significantly wider, beefier car than a 911, reminding me at times of a German interpretation of a Dodge Viper. It does require to be grabbed by the scruff of the neck to be tamed, though, but the precision and sheer reflexes of its race-tuned chassis, complimented by the rear wheel steering system, quickly dwarfed it to near MINI Cooper levels of athleticism through Sanair's in-track switchback esses.
The V8 engine always feels strong, at all revs, virtually absent of noticeable turbo lag, with plenty of low-down torque to pull it out of corners with ease. The dual-clutch transmission responds in utmost efficiency, and the levels of grip are tremendous, allowing the driver to fully commit upon corner exit without fear of ending up in one of Sanair's highly banked walls.
This was also where the nine-mode traction control system came in handy, allowing me to properly tailor the car's character according to the surface I was driving on.
That's actually where the AMG GT R resembles a Porsche 911 the most, by the utmost balance of its chassis and near perfect weight distribution, making it a much easier beast to master than its specifications suggest. As a matter of fact, getting the rear end to kick out in the AMG GT R was a lot harder than I had envisioned, and finding the proper sweet spot to let it drift was hard. In other words, this car was designed to stick to the tarmac at all costs.
At the end of the day, one can't deny how much more of a hooligan this AMG GT R is compared to the polished precision of Porsche's 911 GT3 RS. While immensely capable, fast, and tremendously fun to flog around on a tight winding racetrack, this AMG cannot reproduce Porsche's surgical precision and euphoric behavior.
The AMG GT is, however, the closest, and most serious competitor the 911 has ever had, and makes a compelling case for singing with Stuttgart's other German carmaker for sheer on track performance. It also proves Mercedes-Benz can do much more than stuff large engines under the hoods of fast sedans.
2020 Mercedes-AMG GT R
Price as tested: $209,600.00
Freight: N/A
Configuration: Front engine/Rear-wheel drive
Engine/transmission: Twin-turbocharged 4,0-liter V8 / 7-speed dual-clutch rear-mounted automatic
Power/torque: 577 horsepower/ 516 ft-lb of torque
Fuel (capacity): Premium (75 L)
Combined fuel economy ratings TBD
Observed fuel economy (8,0 L/100 km lowest): 11.1 L/100 km average
Warranties: 4-years/80,000 km (basic)
Competitors: Acura NSX, Audi R8 V10, Aston Martin Vantage, Porsche 911 GT3 / GT3 RS
Links:
Mercedes-AMG Canada