Pardon the bad dad joke here, but Tell-u-ride to move out of the way, there's a new favourite in town.
Judging by the number of accolades heaped on the 2020 Kia Telluride, we aren't the only ones who appreciate this new entry into the three-row SUV market.
And there's a lot to like, from the stylish exterior, spacious cabin and it is loaded with all the bells and whistles you could ask for.
With a starting price of $47,005, the Telluride is the most expensive model from Kia on sale in Canada, but it's chock full of features and with room for up to 8, it's certainly utilitarian.
Our tester was the top of the line SXL with Nappa leather, which has a price tag of $53,995 before fees and taxes. It comes with features like a heads-up display, dual sunroof, heated and cooled front seats, a navigation system and 20-inch alloy wheels.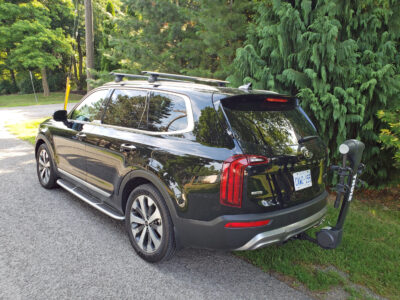 As good as the all-wheel drive Telluride was, the one downside came at the end of the week when it came time to fill up the 71-litre tank.
While the estimated combined fuel consumption of the 3.8-litre V6 engine is 11.2 litres per 100 kilometres, our test of the Telluride returned a much higher average of 13.1 L/100 km. Granted this didn't include much highway cruising, but that won't always be the case for most user either way.
Over the long run, that result isn't ideal.
The engine, however, does deliver plenty of power as it is rated at 291 horsepower and 262 ft-lb of torque, all moved to the wheels through an 8-speed automatic transmission. This was another minor weak spot for the Telluride, as it did come across as sluggish at times.
The powertrain setup has an added bonus in that the Telluride can tow up to 5,000 pounds when properly equipped, so on top of your whole family inside, this SUV can certainly pull some extra gear along for the ride.
If you are sitting there thinking you have seen the Telluride before, well you kind of have. It's the cousin of the Hyundai Palisade, which we reviewed earlier.
The Telluride is a handsome design for what is still essentially a big box on four wheels. There's a certain presence it has, starting with the large front grille and some angular, muscular lines to it.
The daytime running lights are orange, which is a new one for us – not quite sure what to make of that.
That is balanced out by a nice design of the rear taillights, which make the Telluride look as good driving away from you as it does coming at you.
Inside, occupants are welcomed to a warm cabin that is filled with technology and quality materials, including a deluxe cloth headliner which, along with the Nappa seating, definitely gives the Telluride a high-end feel.
The SXL comes with second row captain's chairs, making this version a seven-seater (the Telluride can seat up to eight).
The cabin is also a very quiet place to be when out on the road thanks to way the Telluride was engineered. So those long family roads trips will be very pleasant indeed – as long as everyone gets along!
Of course if they aren't getting along, you can always drown them out by cranking up the Harmon Kardon premium audio system in the SXL featuring 10 speakers and surround sound audio.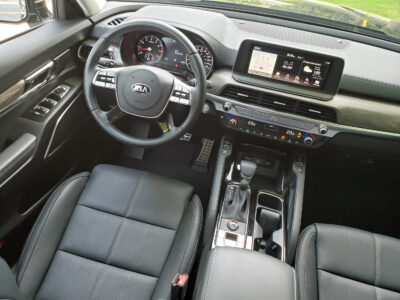 The Telluride infotainment system benefits from a widescreen format 10.15-inch display that can show multiple functions at the same time. The system is compatible with Apple CarPlay and Android Auto, and also features UVO Intelligence Connected Car Services.
Controls are easy to identify and use thanks to the big buttons and dials below the screen.
And for those who prefer to BYOD (Bring Your Own Device), the Telluride offers USB power ports for every row.
The Telluride's tech also includes a Blind View Monitor that, with the help of cameras, show you what's in your blind spot when the turn signal is activated in either direction.
And in an era when news of kids accidentally left in vehicles and suffering a horrific fate, the Telluride has a rear occupancy alert system that will hopefully prevent any such incidents from ever happening.
When you are on the road, the Telluride's driving characteristics are easily modified to your needs through a dial in the centre console.
You can select between Comfort, Eco, Sport and Smart modes depending on your mood. And when the weather turns snowy, the Telluride can also be set to Snow mode to make sure it's ready for whatever comes its way.
The Telluride delivers a pretty dynamic drive for a vehicle this size, gobbling up rough pavement and providing very responsive steering.
On the whole, it's a very pleasant ride with gusts up to downright fun in Sport mode. Hard to believe for a vehicle this size, I know.
Loaded to the nines with technology enclosed in a stylish package with a comfortable and well-appointed interior, the Telluride has rightfully earned the accolades to date.
2020 Kia Telluride SXL
Price as tested: $56,190.00
Freight: $1,895.00
Configuration: Front engine/All-wheel drive
Engine/transmission: 3.8-litre V6/ 8-speed automatic
Power/torque: 291 horsepower/ 262 ft-lb of torque
Fuel (capacity): Regular (71 L)
Combined fuel economy ratings (L/100 km): 11.2 L/100 km
Observed fuel economy (L/100 km): 13.1 L/100 km
Warranties: 5-years/100,000 km (basic)
Competitors: Honda Pilot, Toyota Highlander, Nissan Pathfinder, Hyundai Palisade
Links:
KIA Canada
Driving.ca