Fresh off a major overhaul in a mid-cycle refresh for 2019, the Jeep Cherokee remains largely unchanged for 2020, receiving only a few new features and optional packages – and some new colours.
Being a Jeep, the Cherokee has a definite edge over the others in the highly competitive crossover segment when it comes to off-road capability, so if that is what you are in the market for, do not overlook it.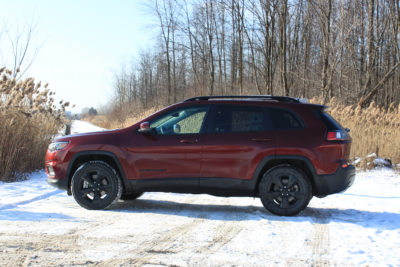 However, be prepared to pay the price for it – literally. Our tester, a 2020 Jeep Cherokee Altitude 4×4, will cost you of $46,505 (a base model starts at $32,740). Granted, it was equipped with a bevy of options – including some of the new features for 2020 – but that is a bit steep in my opinion.
That being said, the Cherokee does look good and proved itself adept at handling winter's worst during our test.
Buyers have a choice of three engines for the Cherokee – a turbocharged 2.0-litre inline 4-cylinder, 2.4-litre inline 4-cylinder or a 3.2-litre V6.
Our Velvet Red tester was fitted with the optional turbo engine ($2,590), which is paired to a 9-speed automatic that was okay, but not great.
The engine, however, delivers when it matters most and has plenty of power with its 270 horsepower and 295 lb-ft of torque.
Fuel economy is estimated to come in at a combined average of 9.8 litres per 100 kilometres, but we didn't come anywhere close to that, averaging 11.5 L/100 km.
As mentioned above, the Jeep handled Old Man Winter's worst and that is thanks, in no small part, to the Jeep Selec-Terrain traction management system that allows the driver to choose between five modes: Auto, Snow, Sport, Sand/Mud and Rock.
These capabilities are synonymous with Jeep, as is the front grille that makes this instantly identifiable – no matter the redesign.
Thankfully, during that refresh last model year, the front end of the Cherokee returned to a more traditional appearance, which is very much a welcome move from Jeep.
The waterfall grille is flanked by LED headlights that incorporate the daytime running lights – replacing slit-like headlamp assemblies on the previous version that just never caught on.
And thanks to the optional engine choice on our tester, it also comes with some exterior enhancements that strengthen the look, including black daylight opening mouldings, gloss black exterior accents, badging, grille surrounds and side roof rails, not to mention 18-inch gloss black 5-spoke aluminum wheels.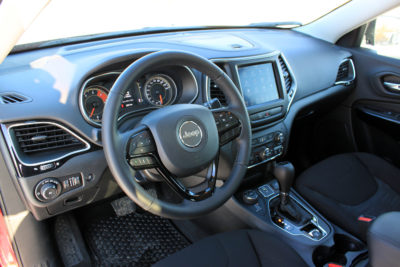 The black – part of the Altitude kit – continue on the inside with accent trimming and piano black accents.
One thing that surprised me when getting inside for the first time was that that the seating – while exceptionally comfortable – was cloth. For the price point on this Cherokee, I would have expected leather.
That being said, the interior itself was quite nice – although it could benefit from some extra space.
The optional cold weather group ($995) is definitely a plus (heated seats, steering wheel, a remote starter and heated windshield wipers) but the fact some of that is optional with Jeep but standard on some competitors might not sit well with everyone.
The infotainment system on the Cherokee is quite nice, featuring the latest Uconnect system.
And the tester had the larger 8.4-inch screen, part of the $995 package that also delivers Alexa Skill Technology, new for 2020. The package also features a 4G LTE Wi-Fi hot spot, navigation and satellite radio.
The system's touchscreen is quick and responsive, displays clear information and is compatible with Apple CarPlay and Android Auto.
Also new for 2020 is the Advanced Safety Group. For $695, you get advanced brake assist, forward collision warning with active braking, lane departure warning with lane keep assist and rain-sensing windshield wipers.
Out in the wild, the turbo engine is plenty powerful for the Cherokee, but the transmission sometimes feels like its struggling to keep up.
That being said, there are some good qualities to the Cherokee's drive characteristics, which deliver a smooth – almost refined – ride. And the cabin is surprisingly on the quiet side, which was nice to hear.
So if you are an avid off-roader, the Cherokee is definitely a vehicle worth considering and it has plenty of good qualities even for those who chose to stay a little closer to home.
I still cringe at that price tag, though!
2020 Jeep Cherokee Altitude 4×4
Price as tested: $46,505.00
Freight: $1,895.00
Configuration: Front engine/All-wheel drive
Engine/transmission: Turbo 2.0-litre 4-cylinder/ 9-speed automatic
Power/torque: 270 horsepower/ 295 ft-lb of torque
Fuel (capacity): Regular (60 L)
Combined fuel economy ratings (L/100 km): 9.8 L/100 km
Observed fuel economy (L/100 km): 11.5 L/100 km
Warranties: 5-years/100,000 km (basic)
Competitors: Honda CR-V, Toyota RAV4, Mazda CX-5, Kia Sportage, Subaru Forester
Links:
Jeep Canada