Looking to make a statement when you pull into the company parking lot?
There's certainly no shortage of ways to turn heads with your vehicle, but rarely have I gleaned so much attention as when I parked the 2020 Jaguar F-TYPE.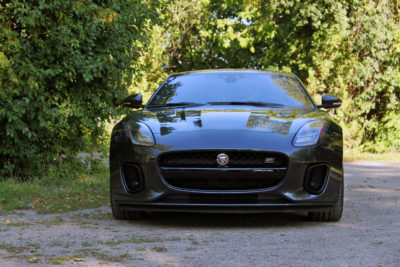 Simply put, it's beautiful from every angle, with flowing lines and powerful accents throughout. Push the start button and the engine in our 2020 Jaguar F-TYPE Checkered Flag coupe roars to life with a throaty rumble, telling you that this cat means business.
The F-TYPE comes in either Coupe or Convertible format, each offered in five trims. The Checkered Flag version I drove is the middle choice, behind the R and SVR, but ahead of the TYPE-R Dynamic and base F-TYPE, which starts at $70,500.
Our F-TYPE Checkered Flag test vehicle has a starting price of $105,000, on top of which Jaguar added $5,600 in options to push the final price to $112,200 once the delivery charge is added on.
Not chump change, but what you get is quite exceptional.
The F-TYPE has three engine options depending on the trim you choose and the Checkered Flag comes with a potent 3.0-litre supercharged V6 with an output of 380 horsepower and 339 ft-lb of torque.
All the power is moved to the four wheels through a very good 8-speed automatic transmission, fitted with paddle shifters for when you want to have more control. The electronic shifter is quite nice, even though I did fail to hit the right button for the gear I desired a few times.
The whole setup is quite flawless, although I did find the auto start/stop feature to be a tad tiresome for the way the whole car shook in stop and go traffic, so that was a feature I often deactivated.
That could be part of the reason I returned an average fuel economy of 13.3 litres per 100 kilometres after a week with the F-TYPE.
Not that I was overly concerned with fuel consumption with the F-TYPE. With this type of car, you find any old excuse to get out and drive. And of course, take your wife out on date night!
And even in a subdued Carpathian Grey, the F-TYPE is an eye-pleaser.
From the front end, you are immediately struck by the large headlights with elegant LED daytime running lights that give the cat some nice eyes. A closer look at the grille reveals a checkered flag, a dead giveaway of which trim you are driving.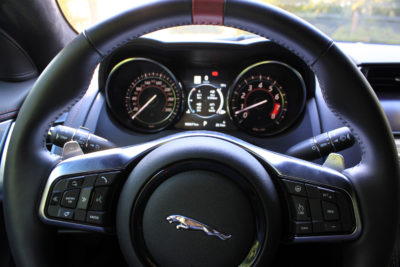 From the side, the F-TYPE's silhouette has curves in all the right places. And the long hood opens toward the front, almost making it look like the F-TYPE is giving you thumbs up when you have it open. I give it thumbs up right back.
At the rear, quad exhausts and another elegant use of LED lights cap off the look.
Popping open the trunk reveals the one real issue with the two-seat F-TYPE; a lack of storage space.
But that is quickly overlooked as you slip into the driver's seat where you are hugged nicely and surrounded by quality materials and a nice layout. Admittedly, they are a little harder to get out of, but I will chalk that one up to getting older.
The perforated leather seats are nicely accented by red seats belts – there's touches of red throughout the cabin – and more checkered flags. The suede cloth headliner is also another nice touch.
The centre stack features three large dials for multiple functions and don't be worried if you don't see any central air vents when you first get in – they will rise out of the centre stack as needed by the climate system. Neat!
The cabin is snug, but it is still a great place to be – and with the fixed panoramic roof ($1,230 option) on our tester, it was nice and bright.
The infotainment for the F-TYPE is provided by a Meridian Sound System that features Apple CarPlay and Android Auto, and also includes a navigation system.
Powered through a nice wide screen in the centre stack, it takes some getting used to and can lead to some frustration at times.
What isn't frustrating is how the F-TYPE drives. In short, it is poised and responsive.
Handling is responsive and the F-TYPE is quite athletic on some curvier roads, but is equally competent on the highway and city roads – although you must reel it in on rough surface roads.
And if you are the one in your neighbourhood who leaves early in the morning, be warned that everyone will know when you leave thanks to the engine's roar when you start it up, but also when you accelerate out of the driveway, so be gentle with this cat if you want to maintain good neighbourly relations!
2020 Jaguar F-TYPE Checkered Flag
Price as tested: $112,200.00
Freight: $1,600.00
Configuration: Front engine/All-wheel drive
Engine/transmission: 3.0-litre supercharged V6/ 8-speed automatic
Power/torque: 380 horsepower/ 339 ft-lb of torque
Fuel (capacity): Premium (70 L)
Combined fuel economy ratings (L/100 km): N/A
Observed fuel economy (L/100 km): 13.3 L/100 km
Warranties: 4-years/80,000 km (basic)
Competitors: Camaro ZL1, Chevrolet Corvette, Dodge Challenger Hellcat, Maserati GranTurismo Sport, Nissan GT-R, Porsche 911 Carrera S
Links:
Jaguar Canada