I always feel a special tinge of excitement every time I pick up a Fiat for a test drive. That is mainly because of my family's roots in Italy and the fact I learned how to operate a manual transmission in one while on a vacation in Italy. (Millennials, Google what that is or ask your parents).
Sadly, there was no such gearbox on the 2020 Fiat 500x Sport AWD I recently drove but it did have something no other model from the Italian automaker has had before: an all-wheel drive system.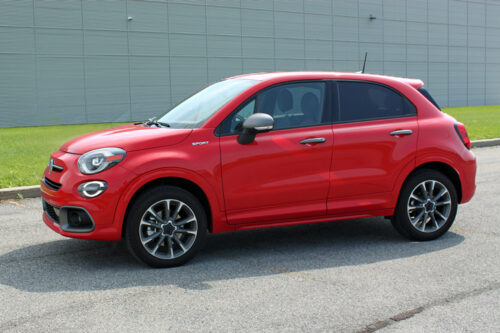 However, it also comes with a steep as-tested price tag of $40,170 once several options were added to the base price of $33,495.
I was a little disappointed to see a $495 price tag for a cold weather group when some other models feature it as standard (in fairness, the 500X does have heated exterior mirrors as standard).
I did appreciate the Advanced Driver Assistance Group ($1,795) with items like rain-sensing windshield wipers, lane departure warning with lane keep assist, full-speed forward collision warning, adaptive cruise control and blind-spot monitoring.
On the outside, the Sport trim has some distinguishing features thanks to unique front and rear fascia designs, as well as some dark-finish exterior accents.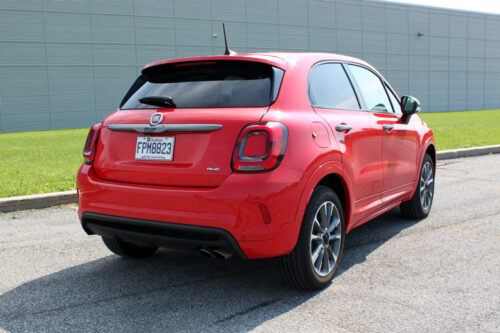 And I was surprised a little bit by how tall the 500X felt – in the sense that when I exited, I almost felt like I took a bigger step down than with the Chrysler Pacifica I drove the previous week.
The 500X is powered by a new 1.3-litre turbocharged inline 4-cylinder engine that delivers 177 horsepower and 210 ft-lb of torque.
The overall performance was good, but there was a bit of turbo lag. The engine is paired to a 9-speed automatic transmission that was not the smoothest I have experienced.
Unfortunately, my week with the 500X was a little disappointing when it came to fuel efficiency. I averaged 10.2 litres per 100 kilometres, which is well over the estimated combined average of 9.1 L/100 km. And I did considerable highway cruising with the vehicle.
Our tester was draped in the most Italian of colours, a new Rovente Red paint, which accentuates some of the nice European design elements.
Despite mostly smooth lines, it does have some quirky features that stand out, like the rather large headlights that almost seem out of place. But the pros outweigh the cons in terms of styling, and you would be hard-pressed to find a sharp corner on the 500X.
The standard 18-inch wheels complete the exterior look – with optional 19-inch available.
Inside, the 500X is much more spacious than its compact frame lets on.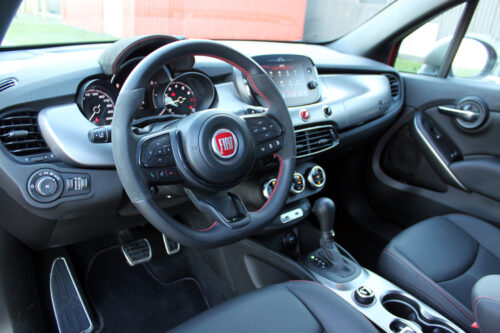 And while the Sport trim has some specific enhancements to spruce up the appearance (synthetic-suede-wrapped steering wheel and aluminum pedals) the overall look and feel is a bit disappointing.
Also, the interior isn't the quietest of cabins thanks to the intrusion of engine noise, especially when accelerating.
The infotainment screen is 7-inches and feels a tad small given some of the other options on the market. Our tester featured the upgraded system with GPS navigation ($700).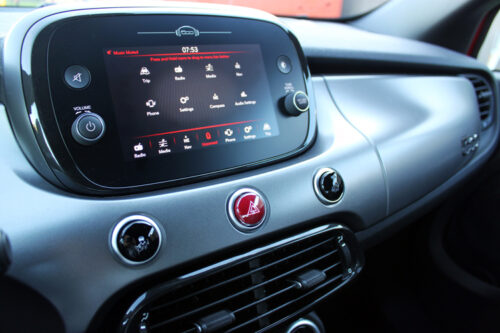 The standard features of the system include Apple CarPlay and Android Auto, as well as satellite radio.
Overall, the interface is good and easy enough to understand and use, with key controls (tuning, volume) done through physical dials rather than the touchscreen.
The climate controls and heated seat switches are also large and easy to engage.
While motoring around town, visibility from the driver's seat is excellent for such a compact vehicle, while the overall driving feel is good but not great for a "Sport" model.
The steering is nice and firm though, and with the suede inserts, the wheel feels excellent in your hands.
The 500X has some redeeming qualities and charm that will appeal to a certain segment of consumers. With a good amount of room in the cargo area, surprisingly spacious interior and stylish lines, this is one Italian some people won't be afraid to bring home.
2020 Fiat 500x Sport AWD
Price as tested: $40,170.00
Freight: $1,895.00
Configuration: Front engine/All-wheel drive
Engine/transmission: 1.3-litre inline 4-cylinder turbo/ 9-speed automatic
Power/torque: 177 horsepower/ 210 ft-lb of torque
Fuel (capacity): Regular (48 L)
Combined fuel economy ratings (L/100 km): 9.1 L/100 km
Observed fuel economy (L/100 km): 10.2 L/100 km
Warranties: 5-years/100,000 km (basic)
Competitors: Jeep Renegade, Mini Countryman, Hyundai Kona, Honda HR-V
Links:
Fiat Canada