So, I just turned 40. Man, that is scary to say out loud.
Most car lovers would opt for some sporty convertible or exotic car to celebrate such a milestone.
Me?
I did the polar opposite!
I got behind the wheel of a minivan. Now, I know what everyone is thinking: What's wrong with this guy?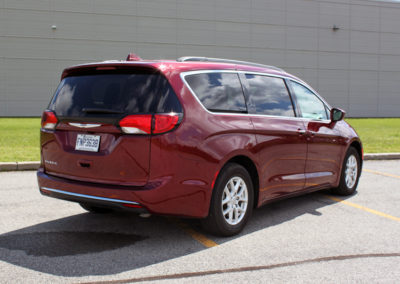 But in my defense, it wasn't just any minivan.
It was a 2020 Chrysler Pacifica Touring, arguably one of the nicest looking family haulers out there.
The Touring trim is pretty much the mid-range of the Pacifica lineup with a starting price of $43,495 that creeps up close to 50K with all the options added on. That includes the Interior Protection Package ($895), SafetyTec Group which includes rear park assist ($995), Cold Weather Group ($695), 8-passenger seating ($495) and Uconnect 4C NAV with 8.4-inch display ($995).
Sure, you can probably get a sports car for close to the same cost, but could it transport the entire starting line to my son's hockey team? I think not!
Pacifica for the win!
OK, so it doesn't have any of that rear-wheel drive exhilaration, but it does have a good amount of power under the hood.
The 3.6-litre Pentastar V6 engine produces 287 horsepower and 262 ft-lb of torque, which manages to motivate the large vehicle efficiently. The power is moved through a 9-speed automatic transmission, which is quite smooth I found.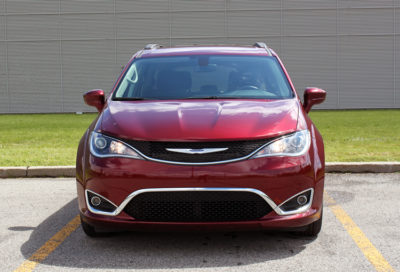 Equipped with start-stop technology, the Pacifica is rated for a combined fuel economy of 10.6 litres per 100 kilometres. Unfortunately, I missed that target, returning 12.1 L/100 km.
Despite a mid-cycle refresh coming to the Pacifica for next model year, the current one is not without its qualities.
Everyone has pre-conceived notions of what a minivan is, but if you still think they are boxy, garish vehicles, you are living in the past.
The Pacifica is quite stylish (and will likely get better next year) so you wouldn't be ashamed to be seen driving around in one.
It's got some style, nice lines, elegant wheels on our tester and lots of shiny chrome bits here and there.
Inside, the Pacifica is supremely spacious, and the tester had a full middle-row bench to allow for the 8-seat capacity. That takes away from some of the extra room you would get with captain's chairs but, overall, it wasn't an issue.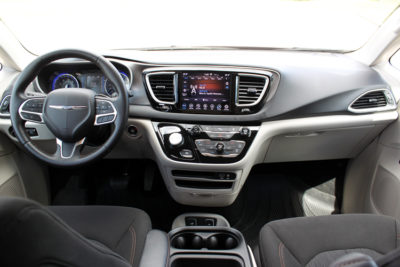 And both back rows of seats are easily moved out of the way as needed thanks to the Stow 'n Go seating. But even when all seats are in use, the Pacifica still offers 32.3 cubic feet of cargo space. Pretty good.
And with a power liftgate, as well as powered side doors, access to the cabin and cargo area can be had at the push of a button.
Up front, the dash and console are well laid out, with large controls that are easy to reach and are intuitive to use.
Our Velvet Red Pearl tester had the optional 8.4-inch infotainment screen (standard is 7 inches) with navigation and a Wi-Fi hot spot. The benefit of that is that even without the built-in entertainment system, your passengers would be connected to their favourite apps or shows via this feature.
The system itself was intuitive to operate and reaction time to inputs was excellent. Apple CarPlay and Android Auto are standard features.
And yes, the Pacifica is quite enjoyable to drive. There, I said it. A minivan is a nice drive.
It's a comfortable and quiet ride, although the steering does sometimes feel a little on the loose side.
Behind the wheel, despite its size, there is excellent visibility and minimal blind spots. And despite its size, I found that manoeuvring it into parking spots was a breeze, aided by the rear-view camera when backing in.
Overall, the Pacifica delivers the good – figuratively and literally – when it comes to what minivans are meant to do. The bonus being it does it in style.
2020 Chrysler Pacifica Touring
Price as tested: $49,665.00
Freight: $1,895.00
Configuration: Front engine/front-wheel drive
Engine/transmission: 3.6-litre V6 with Start-Stop / 9-speed automatic
Power/torque: 287 horsepower/ 262 ft-lb of torque
Fuel (capacity): Regular (71.9 L)
Combined fuel economy ratings (L/100 km): 10.6 L/100 km
Observed fuel economy (L/100 km): 12.1 L/100 km
Warranties: 5-years/100,000 km (basic)
Competitors: Dodge Grand Caravan, Toyota Sienna, Kia Sedona, Honda Odyssey
Links:
Chrysler Canada