Who doesn't enjoy the finer things in life?
A glimpse of this week's tester is testament to something sweet, as in how it looks and how it drives.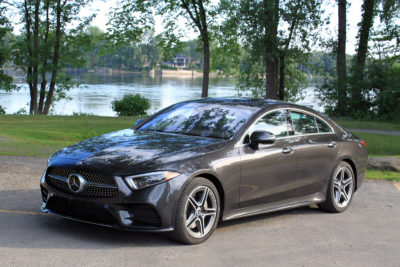 The 2019 Mercedes-Benz CLS 450 4MATIC is a remarkable sight from every angle, and delivers sumptuous luxury to its passengers, not to mention a host of technological marvels that give it a modern twist.
I guess you could say I really like this car.
It has an impressive list of standard features that includes remote start via the Mercedes Me mobile app, 64-colour LED ambient lighting with illuminated vents, heated steering wheel, a 12.3-inch high-resolution central display and the COMAND system with touchpad controller. There are also cool steering-wheel touch control buttons, which are essentially little mouse pads that fall under your thumb so you can easily scroll through menus. And that's barely scratching the surface.
All that style and luxury does come with a price however, as the as-tested CLS tops 100K after starting with a base price of $81,000.
The optional packages fitted to our tester were Intelligent Drive ($3,000), Lighting ($1,000), Premium ($4,500), Sport ($3,100), Climate Comfort Front Seat ($1,200), Head-Up Display ($1,500) and a 360-degree Camera ($650).
Some of the most interesting features of the options were the Intelligent Drive's active lane keeping and lane change, congestion emergency braking and route-based speed adaptation.
The premium package also adds a few extras like the Burmester Surround Sound System, the 12.3-inch digital instrument cluster and heated rear seats.
The impressive features are met with equally notable performance figures from under the hood. The all-wheel drive CLS 450 comes with the automaker's new inline-six turbocharged engine with EQ boost, which is essentially a mild-hybrid system. The setup allows the engine to shut off when the car is braking, coasting or stopped, and then turn it back on quickly when it is time to drive.
And when you decide to get moving, the CLS 450 is no slouch, with 362 horsepower and 369 lb-ft of torque, it can go from 0 to 100 km/h in an estimated 5.0 seconds.
It also comes with a very smooth 9-speed automatic transmission that handles all that power without a fuss.
The EQ system is touted as one that improves fuel efficiency on the CLS 450, which has an estimated combined rating of 9.8 litres per 100 kilometres. My test returned a figure that was slightly higher, but still reasonable considering how much city driving was done: 10.9 L/100 km.
This four-door luxury coupe is absolutely striking from any, and every, angle.
Sitting on 19-inch wheels, the CLS 450 is best described as a sleek design. Sure, it's a term that is perhaps overused but, in this case, it is absolutely accurate.
Every line on the CLS 450 leads the eye to another beautiful angle, and you just want to run your hands over the body.
And the front fascia, aptly called the shark nose, means business and gives the CLS 450 road presence and attitude.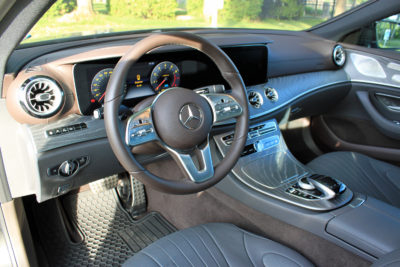 Slide onto the comfortable seats and you are welcomed by a stylish and luxurious cabin.
Everything from the air vents, the curved dashboard, accent trims and large digital displays is sublime. There's very little to complain about with the interior of the CLS 450.
And one feature I really enjoyed were those two mini touchpads on the steering wheel that fall perfectly at your thumbs, allowing you to scroll through options or menus with ease. These replace wheels or buttons on other models and fit well with the modern interior.
But perhaps the most notable change to the interior of the CLS 450 is the fifth seat, with room for three now in the reach bench.
The CLS 450, despite the redesign, still uses some older technology for the infotainment system. Rather than the new MBUX system, the CLS comes with the Command infotainment setup. It's still functional, mind you, and looks really good on the large display screen.
It is compatible with Apple CarPlay and Android Auto, and also offers wireless phone charging.
Behind the wheel, the CLS is a joy to drive.
Unlike some other vehicles I have tested, the start/stop feature on the CLS is unnoticeable, and acceleration is quick and smooth off the line. Handling is excellent, with curvy roads posing no problem at all.
And you are able to select a drive mode that suits road conditions or your mood through Dynamic Select, which features Eco, Comfort, Sport and Sport+ modes.
One thing that did bother me throughout the week was a rather unsettling rattle from the rear when going over some rougher pavement.
Despite that and the infotainment system, there's very little else to complain about with the CLS 450.
Now that it is a sports coupe that seats five comfortably, it's ready to take on all competition nose first – and that makes an excellent first impression.
2019 Mercedes-Benz CLS 450 4MATIC
Price as tested: $102,550.00
Freight: $2,075.00
Configuration: Front engine/4MATIC all-wheel drive
Engine/transmission: 3.0-litre inline-6 cylinder turbo with EQ Boost/ 9-speed automatic
Power/torque: 362 horsepower/ 369 ft-lb of torque
Fuel (capacity): Premium (80 L)
Combined fuel economy ratings (L/100 km): 9.8 L/100 km
Observed fuel economy (L/100 km): 10.9 L/100 km
Warranties: 4-years/80,000 km (basic)
Competitors: BMW 6 Series, Audi A7, Porsche Panamera, Jaguar XF, Cadillac CTS
Links:
Mercedes-Benz Canada
CNET