The Honda Civic is everywhere on Canadian roads, so standing out in one is not always easy.
That is, of course, unless you are behind the wheel of the sporty and hard to miss 2019 Honda Civic Type R – a vehicle that has finally come to our roads after years of popularity overseas.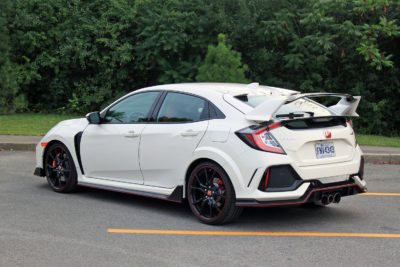 And it will quickly make an impression everywhere you go, notably because of its styling – especially that over-the-top rear wing and the aggressive front end.
Your neighbours will also hear you coming thanks to the exhaust note from the triple pipes out the back.
The interior is just as striking and with four doors, this sporty Civic is as useful as it is fun to drive.
But it comes at a price – $41,690 to be exact.
At least for that price, you are getting a vehicle that is ready to take on all comers.
Under the hood – outfitted with a hood scoop – lies the beating heart of the Type R: A 2.0-litre turbocharged four cylinder that outputs 306 horsepower and 295 ft-lb of torque.
And, as it should be, all that power is controlled through a very smooth 6-speed manual transmission.
It's really a fitting combination and the feeling of total control is welcome.
And given the power – and temptation to use it – I was pleasantly surprised when I returned a fuel economy figure of 9.4 litres per 100 kilometres, which actually betters the combined rating of 9.6L/100 km for the Type R.
If you are considering a Type R, you should know that your colour choices are limited. In Canada, it is only offered in three choices: Crystal Black Pearl, Sonic Grey Pearl and Championship White, like our tester.
Quite frankly, I am just fine with the white version of the Type R because of all the black accents that give it a badass look. Oh and it has the red Honda logo, which shows that it means business.
It also features exterior side skirts, a front end that highlights large mesh grilles and air intakes, and LED fog lights.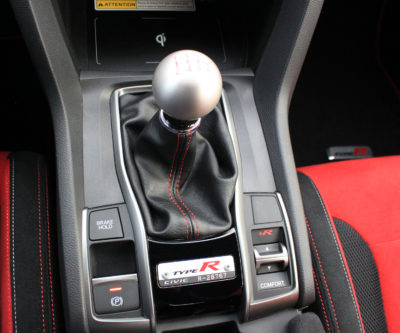 Oh, not to mention some stunning 20-inch aluminum-alloy wheels (Piano Black with Red Styling line) that give you a good view of the red Brembo brake calipers.
The red theme continues on the inside, with some extremely comfortable black/red suede racing seats that feel like they are giving you a hug while out on the road.
There's also red seatbelts and red accents throughout the cabin. While it may be too much for some, in my eyes, it's spot on.
If I had one gripe, it was that the centre console armrest didn't slide all the way forward to allow me to rest my arm comfortably while shifting. But that's a really minor issue.
From the feel of the manual shifter to the location of all the controls, Honda does what it does well with the Type R: create a driver-friendly compartment that makes you just want to keep driving.
Granted, the cabin can get on the noisy side, especially out on the highway – which can make taking phone calls through the Bluetooth system a little challenging at times.
Thankfully you can drown out that noise with the superb 12-speaker audio system, powered by an excellent infotainment system that is compatible with Apple CarPlay an Android Auto. The Type R also has wireless charging for your devices.
The infotainment, which is illuminated in red, can also show the driver the G-forces he/she is generating while accelerating, braking and turning. A cool feature to try a few times, but only the diehards will keep an eye on that over the long run.
On the road, the Type R is surprisingly versatile. It feels quite nice in city driving, even if you have to tame the beast a little – and you definitely feel all the bumps in the road. Open it up on the highways, and the Type R really shines, with excellent balance and control in all circumstances.
There are three distinct drive modes on the Type R, which can be activated at the touch of button next to the shifter. With that, you can easily adapt the throttle, steering and braking by selecting either Comfort, Sport or +R.
Honda aficionados will definitely appreciate the Type R, but it should have a much broader appeal than that among those who are seeking a car that delivers excellent fun quotient while also being capable of handling life's day to day grind.
2019 Honda Civic Type R
Price as tested: $43,460.00
Freight: $1,770.00
Configuration: Front engine/front-wheel drive
Engine/transmission: 2.0-litre turbocharged 4-cylinder/ 6-speed manual
Power/torque: 306 horsepower/ 295 ft-lb of torque
Fuel (capacity): Premium (46.9 L)
Combined fuel economy ratings (L/100 km): 9.6 L/100 km
Observed fuel economy (L/100 km): 9.4 L/100 km
Warranties: 3-years/60,000 km (basic)
Competitors: Ford Focus RS, Volkswagen Golf R, Subaru WRX STI, Hyundai Veloster N
Links:
Honda Canada