The all-new Porsche Taycan made its world premier in 3 simultaneous locations around the world today at precisely 9 am Eastern. Vicarious attended the electrically-charged event at the Niagara Falls, Ontario venue, with press from across North America on hand. Held at a purpose-build facility overlooking the spectacular Horseshoe Falls, the outer wall of the event space rolled back as the Taycan took center stage. It was a very impressive reveal and fitting as a setting to showcase the seriousness with which Porsche is going electric.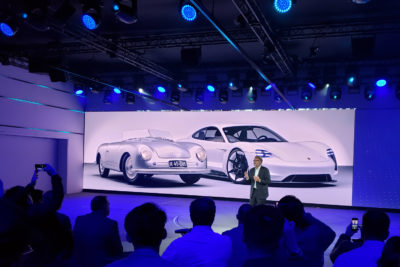 Designed as a four-passenger sedan disguised as a coupe, the Taycan is a visual joyride from every angle. Power is rated at 670 horsepower and 626 lb-ft with launch control. Pricing in Canada ranges from $173,900-$213,900. Zero to 100 km/h takes just 3.2 seconds with max speed reaching 260 km/h- officially. Reaching a top speed of 200 km/h takes just 9.8 seconds.
With these kind of numbers, not only does the new Taycan dominate the EV sports car market, it takes a backseat to only a few gasoline-powered and hybrid supercars and should quickly bolt to the top of the desirability list. Here are some of the technical details from our EV expert Steven Bochenek's recent trip to Atlanta, Georgia.
Ten Techie Insights Into the All-New, All Electric Porsche Taycan
By Steven Bochenek
The name Taycan will cause its makers some pronunciation trouble, but it took this company decades to teach Anglophones to pronounce their own moniker as 'Portia' not 'porch'. They're patient people. In this case, the name's pronounced TIE-cahn, with the accent falling on the first syllable and the pair almost rhyming with icon, race driver Christian explains with classic Teutonic precision. This after three lightning speed circuits around Porsche North America HQ's private racetrack that have left me decidedly woozy. The ride was the applied culmination of a day spent in classroom-like conditions, learning the technical ballet required to bring Porsche's first all-electric sports-car-cum-family-sedan to market. Here are nine other things to know about the Taycan from notes taken during this exclusive pre-release event in August 2019.
Batteries not battery: It's always interesting to see the decisions designers make when creating a car from scratch and not adapting one that previously existed. Case in point? Building a new electric vehicle (EV) versus awkwardly squishing battery space into a hybrid, the very definition of which is the union of separate entities. Like many EVs, the Taycan's battery is actually multiple flattened battery modules, separated in rows atop the chassis, thereby anchoring the Taycan for better gription. "It's the lowest centre of gravity in the Porsche portfolio," says Dr. Bernd Propfe, Director Platform Production line. They call it the skateboard layout. It's a good description. The effect on the racetrack for this passenger in the rear was somewhere like being in the camera mounted to a shoe a skateboard park and the above water equivalent to the bends.
Safety: The trouble with multiple big batteries all one place is that if bash hard into each other, they, umm, go boom. "A big problem indeed," understates Steffen König, Porsche's body and safety lead, and whose name you'll notice appropriately translates to Stephen King. So how you lay those modules out matters and even if 'skateboard' doesn't connote safety, the engineers passed the most rigid standards in every major market in the world. In crash tests, energy from the impact gets diverted to protect the passengers first, and that batteries right after that (that way it's actually still protecting the passengers first). Ask any podcast loving dog walker in January: batteries don't last forever. This fleet of battery modules is screwed and bolted to the chassis securely at 38 points. "It stiffens the body and increases safety" says König. However, when the batteries need replacing, and these are only warranted for 8 years, access to them isn't the bank-breaking palaver some other EVs demand. (At the time of writing, we didn't have the price yet but any opportunity to save a little cash will probably be welcomed by buyers.)
Not just EV but ecosystem: Recognizing the need for infrastructure, Porsche is taking the long view for EVs, investing widely. They've already spent over 1 billion Euros modifying the Taycan factory in Zuffenhausen, Germany, and estimate that by 2022, they'll have spent over 6 billion in general "e-mobility." That includes wind and hydro in production and creating a car that's end-to-end carbon neutral. Back on this side of the Atlantic, they're actually building new 800-volt charging stations right across the continent. They endeavour's called Electrify America and Electrify Canada, respectively. Yes, 800 volts. Such 'fueling' power would charge a completely depleted Taycan battery to 80% in just over 20 minutes or, for the truly busy, a 100 km extended range in just 5 minutes. Ownership of a one of these is going to feel as much like a membership.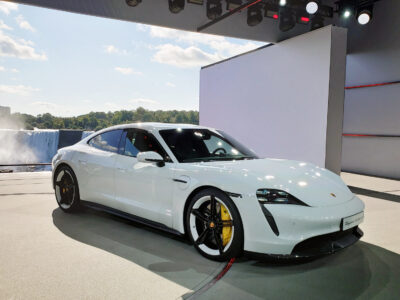 Family sedan that can win races: But for the effects of riding in the back while a race driver rocks a course with more curves than a 1950's calendar girl, the interior of the Taycan is roomy and comfortable as you'd demand of a Porsche sedan. But it's definitely a sports car. To prevent overextending the wheelbase, the aforementioned skateboard layout of batteries is interrupted. An empty row on the floor leaves space for the passengers' feet which even extends slightly below the front seat. Brilliant.
Proof of performance: In a recent Vicarious article, we mocked how EVs are often presented as modern hair shirts. The Taycan slingshots from 0 to 200 km/h in 9.8 seconds, albeit with launch control. When's the last time you saw a hair shirt move that fast, even if it did have launch control? The point: You can be carbon neutral and still set Nürburgring records. But how long can that sort of pace last? Aren't you soaking up power at speed? In a 24-hour test Porsche conducted, the Taycan covered 3,425 km with charging (and we assume bathroom) stops included. Dr. Propfe's noble goal is "maximum spread between electrical range and performance."
Digital dials: See above, regarding designing from scratch and doing what you want. The Taycan features Porsche's first all-digital instrument cluster. So, when the Taycan is off, all you see on the dash is black screens. Of course, those designers still want you to feel like you're in a Porsche. So, the pictures they project are rendered to look, not just like gauges, but the whole effect is reminiscent of the 911, which the designers called the soul of the brand. And in a design ethic they dubbed "tradition meets innovation" they spilled the digital displays around the driver with the comfort controls located over the centre stack, and then on into the passenger's space. So, the front passenger has their own secondary (dare we say redundant) set of controls. Despite this dual command centre, maps defer to the driver's choice. Meanwhile, Apple Music which is deeply tied into this spread of screens defers to whoever's Porsche membership (see paragraph four) number is recognized in the key fob.
Ice-breaker: Remember when you childproofed your home's electrical outlets once your first kid learned to crawl? Suddenly you realized they're potentially dangerous. Likewise, the connection spot between an 800-volt charging device and your Taycan's power intake is a potential safety hazard. That's why it sits protected from the elements behind a small sliding door until such time as you need to juice the battery. But what if you're Canadian and the elements have covered that door with a thick layer of ice? It notices how it can't just slide open and gently jiggles itself continually until the ice is broken and it can slide open. Brilliant.
Brake energy recuperation: The Taycan recuperates up to 265 kW "even under the highest driving performance conditions" warns Dr. Ingo Albers, Product Line Director. This is the last seminar of the day, just a few minutes before we're taken out to the track for the applied portion of all this learning. EVs typically recharge by coasting to a stop. That is, if you remove your foot from the brake, you instantly slow to a stop with almost zero coasting. Studies showed that a lot of people hate that effect and prefer to brake with a brake. So, Taycan's engineers devised a switch called Lift-Off. In 'off' mode, it pampers those traditionalists who prefer pure coasting. You can also select Lift-Off Auto Recuperation, a safety feature. If its camera sees an obstacle, it stops the Taycan from coasting. Brillianter.
How much handling can you handle? With separate motors at the front and rear, the Taycan demanded new agility functions. Consider the number of sleeping policemen throughout most Canadian cities and the instant potholes that magically appear each winter. Sometimes the "lowest centre of gravity in the Porsche fleet" could become a problem. The lift function raises Taycan for additional ride height.
Maybe you're planning to take the Taycan to the track. Or do you know some beloved secret spot with decent tarmac, sharp curves, surprise hillocks, generous speed limits, zero traffic and even fewer police. Consider carefully before selecting Porsche Stability Management's (PSM) sport mode.
And please have a thought for those in the rear before turning PSM off altogether.