The world of F1 and sim racing intersect in a way that may surprise even those of us who played the original video games way back in the early days. I remember very clearly spending countless hours driving the various dry and wet tracks on the original Sega Genesis, racing to stay ahead of the pack in Ayrton Senna's Super Monaco GP II and hearing his voice say "Final Lap" with only a few corners to go.
Times change, of course, and today sim racing is bigger and more realistic than ever. Sponsors have also taken to this trend and one of the most active is Heineken 0.0, a long-time F1 advertising partner. With their involvement, Canadians now have a chance to pit themselves against the current F1 world champion in a competition titled Player 0.0.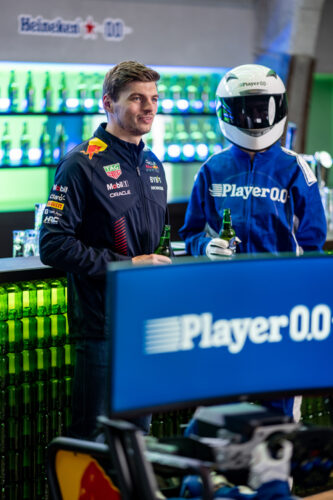 Between May 25 and June 7, 2023, Canadian sports fans and gamers are invited to compete in a national time trial on the virtual Circuit Gilles Villeneuve via the EA Sports™ F1® 22 videogame. The five top players will qualify for a trip to the Formula 1® Pirelli Grand Prix du Canada 2023 in Montréal to compete against each other live via racing simulators for the ultimate title of Canada's Player 0.0. The champion will win a trip to sim race with Max Verstappen himself in a global Player 0.0 event later this year.
"We are excited to be launching Player 0.0 in Canada and to be giving gamer fans the chance to play with the world's current best driver," said Laurent Delmouly, Managing Director for Heineken Canada. "Sim racing is changing the world of F1 as drivers themselves use it to prepare for races, and we are thrilled to be putting Canadians in the driver's seat with Player 0.0. Through this innovative platform, while advocating responsible drinking, Heineken continues to offer the best experiences to Canadian audiences." Delmouly added.
James Hall, Brand Director for the Heineken portfolio at Molson Coors states, "When it comes to Player 0.0 specifically, we're always looking to broaden our consumer base and we've known the strength of F1 for a long time now. Obviously in the last few years, that audience has exploded here in Canada. But the gaming audience is an extremely large one too. When you think about the cross-pollination between the two, and a lot of the driver's themselves, like Max Verstappen who is the ambassador of this program, and how vested he is on gaming, Twitch and that cross-pollination, we saw it as an opportunity for our company to engage a broader audience- gamers as well as the F1 audience. We have always loved the Montreal Grand Prix; it is our marquee event on the calendar and it  is a blast to experience. Engaging and bringing fans in across the country is also an important mandate for Heineken 0.0.
Canadians can participate in Player 0.0 by racing on the virtual Circuit Gilles Villeneuve via the popular EA Sports™ F1® 22 videogame and submitting their best lap time through the Player 0.0 microsite. Entrants can compete on any platform where the game is available and will be asked to upload a screenshot of their lap time to the microsite upon entry. For more information, visit the Player 0.0 microsite.