In motorsports, legendary racing events abound — Targa Floria, Mille Miglia, Indy 500 — but perhaps few have had as lasting an impact on sports-performance cars as La Carrera Panamericana.
The race's golden era lasted only five years — 1950 to 1954 — but attracted racing icons Juan Manuel Fangio and Alberto Ascari, whom Mario Andretti credits as his inspiration to enter racing. Brands such as Mercedes-Benz, Porsche, Ferrari and Maserati mounted significant efforts for the race.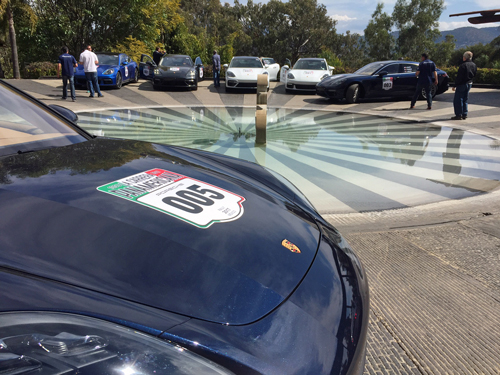 But it wasn't at Monza. It wasn't at Spa Francorchamps. It wasn't at the Nürburgring.
It was here, on regular highways south of Mexico City, held with the full support of the Mexican federal government. The roads were closed, comprising 3,293 kilometres of racing and crossing 11 Mexican states. It was considered the most dangerous race of its day.
La Carrera was one leg of the World Sports Car Championship series, after Mille Miglia, Targa Floria and The 24 Hours of Le Mans. The golden era ended after a deadly crash during the 24 Hours of Le Mans in 1955 killed 83 spectators and one driver. La Carrera was quickly cancelled by the Mexican government.
When the race was restarted 34 years later, the roads were new, but the passion was the same. The race runs each year in October, with starting and end points that can vary, but still runs about 3,300 km in length.
On this day in early January, I'm here driving one of the sections in one of the cars whose namesake is that legendary race — the 2017 Porsche Panamera. You have perhaps also heard of the other car named after the race, the 911 Carrera, in all its permutations.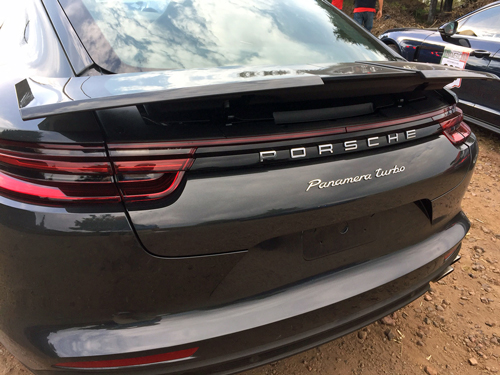 Porsche started using Carrera in 1956, on the 356, and it stuck when the 911 was born in 1963.
The Panamera is all-new for 2017, with two new engines, a new gearbox, new interior and new exterior styling.
To extend the wheelbase and enhance the coupe-like styling, the front axle has been moved forward, allowing for a longer hood and pushing the cabin farther back. The roofline and rear window profile pay homage to 911, with a similar rake and window shape. A pronounced set of shoulders at the rear, as well as a continuous lighting strip from side to side in the taillights, also tie the styling to the current 911.
Inside, the Panamera gets a sleek new dash and centre console. As is typical of Porsche, the instrument panel features the tachometer prominently in the centre. On either side, instead of actual gauges, two 7.5-inch LED displays fill in fuel level, speed, engine temperature and other parameters the driver can select.
In the centre of the dash, a massive 12.5-inch screen controls navigation, audio, climate controls, vehicle settings and Porsche Communications Management functions, such as Bluetooth handsfree. A smooth panel surrounding the gearshift lever brings out several often-used functions, such as seat heating, stability control, and temperature and fan speed switches, among others.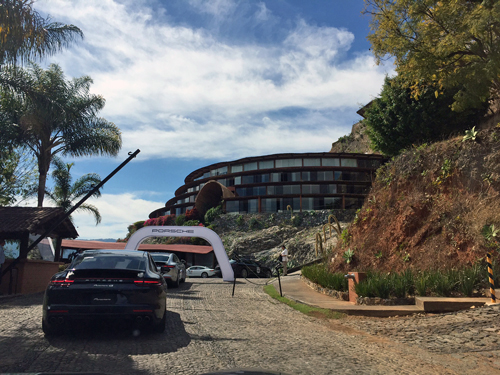 While most of the buttons are of the touch variety, Porsche has done something unique to make using touch controls easier: instead of merely touching the control, you still have to push it. The control then gives you a tiny vibration to confirm operation. What this does is allows a driver to fumble for a control without fear of activating unwanted controls. Simple touch controls demand you take your eyes off the road to make sure you're hitting the right one.
Touch controls on the 12.5-inch screen are standard, however.
Engines include a new 2.9-litre bi-turbo V-6 and a 4.0-litre bi-turbo V-8. Power is rated at 550 hp for the V-8 and 440 hp for the V-6. Torque is 567 lb-ft for the V-8 and 405 lb-ft for the V-6.
All that torque from the V-6 meant at no point did it feel lacking for acceleration. In any event, the combination of that torque and its reduced front-end weight — and leaving $53,400 in your bank account — presents a powerful argument for taking the V-6.
There is, when you hold a press launch in Mexico, a unique relationship with the local constabulary. In some way — I'm guessing financial — carmakers get the policia to overlook certain violations, such as speeding.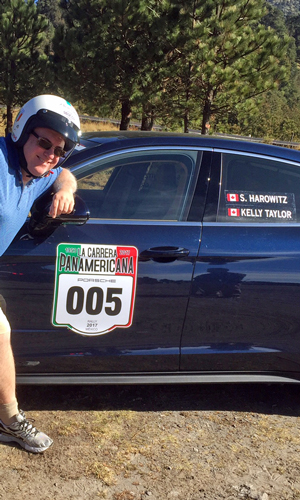 Let's just say we put that to the test, usually when conditions allowed but sometimes when they didn't. Trying to maintain a convoy — who wants to get lost in rural Mexico? — meant a few stretches at Autobahn-worthy speeds.
At 220 km/h, the car felt as stable and planted as other cars do at 100 km/h.
On Highway 10, the "raices" section of La Carrera Panamericana, police armed with AK-47 rifles shut down the road, Porsche erected a starting gate, and for 9.8 kilometres up the hill we had the road to ourselves.
The goal wasn't an all-out race, rather, it was to reproduce a "regularity" stage of a rally, where drivers attempt to match a certain target interval. In this case, seven minutes, 35 seconds. It wasn't an overly challenging target, with most drivers finding themselves on pace for five-minute runs. A winner would be the pairing that came not only closest to the target, but also to each other.
My driving partner opted not to drive her leg, so I did it twice. My time both times was 6:40. Apparently, good enough for second-place.
Our trip included a lunch stop at El Santuario, a stunning hotel spa on the shores of Lake Avandaro in the small town of Valle de Bravo. The town itself looks as though it could be ripped from the pages of a Swiss tourism brochure; the sailboats, the quality of the architecture, the mountainous terrain all remind of Lake Geneva.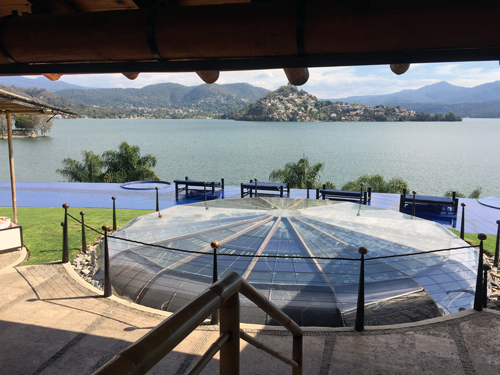 The hotel is arranged in a semi-circle, giving each room a perfect vista of the lake. Each is shaped like triangle, and each has its own infinity pool. Serenity is strictly observed.
Valle de Bravo is a favoured vacation getaway for many Mexico City residents, and is an easy two-hour drive from the capital.
I have been to Mexico six times, but this was my first time in Mexico City. Wealth in this bustling metropolis can be as visible as poverty, with BMWs and Mercedes driving past glimmering high-rises and, at times, through barrios only barely better than shanty towns.
Related links:
Porsche Canada
The Globe and Mail