Some would say it's been a long time coming; Nissan, who will go down in history as one of the first manufacturers to jump on the all-EV motoring train with the Leaf hatchback in 2010, has been resting on its laurels a bit (amidst a pretty gruesome PR fiasco involving their CEO, Carlos Ghosn) while other manufacturers have brought a variety of plug-in EV and full EV vehicles to market, a movement spearheaded by Tesla.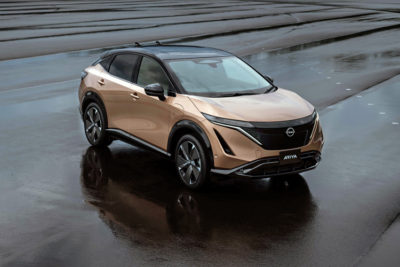 It was only a matter of time, then, until Nissan took those lessons learned by the Leaf and applied them to a vehicle that sat in that all-important segment, the crossover utility vehicle. Some thought that may occur once the new Juke arrived, but that time has since come and gone and instead we're getting this: the roughly Murano-sized Ariya all-EV crossover that gets an all-new second-gen Nissan EV platform. Indeed, it's imperative that Nissan build their EV portfolio because they are expecting to sell over 1-million EV and e-POWER (Nissan speak for "hybrid") models a year by the end of fiscal year 2023. That's a pretty lofty goal, considering that right now, the only available Nissans with this tech are the Leaf (which has sold 470,000 units to date worldwide), and Japan-only Note e-POWER. So, the Ariya – along with the 10 new models Nissan says it's releasing over the next 20 months — already have their work cut out.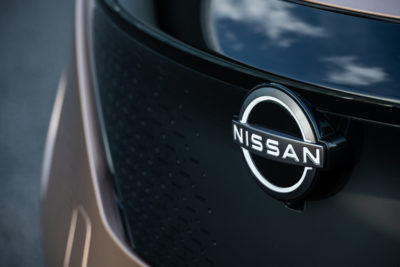 That may seem like some slightly cursory information, but it's actually a very real aspect of the Nissan NEXT transformation initiative four-year plan, a main pillar of which is a newfound commitment to EV motoring. That joins other aspects such as streamlining production, reducing the global line-up by 20 per cent and more sharing of technologies among alliance partners Mitsubishi and Renault. The modernized Nissan logo on the Ariya's snout speaks to this "New Nissan", and it will be gracing all their models going forward. "Our new logo is futuristic while sticking to the rich heritage of Nissan," said Makoto Uchida, CEO of Nissan Motor Company Limited.
Nissan is saying the Ariya is good for "roughly" 482 km – when we're talking EV range, always better to be safe than sorry – thanks to either a single 65 kwh or 90 kwh battery on the front-wheel-drive model, and dual 65/90 kwh batteries for the all-wheel-drive model. The motor even has the name, and we're not making this up: Eternally Excited Synchronous Motor. OK, then.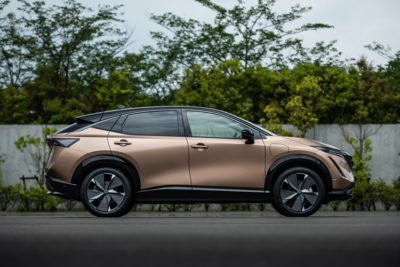 What is understandably exciting, however, is the fact that the Ariya can perform the 0-100 km/h sprint in 5.1 seconds, depending on spec. That's some pretty impressive performance for a non-performance crossover, rivaling that of the 370Z sports car.
Don't let the strange nomenclature distract from the fact that the Ariya is a special-looking thing. Indeed, even I was skeptical when I saw the Ariya concept at the Tokyo Auto Show; there was no way it could make production looking anything like it did then but sure enough, it has, and I'm having a hard time thinking of any other production vehicle out there that looks quite as futuristic as this.
While the Ariya gets a version of the trademark Nissan V-Motion grille, it looks like little else the brand offers in that the DRLs actually make up each side of the "V". That's impressive, as is the completely grille-less front end (less cooling is required since it's an EV) that makes it so all the gear needed for the Pro Pilot 2.0 autonomous tech can be easily hidden.
The most notable detail surrounds the wheels, which are blade-like things built for better aerodynamics in keeping with the rest of the Ariya's slippery shape.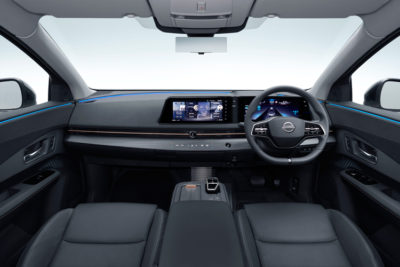 The interior design, apparently, recalls a "café lounge on a starship" to quote Nissan directly. That's a bit strange, because I've never been on a starship and chances are, dear reader, neither have you or those that designed the Ariya. In more practical terms, the lack of a driveline means a fully-flat floor and the ability to jam certain elements – like the climate control components – under the hood for even more cabin space. To make things in the already quiet cabin (it's an EV, remember) even quieter, Nissan has gone to great lengths with sound deadening materials and so forth.
If the profile is a little Tesla-like, then so is the instrument panel which contains zero buttons or switches. Instead, haptic switches mounted to the dash are on-hand for most of your non-driving-related needs. Also allowed by the low-profile cabin is a sliding centre console with slide-out tray that can be adjusted to turn the Ariya into a mobile office.
Speaking of sliding: the wavy, all-digital gauge cluster can be modified by occupants, and information can be "slid" between the display in front of the driver, and that atop the centre console. This is not pie in the sky stuff; this is production-ready stuff and it gets increasingly harder to believe the more you look into it.
Speaking of pie-in-the-sky: here comes Pro Pilot 2.0 driver assist tech with hands-off mode, that essentially allows the car to do all the work on certain divided highways, though it will monitor driver attention to ensure that they haven't literally fallen asleep at the wheel, or are about to.
According to Nissan, the final piece of the puzzle in this automotive age is the ability for a car to "connect" with the world around it. In that light, Nissan has employed Amazon's Alexa system to connect your car with your smart home; you can ask the Ariya – through Alexa – to turn on your lights, and it will do so. There's of course a companion app with the Ariya that allows you to check your charge status, plan your routes with charging stations in mind and so on.
The Ariya is a bold step for Nissan. To bring a car to market looking almost exactly as it did in concept form is one thing, but asking it to spearhead an entire brand transition is quite another. All the "space café" and "Excited Motor" mumbo jumbo aside, the Ariya really is a spectacular-looking thing and if it performs as Nissan says it will, it's safe to say that Nissan NEXT has gotten off to a strong start.
We'll have to wait until late next year to know for sure, though, as the Ariya won't go on sale in North America until late 2021. It is going to go on sale looking like this, though, and that is quite the feat achieved for the pride of Yokohama, Japan.