Mercedes-Benz has just pulled the wraps from their all-new, entry-level electric vehicle. Dubbed the EQA 250, this compact crossover is the all-electric take on MB's successful GLA platform and, while I've never been particularly partial to the GLA, I must say the EQA 250 is a handsome machine.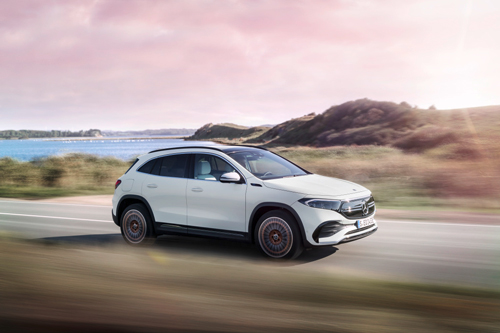 Its silhouette has been aerodynamically shaped via digital experimentation and yields a coefficient of drag that sits at 0.28. For reference, the A-Class sedan is one of the slipperiest shapes on market with a CD of 0.22. Add to that shape an arctic white paint job, a piano-blacked-out grill and those stunning bronze wheels and it's a distinctive and attractive package. Surprisingly, images of the AMG Line trim-level don't pack the same punch. At least not in my eyes.
Powered by a 140 kW, asynchronous motor that draws its juice from a "double decker" stack of lithium-ion batteries that have been mounted as a structural member, the EQA puts down 375 Nm of torque. That means this front-wheel-drive CUV will hit the century mark in about 8.9 seconds and, since its speed is capped at 160 km/h, it certainly won't set your hair on fire. Of course, that's not the point here though.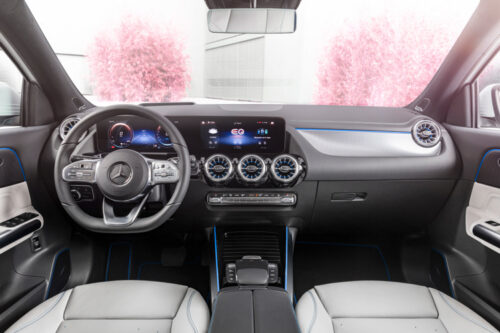 The EQA is meant to be an eco-friendly daily-driver: those batteries are good for a claimed 66.5 kWh which means a range estimate of just under 500 kms. Charging times are impressive too. Plugged into a DC rapid-charge unit, the EQA can hit the 80% level in 30-minutes or, if charging at home with a DC line boasting 11 kW (essentially a Level 2 Charging Station), five and three-quarter hours are needed.
Unfortunately, as of now, the EQA isn't slated for North American shores. While that's certainly not what we'd like to read, my guess is it will eventually find its way to us. Although I'm thinking it will materialize in a higher-spec, AWD format to ensure success in our wintery climate and to compete more directly with offerings from Audi and BMW… Stay tuned!