Audiophiles on the go are no doubt familiar with Master & Dynamic. The New York based company is renowned for combining a clean, industrial look with rich, warm sound in their over-the-ear headphones. I'll admit that I've ogled longingly at their offerings more than a few times. The nod to vintage aviator headsets and their use of metal and leather creates a gorgeous, minimalist aesthetic that fits with my mid-century modern mindset.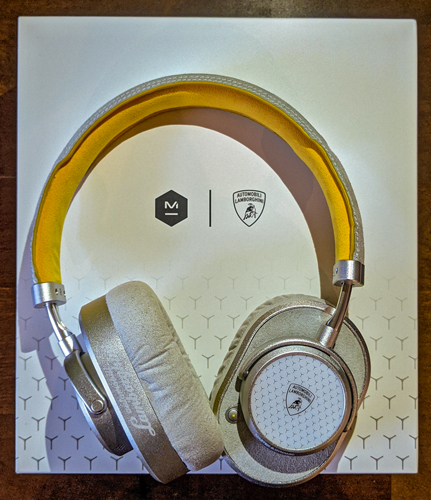 However, the pair that I'm listening to right now eschew some of those vintage charms in favour of a petrolhead's bent — specifically those of the Italian persuasion. The MW65 Automobili Lamborghini is the latest in a growing line of co-branded variants of Master & Dynamic's Active Noise-Cancelling headphones. Supple leather has been swapped for soft, suede-like Alcantara. There are bright yellow accents covering both the 40mm beryllium drivers and lining the headband. Oh, and Feruccio Lamborghini's iconic raging bull adorns the side of each can and they feel every bit as exquisite as they look.
Each can is hinged and suspended from a telescoping, anodized aluminum stem that is easily adjusted for size. The replaceable, Alcantara clad ear cups are padded with memory foam, providing a soft and comfortable fit. The underside of the headband is also plush yet moldable allowing for a custom-cranial fit and, at a mere 245g, they are extremely light.
That lightness was appreciated given that a good chunk of my time with these headphones was spent on the move. Sadly, on the move in this instance didn't mean jetsetting to international destinations, so I won't be able to comment on the specifics of in-flight performance, however when used exercising these headphones are stellar. Unlike a previous pair of over-ear cans, I've worked up a sweat with, the MW65 Automobili Lamborghini didn't overheat my ears in the process. I'm guessing the use of Alcantara on the cup padding helped this situation as it's more breathable than leather (or vinyl in my other can's case) and does a better job of keeping things planted, even during vigorous movements.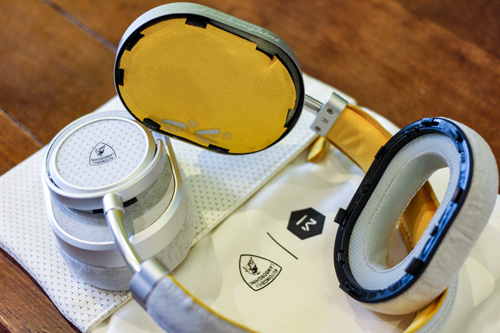 During less strenuous activities like fielding Zoom calls, Teams Meetings or just zoning out to movies or music the MW65s performed equally admirably. Typically, I need a break from headphones after a 90-120mins of use but I didn't suffer the same "can-fatigue" with these.
Sound quality is excellent. The 40mm beryllium drivers produce an immersive sonic experience. These aren't as bass-heavy as a set of Beats nor as peaky as something from Sennheiser but find a Goldilocks-like balance somewhere in between. My musical tastes run the gamut from Aesop Rock to Ziggy Stardust and no style or genre appeared to suffer from M&D's reproduction recipe. Everything sounded warm, tonally correct and precise.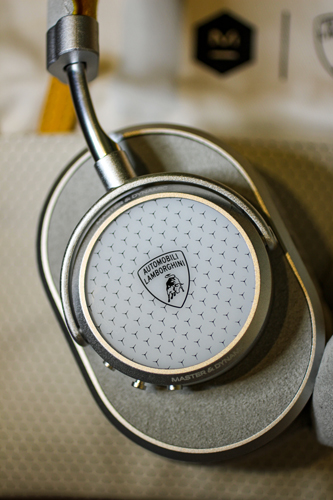 Pairing the MW65s was quick and easy. Just slide the power switch up for an extended second and boom, my Pixel found its mate. Powered by Bluetooth 5.0, the wireless range is an incredible 30+ metres and, thanks to AptX and SBC codec support, audio quality isn't lost in the aether. I did notice that, when wired via the provided 3.5mm connection, there was a bit more oomph to the sound — especially when listening to vinyl — but for most of us, playing sonically compromised mp3 files through a phone, it's not a big enough difference to complain about. The MW65s are also optimized to work seamlessly with Google Assistant, which they did, announcing and reading texts on-the-fly and responding well to my commands and replies.
Additionally, set-up for working-from-home use was a cinch, too. The MW65's paired easily with both my Mac and PC to make Zoom and Teams meetings a comfortable affair. The integrated microphone worked clearly and with the active noise cancelling (ANC) turned on to its "low" setting I could still hear external interruptions made by my dog, the mailman or my dog barking at the mailman.
Credit the hybrid technology employed here, which uses both a "feed-forward" (external microphones) and "feed-back" (internal microphones) system to quell ambient noise and deliver cans of blissful silence. In the "low" ANC setting, only the feed-back system is employed, so some external noise is still apparent. I appreciated this aspect when running around in my neighbourhood as I could still hear vehicles approaching. The "high" setting adds the additional silence offered by the feed-forward system and would be my go-to for airline travel. I tried it out to watch a movie while my wife was meal prepping in our kitchen, a mere ten feet away, and can report that most distractions, save some aggressive chopping, simply disappeared.
At $796 the MW65 Automobili Lamborghini are certainly a spendy set of headphones but they do well to earn one of the top spots in a premium category. Sound quality is excellent, the ANC feature is spot on and battery life is an impressive 24-hours. For reference, Apple's new AirPods Max ring in at $779, boast a similar hybrid ANC system and other comparable features but weigh in nearly 150g heavier and aren't nearly as attractive. Oh, and you won't find any raging bulls adorning them, either.
Links: MW65 Automobili Lamborghini