Land Rover announced that the Range Rover Sport will be available with plug-in hybrid technology as of 2019. Based off the model's renewed design coming next year, the Range Rover Sport P400e is the first model from the group's lineup to receive an electric motor, and not too soon.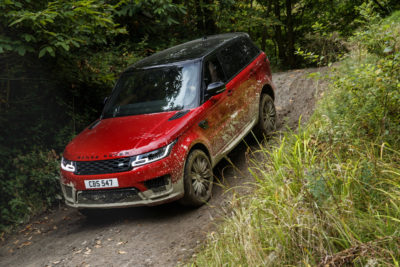 The announcement overshadows that of the model's upgrade coming the previous year in 2018. The maker promises important design and technological updates on their luxury SUV, including a new infotainment system. Can I get an Amen!
The most notable modifications coming next year are the  Tron-like LED headlights framing a new mesh grille.
It will, however, retain its signature upward tail silhouette. The most exciting change is undeniably the new Touch Pro Duo infotainment system that will be displayed on two – not one – HD, 10-inch touchscreens, elegantly integrated into the sleek and minimalistic dashboard.
The vehicle also receives a familiar-not-so-familiar technology: motion-activated function. In this case, it will be possible to open the roof's sunblind with the swipe of a hand. Not quite BMW's hand gesture controls that make you look like you are conducting the Toronto Symphonic Orchestra yet, but it's getting there. A rearward swipe motion in front of the rear-view mirror will let the sunshine in.
Under the hood, the Range Rover Sport is offered with a selection of powertrains that includes a supercharged 3.0L V6 producing 340 hp for the entry-level models – 380 hp if you opt for the Dynamic version, a supercharged V8 producing 518 hp and an increase 575 hp in the top-of-the-line SVR version, as well as a 3.0L V6 turbocharged diesel engine. 
In 2019, Land Rover will test the waters with its new hybrid technology with the 2019 Range Rover Sport P400e. It will feature a 2.0L, four-cylinder turbocharged block teamed with a 85 kWh electric motor, for a total output of 398 hp and 472 lb-ft of torque.
The driver will be in control of how much of a hybrid the vehicle will behave like using the Parallel Hybrid mode that combines both the gasoline engine and electric motor, or the all-electric mode. On a full charge, the vehicle is expected to offer a 50-kilometer range.
Pricing will start at $78,800 for the Range Rover Sport SE and will hit the showrooms at the beginning of 2018. The price tag on the PHEV version has yet to be announced.