I've been driving around in the all-new Land Rover Defender this week. You probably already know that it's a well-designed and very capable machine. But with every kilometre I log, I can't help but wonder if its luxurious appointments make it somehow "less" than a real Defender. Trust that I'll have more to report on this and everything else about that brute in the coming days, with a full review. But in the interim, for nostalgists and purists alike, we have this: Land Rover Classic is building a limited run of Camel Trophy inspired V8 Defenders, and they look to be properly phenomenal.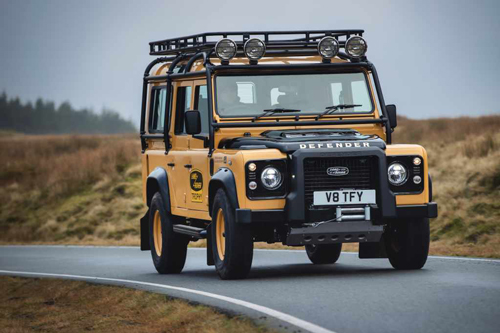 Land Rover Classic is the British marque's "Q-branch", so to speak. Their team of engineers and mechanics are tasked with recreating classics from the brands archives, like the Range Rover and Series I, while also developing new-hotness from old metal. Masters of resto-mod, the Defender Works Series began in 2018 and is famed for equipping restored Defenders with modern running gear that includes a 400 horsepower, 5.0L V8 engine.
The Defender Works V8 Trophy is available in both 90 and 110 variants, but only twenty-five examples in total will be built. Regardless of wagon choice, each example "will be sourced, assembled and remastered by our specialist Land Rover Classic team" and will be coated in the iconic Eastnor Yellow. And it's in that remastering where the magic truly happens.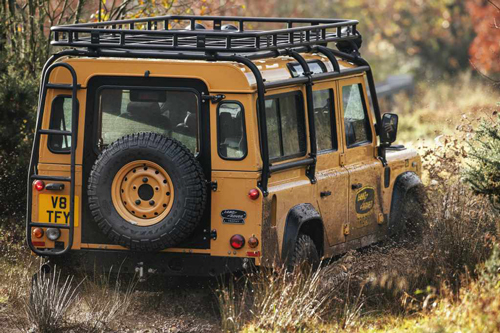 Firstly, that aforementioned V8 churns out 405 lb-ft of stump-pulling grunt and is paired to a modern 8-speed, ZF automatic transmission. Brakes and suspension are all upgraded as well and each unit has an integrated "expedition cage", roof rack, winch, snorkel, spotlights and a plethora of underbody protection: essentially every overlanding farkle you could need.
The interior stays true to the roots of the donor wagon but does treat occupants to a nicer set of seats. Recaros have been fitted up front, and everything is finished in black Windsor Leather with yellow contrast stitching. The shifter is a modern "pistol grip" lever unit, however, I'm happy to note that there is no touchscreen, rather buttons aplenty and the manual transfer-case shifter carries over.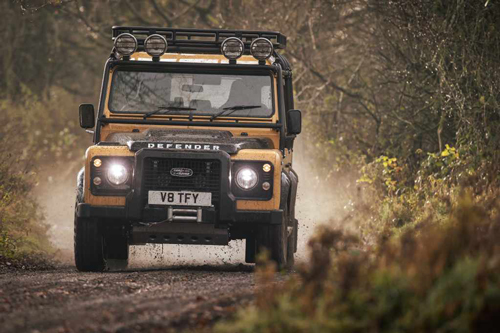 All of this meticulous attention to detail does come at a cost though. A 90-series Defender Works V8 Trophy will run around $267,000 (USD) and you'll have to reside in the UK, Europe, the Middle-East, Africa or Oceania, to take ownership. So much like the example it is based off of, this is a tasty bit of forbidden fruit. However, if you're a well-heeled puddle-jumper with an address abroad, you'll be pleased to know that with ownership comes the opportunity to get properly dirty. Land Rover will be inviting all owners to a three-day adventure competition at Eastnor Castle, in Hereford, where Camel Trophy winner Bob Ives and stunt driver Jessica Hawkins will be available to teach some techniques to avoid completely thrashing your quarter-million dollar toy.
Links: https://www.landrover.com/explore-land-rover/land-rover-classic/defender-works-v8-trophy.html