This year marks the 70th year of Land Rover production.
Over the years, the venerable friend of the adventurer and partner to the services, has evolved into a benchmark-setting brand unmatched in its ability to combine off-road endurance with elegant luxury; both measuring far beyond the wildest dreams of its forefathers.
Featuring aluminum bodies and rugged personalities, early Land Rovers took the "Jeep" concept to a new level, adding greater practicality and capability. Continents with few roads were criss-crossed by Land Rovers throughout the British Commonwealth.
Today, Land Rovers continue to transport occupants to remote hardscrabble locations, but those occupants now enjoy civility far beyond the imaginations of early explorers. As a former Land Rover owner, I can attest to the rugged soul of these vehicles – and to their quirkiness.
My Series II Land Rover Discovery – finished in wheat with a biscuit interior – was not the reliable machine I naively hoped it would be, but it was an endearing "go anywhere" vehicle all the same.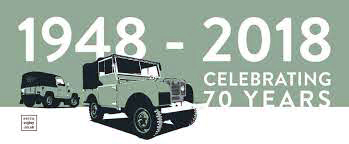 Despite owning several 4WD SUVs since, I've never grown fond of them with the same "part of the family" emotion that glued me to the Disco. It's hard to put the feelings into words of logic, but Land Rover owners will know what I mean.
Land Rover produced a commemorative video to celebrate its 70th. I think the hosts and the footage of new and old Land Rovers, doing what they do best, more effectively conveys the love we have for this bastion of the British engineering and ingenuity. Have a look: