Operating in more than 350 American cities, Lyft is the fastest growing ride-share program in the United States. Hoping to share a lift into the future of city transportation, InMotion Ventures – Jaguar Land Rover's mobility services business – just invested US $25m into Lyft.
So why would the UK's manufacturer of premium cars and SUVs want a piece of the ride-share action across the pond? Seems it will provide them with the ability to conduct real-life testing of their own mobility services, including that of autonomous vehicles.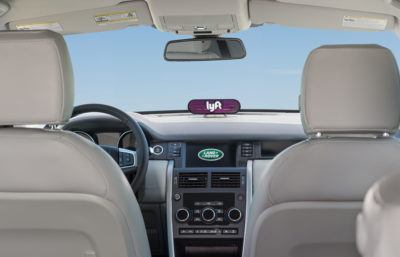 Lyft's extensive infrastructure will also enable InMotion to collaborate on technology and innovation, and conduct wide-scale evaluation of new products without reinventing the "shared" wheel.
The deal includes a fleet of Jaguar Land Rover products to woo Lyft customers, which will undoubtedly seat a lot of well-stocked wallets in Connolly leather through Lyft's Premier and Lux high-end ride-share services.
"We're excited to join forces with Jaguar Land Rover and InMotion," said Lyft president and co-founder John Zimmer. "Lyft envisions a future where shared mobility will transform cities and improve people's lives. This partnership will help us achieve that ambitious goal."
Whether that goal includes Cities north of the 49th anytime soon is unclear. For now, Canucks will make due with Uber, where permitted, or the glory of public transit or taxi services, neither of which in my city include hides by Connolly. A bloody shame really.