After the successful introduction last year of the devilish Jaguar F-Type SVR from JLR's Special Vehicle Operations, the time has come for a little excitement with all-wheel drive capacity. 
Ahead of the New York Auto Show opening up on March 28th, Jaguar unveiled the new F-Pace SVR.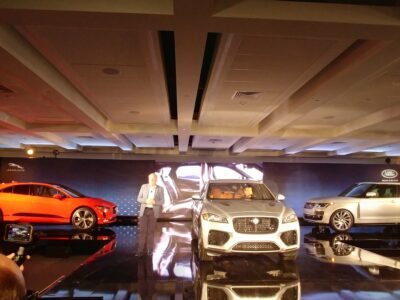 The super-SUV will sport the same powertrain as its two-door coupe counterpart, a 5.0-liter, supercharged V8 engine producing 550 horsepower and 502 lb-ft of torque. Jaguar's biggest market engine will allow the otherwise tamed F-Pace to reach 0 to 100 in 4.3 seconds. 
And if you're ever lucky enough to put the newest SVR model to the test say on a salt flat or on the track, it will reach a top speed of 283 km/h. 
The supercharged powertrain is teamed with the same SportShift gear selector found in the F-Type which also adds swanky aluminum paddle shifters.
The SVR package will include trim-specific hood vents, front fenders, front and rear bumpers, a rear spoiler as well as a choice of lightweight 21 or 22-inch wheels. 
Should you want to enjoy the V8's full range of octaves, a special exhaust fitted with a variable valve system will allow you to adjust how loud you want to be heard. This upgraded exhausted system, specific to the model, also relieves the vehicle of almost 7 kg compared to the standard F-Pace.  
Even the all-wheel drive system receives some performance-oriented upgrades thanks to an optimized Intelligent Driveline Dynamics control technology. The F-Pace SVR also receives an adaptive suspension, electronic power assist, and a dynamic drive mode, all tuned specifically for the model.
Pricing will start at $89,900 for the Canadian market and will be available starting in the summer of 2018.