Reason #19 to Go Electric.
Last Wednesday, Electrify Canada announced it would provide free juice to drivers of a 2020 Volkswagen e-Golf from its electric vehicle (EV) charging stations.
Just bought a used Chevy Bolt and wondering why you're not suckling complimentarily from the electro-pumps too? Sink into the details and it starts to make sense.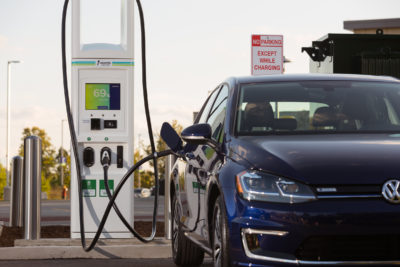 Quiet as they've been the past few years, you've heard of VW, but who's Electrify Canada? Created in July 2018, they're a partnership between Electrify USA and VW Canada, formed to build some of the infrastructure — aka 'gas' stations for EVs — that the would-be future needs.
There's actually an impressive amount of cooperation among EV manufacturers, gradually growing the grid for EVs. Pierre Boutin, CEO of Volkswagen Canada said in the press release, "We are positioning Volkswagen Canada to play a significant role as the auto industry moves forward with more electrified vehicles".
But the chumminess has to stop somewhere. This news of free electricity for e-Golfs is VW contributing to the infrastructure, while looking after its customers and itself.
Here's how it works. Buy a 2020 e-Golf and you can enroll in a charging plan, using Electrify Canada's mobile app, which you'd operate from your smartphone. From the app, you plan and redeem your car's 30-minute juicings.
What's the catch? Well, beyond having to purchase an e-Golf, there doesn't appear to be one.
How far can you get on 30 minutes? A high-speed charging station will juice an EV to 80% (the final 20% takes proportionally longer because you don't want the whole thing to explode and end in tears).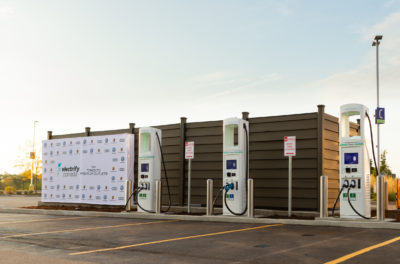 Where can you find one these stations? Check the app on your smartphone. Electrify Canada intends to open 32 more stations in Canada by the end this year — which would bring its total to 128.
The drive from one end of Canada, say, St. John's NL, to the other, Tsawwassen BC, is over 7,000km, averaging one Electrify Canada charging pillar for every 55km. However, the stations aren't spread out like that.
You can probably plan a cross-country trip in your 2020 e-Golf next year without paying for 'fuel'. Just be sure to keep your smartphone plugged in and plan carefully.