Although battery electric technology is the darling of the automotive world at present, Hyundai is doubling down on another option. It presented Hydrogen Vision 2040 on Monday, a strategy to popularize the alternative energy source over the next two decades.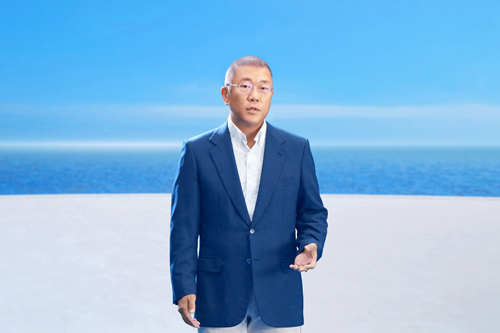 "Hyundai Motor Group's vision is to apply hydrogen energy in all areas of life and industry such as our homes, work-places and factories. The goal is to make hydrogen readily used for everyone, everything, and everywhere," says group chairman Chung during the online global forum. "We want to offer practical solutions for the sustainable development of humanity and with these breakthroughs, we aim to help foster a worldwide Hydrogen Society by 2040."
Having already been a pioneer in the fuel cell EV space — taking first steps towards mass production via the launch of the Tucson FCEV in 2013, the NEXO SUV in 2018 and most recently the XCIENT Fuel Cell heavy duty truck last year — the manufacturer is already thinking ahead.
Leveraging advances in R&D and economies of scale, the upcoming third-generation fuel cell stack will come in two varieties: a 100-kilowatt version packaged 30 per cent smaller than the current equivalent, making it easier to accommodate different platforms, and a 200-kilowatt commercial vehicle variant, which has a similar footprint to what is powering the NEXO now however doubled in output.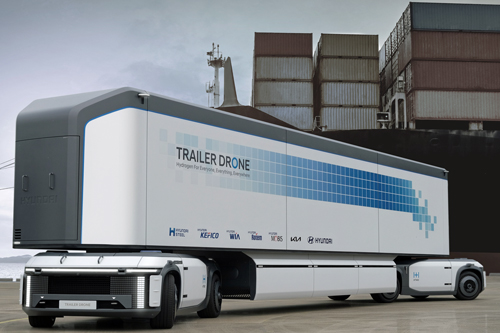 Created with modularity in mind, through what the company calls a "Power Unit Module" the above stacks can be combined to serve as emergency backups for larger scale non-automobile applications like ships or IT centres.
Hyundai also presented a number of other potential usage cases for the tech including:
Trailer Drone — an autonomous container transportation system capable of traveling 1,000 kilometres on a single charge.
Fuel Cell e-Bogie — the name is inspired by the rail industry, where a bogie refers to the wheel sub frame mounted under every train car. The e-bogie is a fuel cell-propelled independent four-wheel steering unit that when installed to the Trailer Drone, for example, can help it manoeuvre adeptly through light urban environments.
Vision FK — this hydrogen-meets-plug-in-hybrid sports car boasts a maximum output in excess of 500-kilowatts, and can go from 0 to 100 km/h in under four seconds with a maximum range of over 600 kilometers.
Rescue Drone — Featuring remote or autonomous control the rescue drone can operate on land, utilizing the Fuel Cell e-Bogie, or in the air to fight fires or save lives.
H Moving Station — a mobile hydrogen refueling facility.
Rescue Hydrogen Generator Vehicle (RHGV) — designed to provide portable electric vehicle charging, up to 320 volts, in remote, off-road areas.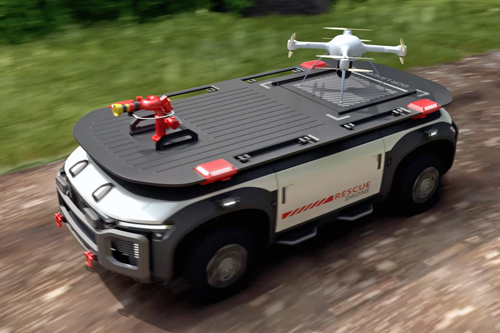 By 2040 Hyundai hopes hydrogen energy will be widespread to a multitude of industries and sectors. In the more immediate future, a focus is being placed on commercial vehicles that produce higher amounts of CO2 than their passenger equivalents, and as such the automaker is set to launch a variety of fuel cell offerings from busses to trucks by 2028.
"The degree and frequency of environmental disasters is rising fast and we now face a code red warning for humanity," says Chung. "The group seeks to offer powerful and pragmatic solutions for combatting climate change via the tremendous potential of hydrogen energy."