Hydrogen is coming to Quebec City at a station at 5101 Boulevard Wilfrid-Hamel. The first of its kind in the province.
The city's first hydrogen refuelling station has been unveiled by the federal minister of energy and natural resources, Pierre Morneau and mayor Regis Labeaume. It's part of Toyota Canada's test bench which plans to deliver 50 Mirai vehicles by the end of the year.
The station will be equipped with an electrolyser which allows on-site production of clean hydrogen by electrolysis of water, a process based entirely on electricity.
The first "multi-energy" service station, which is owned by Harnois Groupe petrolier, will offer motorists electricity, hydrogen and conventional fuels at the same point of sale.
The station will have two electric charging terminals from Hydro-Quebec's The Electric Circuit along with a hydrogen refuelling station built by Hydrogenics, a firm which specializes in design, manufacture and installation of hydrogen production systems.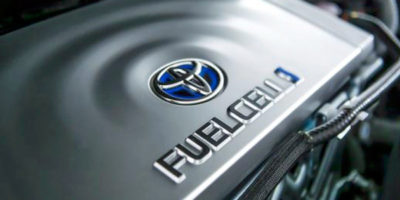 The $5.2 million project, which will receive $2.9 million in government funding, will produce up to 200 kg of hydrogen per day.
"Hydrogen must be seen as a subject of interest for the next steps of transportation electrification in an energy transition context," says Morneau. "To implement efficient measures tomorrow, we must take an interest in it today."
"For a long time, Quebec City has supported new types of sustainable transportation solutions, particularly electric and hybrid cars, which are quietly reaching their mass adoption phase," says Labeaume adding that this first hydrogen station is another major step "to favour ecological and sustainable mobility in Quebec City."
In January this year at the Montreal Auto Show, Morneau and Toyota Canada's Martin Gilbert announced the arrival in Quebec of 50 Mirai hydrogen fuel cell sedans by the end of 2018.
In March, the Quebec government announced a total investment of $17.2 million to support the hydrogen industry.