Tt wasn't long ago that some eagle-eyed observers spotted a strange sight at Genesis Canada HQ in Vaughn, ON: a barely camouflaged G80 sedan, plugged in to a freestanding EV battery charging station.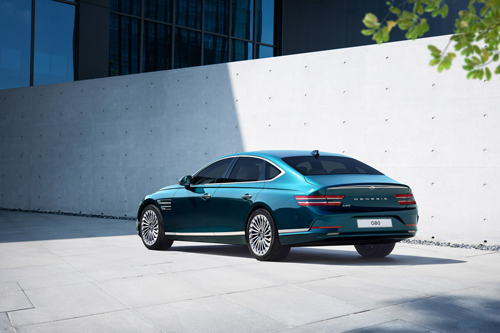 Fast-forward a couple of months (and a few thousand kilometres), it's all come full circle as Hyundai's luxury division has now fully taken the wraps off its first-ever fully battery-electric model, the Electrified G80, at the Shanghai Auto Show. Yes, the "E" in "Electrified" is capitalized because as of right now, that is the car's official name.
The manufacturer is claiming a range of over 500 km, and that's based on what they expect to receive from stringent North American EV range testing regulations.
Range is one thing, but the other side of that coin revolves around charge times and Genesis is saying that the G80 Electrified can plug in to a 350 kw charger and go from 10 per cent to 80 per cent charge in just 22 minutes. In addition to that, the Electrified can act as a generator itself as 3.6 kw of power can be delivered from the vehicle to various power tools etcetera.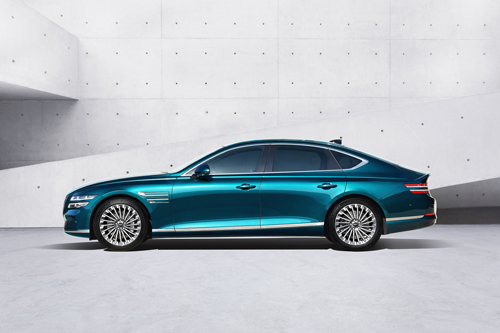 Power can be sent to all four wheels or just two thanks to what Genesis is calling a "Disconnect Actuator System" that can disconnect the motor and driveshaft based on driving conditions.
When it comes to exterior styling, not much has changed in the switch to "Electrified" status and if we're honest, that's not all that surprising as the G80 was already a pretty futuristic-looking thing. There are some new wheels and extra chrome bits but what is strange is that the G80's massive grille – already a source of some contention – seems even more superfluous now that being an EV, the Electrified doesn't need that much cooling up front. Good job they've decide to stick the charge cable there; having it at the front of the vehicle as opposed to on one of the sides makes it easier to line up with chargers in almost any alignment.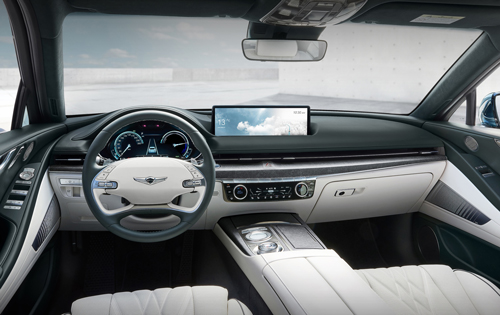 Inside, it's more of the same in that, well, it's more of the same; you've still got the massive 14" widescreen infotainment display, glass- and aluminum-trimmed switchgear (including the iPod-esque infotainment control wheel) and diamond-print stitching. The newest add is actually unseen; the seats, dash and rear armrest are all fabricated from recycled materials.
Complimenting the luxurious environs is how quiet Genesis is saying the Electrified will be; already, there's no engine noise but in order to combat wind and road noises, a specially-developed audio system actually sends frequencies into the cockpit to neutralize the nose frequencies coming in to the car for a much more silent ride.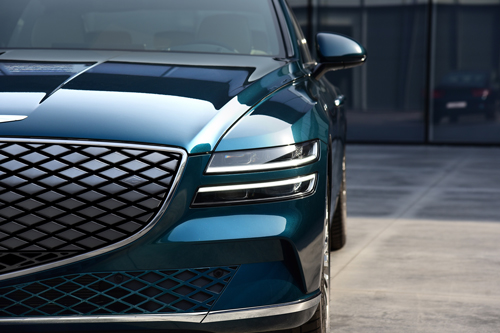 While the G80 Electrified is a production vehicle and not a concept, Genesis is being coy on model year and its arrival in Canada. Watch this space for all updates regarding Genesis first step on its road to electrification.