Genesis Brand: A Threefold Approach To Electrification
The program was rather straightforward. Genesis flew Vicarious down to New York City with a mission to have journalists and content creators drive its entire lineup of electric vehicles down to Philadelphia. The goal? Have us savour its three distinct electrified models in urban and rural settings. Little did I know that I would end up discovering three different approaches to electrification, further enforcing Genesis' devotion to zero-emission motoring.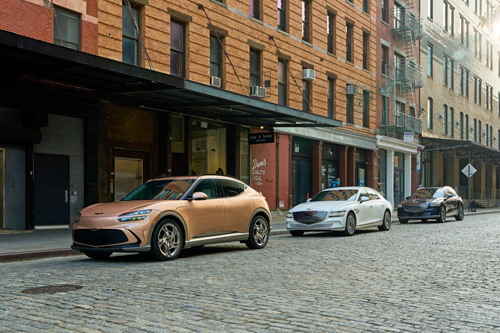 Choose Your Electric Passion
While some luxury brands are still struggling to release their first viable electric vehicle (EV), Genesis has been very busy multiplying its battery powered models. All in a very short time lapse too. Backtrack just three years ago, and Hyundai's luxury division was only selling three sedans. Today, it not only boasts a full lineup of SUVs, but sells not one, but three EVs, all residing within different segments. Meanwhile, Infiniti, one of Genesis' main rivals, a carmaker that's directly linked to Nissan – a pioneer in EV propulsion – still has no EV to offer.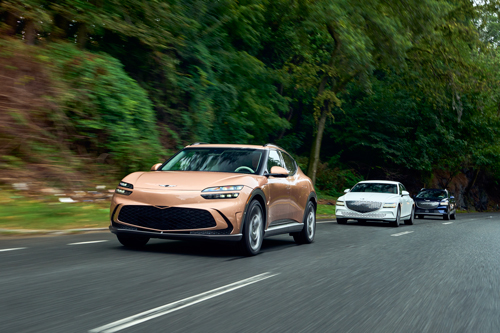 What's even more interesting about Genesis' approach to electrification is that it does it with a lot more creativity than most carmakers. For instance, while the GV60 relies on the Korean automaker's dedicated EV architecture, the E-GMP platform which also underpins the Hyundai IONIQ 5 and 6 as well as the Kia EV6 and upcoming EV9, the Electrified GV70 and G80, on the other hand, are internal combustion engine (ICE) vehicles that were converted to EVs. This in turn allows Genesis to give birth to a trio of completely different EVs, with very different missions.
Of course, driving programs such as the one Genesis had prepared for us don't generally allow us to really test out a vehicle the way we'd like to. These events are always way too controlled by the car maker, preventing us from performing any significant range or energy consumption tests. Plus, since we started the roadtrip with one car in New York and finished it with another in Philly, none of the vehicles we drove could be tested on equal terms.
But the roadtrip did allow me to distinguish key elements between each model. So here goes.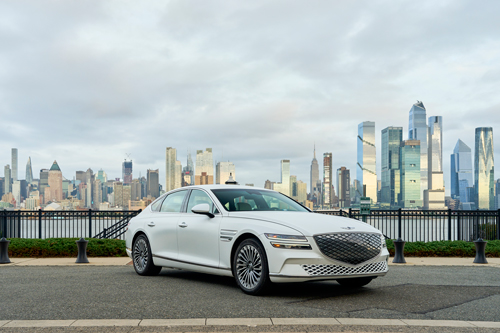 G80 Electrified: The Efficient Limousine
I began the route from NYC behind the wheel of the G80 electrified. I figured that since it was the most comfortable car there and arguably the quietest inside, it would be a wonderful machine in which to escape New York's loud and busy streets.
It was also the only EV within Genesis' lineup that I still hadn't driven, so I was genuinely curious to see how it faired versus its gasoline-fed alternative.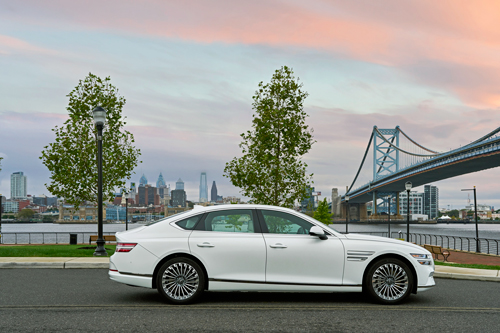 The immediate observation when sitting inside the Electrified G80's beautifully designed cabin is how high its floor is compared to the regular car. That's the inevitable outcome of transforming an ICE vehicle into an EV. Riding on the Hyundai group's M3 architecture, which allows vehicles to be assembled with both gasoline and electric powertrains in mind, the Electrified G80 is powered by an 87.2-kWh (usable) liquid-cooled lithium-ion battery pack, fitted underneath its floor. This therefore explains why the floor had to be lifted to yield more space. Remember, the G80 is not an SUV. It's lower to the ground. It's a compromise Genesis couldn't really work around, unless it jacked up the car's suspension, in which case it would downright ruin the G80's elegant design.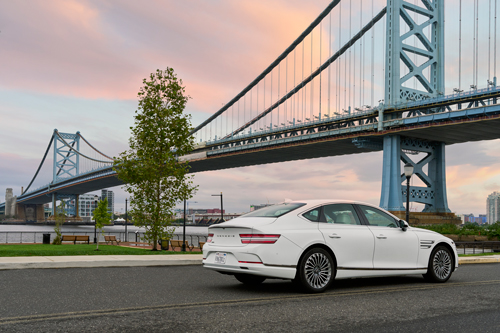 What's ever more interesting about this car is that it's the only EV within the entire Hyundai group to be powered by a battery of this capacity. All other Hyundai/Kia/Genesis models don't go any higher than the 77.4 kWh threshold. According to Genesis, this was done to maximize the G80's range and carry over the effortlessness luxury sedans are known for.
That battery therefore powers two electric motors – one installed on each axle – for a total combined output of 272 kW or the equivalent of 365 horsepower and 516 pound-feet of torque. According to Natural Resources Canada, it'll cover 454 km on a single charge.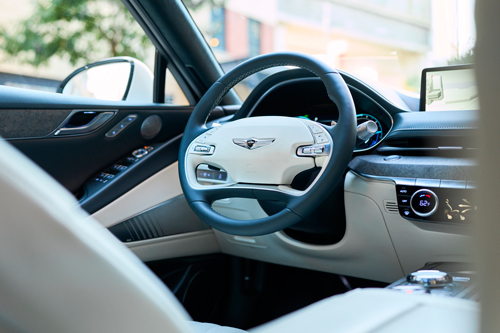 So, except from that high floor that made the G80 feel like a Toyota Tacoma due to my legs being awkwardly bent, the ride and handling in this sedan was supreme. As a matter of fact, I reckoned the G80 was an even better luxury sedan in EV form due to how quiet and smooth it is all the time. Punch the accelerator pedal and, in typical EV fashion, it swooshes forward without hesitation, further enforcing the casual nature of this executive machine.
I ended up the first leg of the roadtrip (111 km) with an impressive 16.4 kWh/100 km consumption average. This translated to a real-world range figure of 531 km, a considerably higher figure than what Genesis advertises. As a matter of fact, the Electrified G80 proved to be the most efficient EV of the group.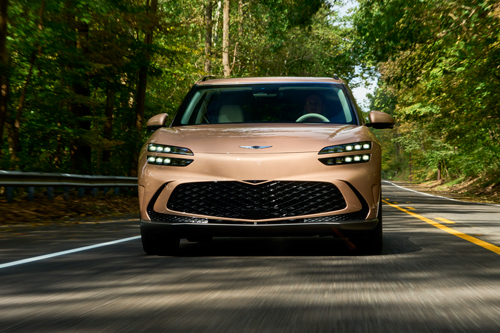 GV60: The Punchy Little Pokémon
I then hopped into the GV60, Genesis' first-ever fully dedicated EV. This means that it's not offered in gasoline form and was designed from the ground up to be an electric vehicle. It's also basically a mechanical clone to the Hyundai IONIQ 5 and Kia EV6, but it does have a few tricks up its sleeve that allow it to distinguish itself even further from its corporate siblings.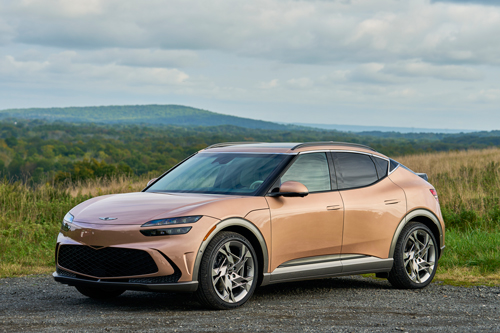 For starters, it looks cute, especially painted in white like the one I was driving. Not only does it have no resemblance with its Kia and Hyundai cousins, but it also sort of reminded me of a Pokémon. That had me smiling at it each time I walked towards it.
The GV60 also gets the 77.4-kWh battery pack as standard equipment. It also only comes with dual-motor all-wheel drive technology here in Canada. And for the 2024 model year, Genesis Canada will only offer it in its more compelling Performance trim. This means that it gets two 160 kW electric motors mounted on each axle (compared to a 74 kW unit up front on the old standard model). Total combined output therefore climbs to an impressive 429 horsepower and 446 lb-ft of torque. Those figures climb to 483 horsepower and 516 lb-ft when activating the 10-second Boost function, a GV60 exclusive feature.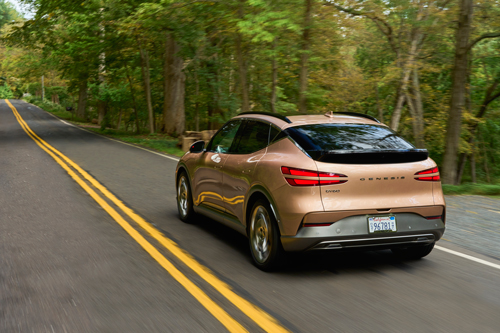 Being a performance-oriented EV inevitably has an impact on range and efficiency. The GV60 will therefore only cover 378 km on a full charge.
By the time I was driving this one, our entire group had left New York State, had crossed through New Jersey and was entering picturesque Pennsylvania. Once there, the state's rolling hills and winding roads really allowed me to play around with the GV60's sporty nature and the i-pedal (one pedal) regenerative braking system.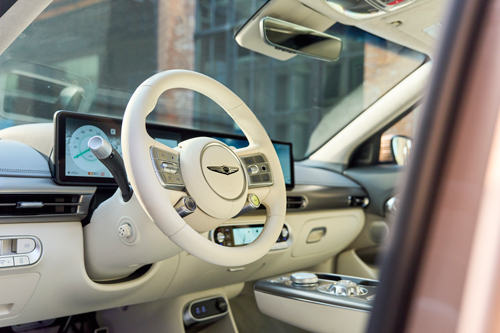 The GV60 is a toy of an EV. It doesn't exist to be efficient, but rather to slap a big fat smile on its driver's face. I spent most of my drive punching that Boost button for added effect. There's something rather amusing about launching a cartoonish crossover as fast as a Lamborghini. I ended my trip with a 20.3 kWh/100 km average, or the equivalent of 381 km of real-world range. Not the most efficient, but equal to what was stated as its maximum range.
Electrified G70: The Subtle Electric SUV
I ended the roadtrip in the Electrified G70, possibly the most sensible and underrated model of the trio. Just like the G80, this is an ICE vehicle that was converted to an EV. But since it has the higher ride height of an SUV, it doesn't require a raised floor. It also barely loses any cargo space compared to its gasoline sibling. For reference, when its rear seatbacks are folded flat, the Electrified version will engulf up to 1,600 litres of your gear versus 1,611 in the standard car.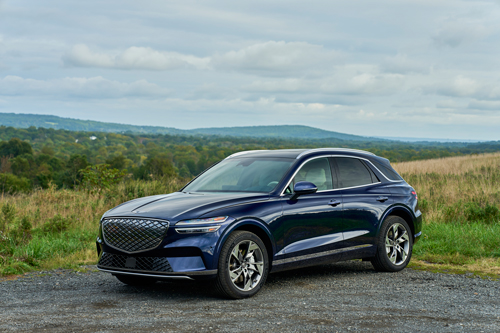 Powering this one is the same 77.4-kW battery as in the GV60. It also powers two electric motors that develop, combined, 429 horsepower and 519 lb-ft of torque, or the equivalent of a GV60 in Boost mode, but all the time. What's interesting here is that although it generates the same amount of torque, its advertised range is a tad better than the GV60 at 383 km as per Natural Resources Canada.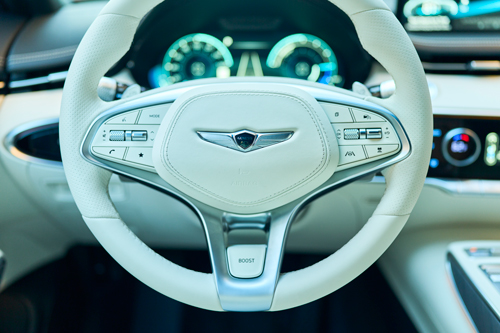 The Electrified GV70 was perhaps the most impressive EV I drove that day, not for its performance nor its luxury, but because of how seamless its EV integration felt compared to the G80. Never did I really notice any compromises for it letting go of its gasoline engine. It proved just as spacious and practical as its ICE counterpart, all while providing similar acceleration as the spunky GV60.
Perhaps its only real flaw was the limited range I experienced on my 85-km run. Even if I had driven it casually, the onboard computer still read a consumption average of 20 kWh/100 km, or about 387 km of real-world range. That said, it did slightly exceed its Natural Resources Canada range.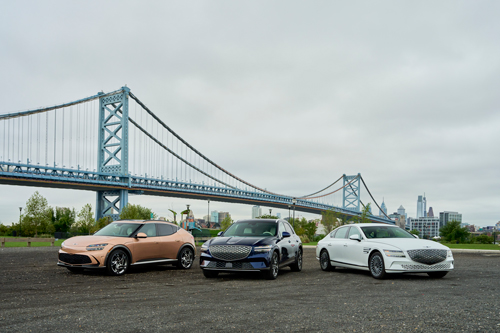 Different EVs for Different Consumers
At the end of the experience, however, it was obvious that each car had managed to adequately meet the needs of different types of drivers. What I learned from this experience is that when a carmaker is truly dedicated and – ahem – interested in putting to market zero-emission vehicles, it suddenly becomes incredibly imaginative. No matter which Genesis EV you choose though, you can be sure that it'll deliver the same kind of luxury and performance that you can expect from its gasoline-powered lineup of vehicles.