WWhile the majority of Canada is about to hunker down in winter mode, it's worth remembering there are a few lucky sods in Southern California who get to enjoy the sun's rays year-round. This is doubly vexing for those of us who enjoy powersports equipment, though we will note the SoCal crew will never know the joys of blasting through fresh powder in a turbocharged side-by-side.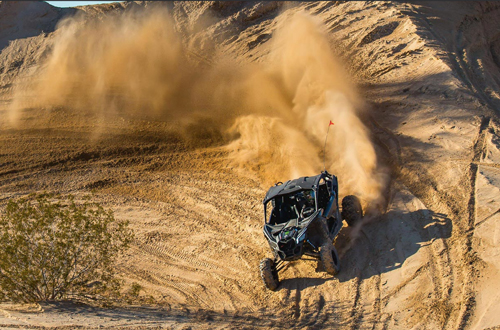 In particular, action at the Imperial Sand Dunes – also known as Glamis – heats up as the calendar swings into a new year. The area attracts all sorts of thrill seekers, ranging from weekend warriors to seasoned pros. It's such a big deal that Can-Am is investing in the culture with a series of billboards in the area like the one in the picture below, celebrating the absolutely unhinged performance of its Maverick X3.
A spot called Oldsmobile Hill is a well-liked spot on the north dunes of Glamis and is a place you will recognize if you've seen any powersports advertisement on YouTube. The hill stretches nearly 300 feet tall, double that in width, and is said to be about 27 degrees of incline at its steepest. Legend has it the dune got its name because the first person to ascend it in a four-wheeled rig did so in the '50s using an T-Bucket hot rod fortified with an Oldsmobile engine.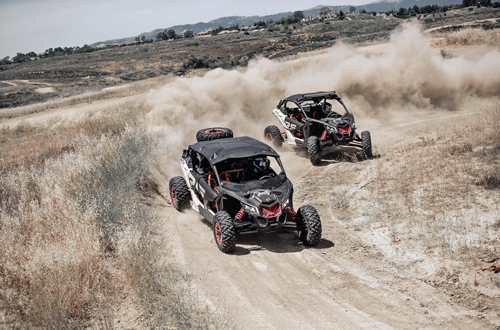 In fact, the entire Imperial Sand Dunes rec park spans about 65 kilometres in length and every bit of 8 km wide. If movies like Star Wars, Lawrence of Arabia, or The Scorpion King are part of your DVD collection, then you've seen footage of these incredible dunes.
For 2021, Can-Am has amped up their range of side-by-sides by listening to their customers and responding in kind. They've ratcheted their Smart-Shox technology – found on certain models of the psychotic Maverick – to 11, endowing the system with nine sensors which can react with up to 200 shock valving adjustments every second. In fact, the suspension can adjust from full firm to full soft in just 17 milliseconds or the average amount of time it takes your author to scarf down his midday lunch. This tech keeps tires firmly planted in the grit, helping to create those sky-high sandy rooster tails which look so great on video.
As for us here in the Great White North, we'll be making some footage of our own this winter, putting emphasis on the drift in snowdrift. Stay tuned.