When the Ford Focus RS was introduced to the market last year, it was a highly anticipated improvement over the ST that fell a little short in its role as the sportier Focus option. It launched with a jaw-dropping price – not for the right reasons – of $50k and has since received rave reviews.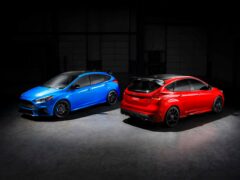 All good things must come to an end. Ford announced that 2018 will be the last model-year for their hot hatch. The Focus RS will end on a high note, but it will not go quietly!
Coming later this year, Ford Performance's Focus RS Limited Edition will take things even further. A new Race Red body colour will become available alongside the now-famous Nitrous Blue.
The Limited Edition will receive a new Quaife limited-slip differential that will distribute torque more evenly between the front wheels. The system will work hand in hand with the torque vectoring system to take further advantage of the car's 350 hp.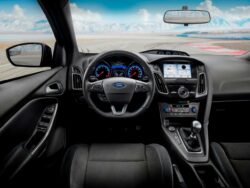 Features from the RS2 package will now be standard and will include leather-trimmed, heated Recaro front seats, heated steering wheel, and side view mirrors as well as voice-activated navigation.
Only 1,500 units of the 2018 Focus RS Limited Edition will roll out of production in all of North America and we can only assume that the price tag will match the exclusivity. The U.S. will get 1,000 and Canada, only 500 so you will want to put your finger on the trigger and be ready to fire if you want to get your hands on one. Deliveries are scheduled to begin later this year.